Wyoming Homeowner Assistance Fund (HAF) Program to open May 2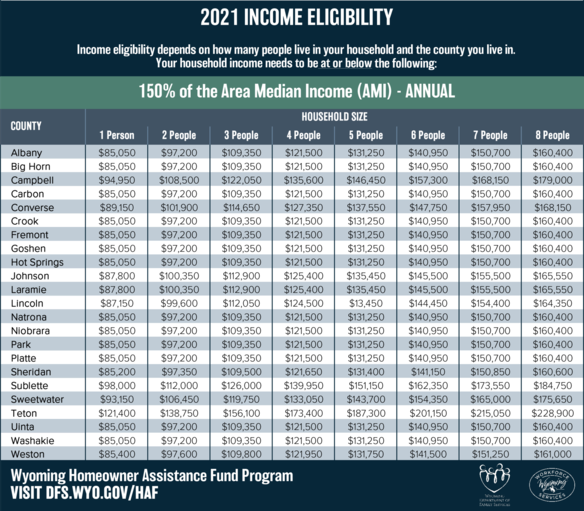 CHEYENNE, Wyo. – The Wyoming Homeowner Assistance Fund (HAF) Program officially opens for applications on May 2, 2022, to help eligible homeowners in the state who have fallen behind on mortgage payments during the COVID-19 pandemic.
The HAF Program will prioritize mortgage delinquency over other past due expenses. Other eligible expenses will include past due payments of utilities, property taxes, homeowners insurance, and homeowners association dues. The maximum amount allowed per household is $17,000, which will be paid to the vendor on behalf of the homeowner. Learn more at dfs.wyo.gov/haf.
"We highly encourage homeowners delinquent on their mortgage payments to talk to their mortgage servicer before the program opens," Department of Family Services Director Korin Schmidt said. "Homeowners should consider all options available to allow them to stay in their homes safely and long term. If you receive HAF funds first, you might not be eligible for options like having your monthly payment lowered."

If a homeowner owes more than $17,000 in arrears or cannot make payments moving forward, the HAF Program will require them to do housing education.
Homeowners can call their mortgage servicer to learn about options available for existing forbearance and/or resolving past due amounts through loss mitigation. The servicer may be able to lower monthly payments. If a homeowner receives HAF funds first, this option and other options may not be open to help the homeowner sustain the affordability of their mortgage. Additionally, the Consumer Financial Protection Bureauhas resources for homeowners on its website, and housing counselors are available at no cost.
Wyoming homeowners must meet the following eligibility criteria for the HAF Program:
Must own a property in Wyoming.
Must currently occupy the property as the primary residence.
Must have a total annual household income at or below 150% of the area median income. See table at the end of the release for county numbers.
Must have experienced a COVID-related financial hardship after January 21, 2020 that has caused the household to become past due.
Must be delinquent by at least one payment, including due to a forbearance period. The grant covers arrears only (no prospective or ongoing payments).
If applying for mortgage assistance, the loan must be the first lien on the property. The homeowner must not intend to sell the property within six months of receiving assistance.
Applications will be available only online.  A link will be provided on the DFS website.
Applicants must be ready to scan and upload the required documents. The required documents include the most recent statements showing delinquencies and/or arrearages, identification and proof of income.  Payments for delinquent mortgages and other expenses will be made directly to servicers, county treasurers, insurance, and utility companies.
Let us know what you think!
Tagged:
Department of Family Services
HAF Program
Wyoming Homeowner Assistance Fund