Wyoming Industry Partners donate to support wildlife-friendly crossings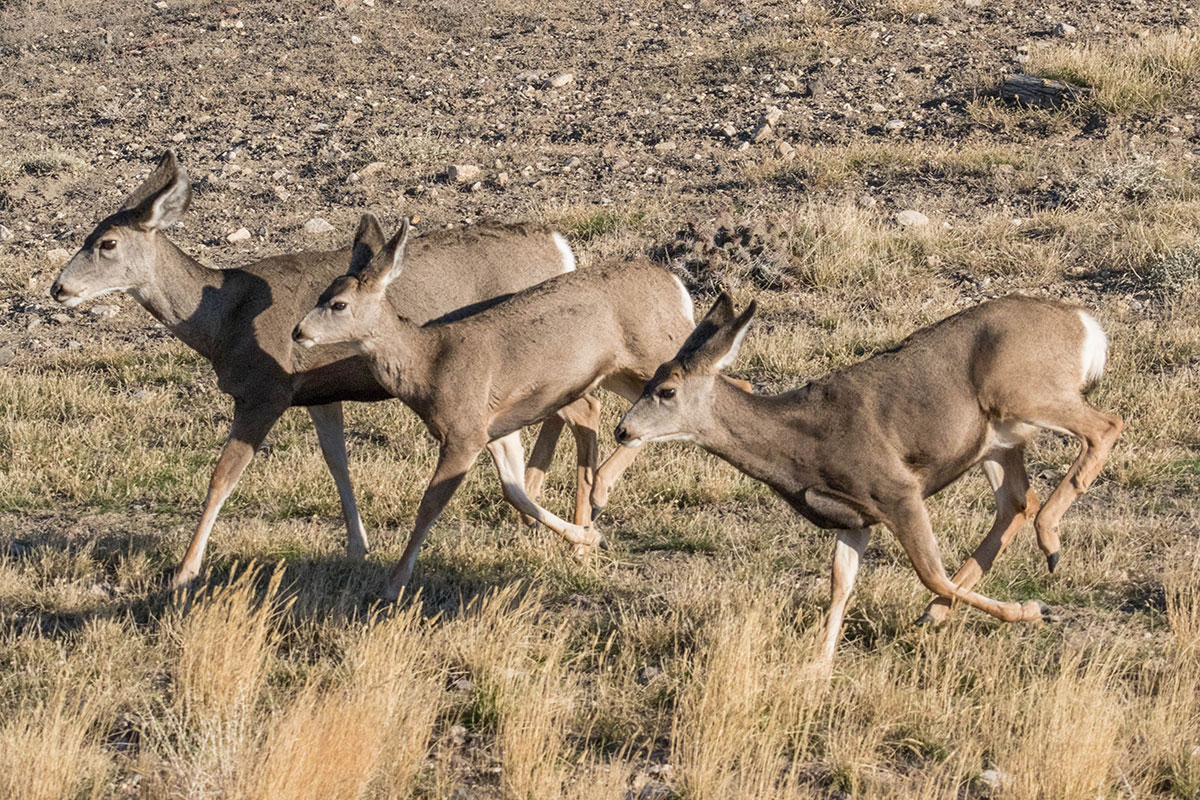 • Williams, NextEra Energy Resources, Project West, Rocky Mountain Power, Spire Storage and TerraPower donate to support South Kemmerer Wildlife Crossing Project
Buffalo, WY – March 15, 2023: The WYldlife Fund, a charitable nonprofit partner of the Wyoming Game and Fish Department, announced six generous gifts totaling $77,500 from Williams, NextEra Energy Resources, Project West (Ciner), Rocky Mountain Power, Spire Storage and TerraPower to support the South Kemmerer HWY189 Wildlife Crossing Project. 
"Valued partners step up time and time again for Wyoming's wildlife," said WYldlife Fund President Chris McBarnes. "We appreciate their commitment to helping save wildlife and improving safety on Wyoming's roadways."
Williams donated $27,500 to support the project, along with $10,000 donations from NextEra Energy Resources, through its charitable arm, the NextEra Energy Foundation, Project West, Rocky Mountain Power, Spire Storage and TerraPower.
Over 6,000 big game animals die each year from collisions with vehicles on Wyoming's highways and interstates. The vast majority of reported collisions involve mule deer. At the current rate, there are 21 big game collisions every day in Wyoming, eight of which involve significant damage to vehicles and/or human injury. The total cost of wildlife-vehicle collisions in Wyoming averages about $55 million per year. 
The Wyoming Department of Transportation and Wyoming Game and Fish Department have documented significant wildlife-vehicle collisions with mule deer and pronghorn along a 28-mile stretch of Highway 189 in southwest Wyoming, from mile marker 2 to 30. This project will reduce wildlife-vehicle collisions and promote habitat connectivity for big game by directing animals to existing and new wildlife crossing structures. The total cost estimate of this project is over $23 million and includes replacing existing fences and the construction of five underpasses and one overpass.
"Williams is committed to the continuous improvement of the environment with a laser focus on safety for its employees and the communities where we operate. Support for the WYldlife Fund's wildlife crossing program underscores this commitment," said Mark Gebbia, Vice President Environmental, Regulatory and Permitting at Williams.
"We believe in building strong partnerships that make a difference, especially in communities that our projects call home, and that's why we're pleased to support this wildlife crossing project in Wyoming," said Matt Raffenberg, vice president of environmental services for NextEra Energy Resources. "As an industry leader in renewable energy, we are committed to environmental protection and stewardship and believe this project is a win-win for communities and wildlife because it not only helps protect Wyoming's migrating wildlife, but also helps keep motorists safe." 
"Project West and Ciner are deeply focused on Southwest Wyoming's best future.  For people.  For wildlife.  For community.  We are proud to be a partner in this important effort for the safety of people on the roads and for wildlife to thrive in open spaces," said Oguz Erkan, CEO of Ciner US.
"The Rocky Mountain Power Foundation is excited to partner with The WYldlife Fund and other Wyoming businesses and conservation organizations to support the Kemmerer wildlife road crossing project," said James Owen, Vice President, Environmental, Fuels & Mining at Rocky Mountain Power. "This effort not only benefits and conserves wildlife such as mule deer and pronghorn, it provides safer roads for people in Wyoming, including Rocky Mountain Power's customers and employees. We are proud to be a supporter of this project." 
"At Spire, we're committed to using our energy to positively benefit the places we call home," said Scott Smith, president of Spire Storage. "The WYldlife Fund is a great example of that commitment, and we support its goal to protect wildlife in Southwest Wyoming while also improving safety for drivers on Highway 189."
"The WYldlife Fund's crossing program will increase both wildlife and passenger safety, and TerraPower is proud to partner on this important project," said TerraPower President and CEO Chris Levesque. "We are eager to continue to engage with the local community as we ramp up activities at our Natrium demonstration site and this project will have a positive impact on our employees and the community." 
"The Commission has prioritized wildlife-friendly crossings throughout Wyoming. Living in Kemmerer, I know firsthand that this particular project will have a profoundly positive impact on wildlife and members of the community who drive this stretch of highway on a regular basis," said Wyoming Game and Fish Commission Ken Roberts. "The Commission applauds and thanks these valued partners and all those throughout Wyoming who continue to partner with Game and Fish for the benefit of our wildlife and communities."
Let us know what you think!
Tagged:
NextEra Energy Resources
Project West
Rocky Mountain Power
South Kemmerer Wildlife Crossing Project
Spire Storage
TerraPower
Williams
WYldlife Fund
Wyoming Game and Fish Department