Wyoming stories often not filmed in Wyoming; Legislature to consider rebate program for film producers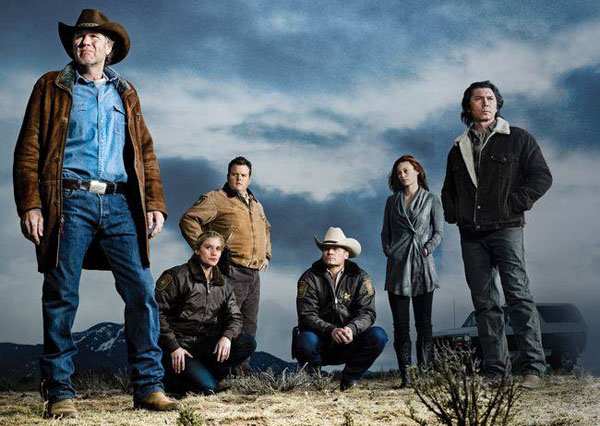 By Mike Armstrong
Saratoga Sun
Via- Wyoming News Exchange
SARATOGA — A lot of Joe Pickett fans can tell you unequivocally the popular series is set in Carbon County, Wyoming.
Not as many know that the television series is filmed in the province of Alberta, Canada.
Big Sky is another TV series filmed in Canada, in the province of British Columbia. Canada is standing in for the landscape of Wyoming.
It isn't the only place where Wyoming western stories are filmed, but also in states which border the Cowboy State. Yellowstone and 1883 are both filmed in Montana where a transferable, non-refundable tax credit, up to $12 million, is given film production companies.
The amount was increased by $10 million in 2022. There is a minimum spend of $350,000. That is fairly enticing to production companies.
The Longmire and Outer Range shows are filmed in New Mexico.
In that state, there is a 25 percent rebate with a 15 percent below the line for non-residents. There is no minimum spend or cap.
There is also the sweetener of an additional 5 percent bonus rebate to productions filming in rural areas.
Wyoming, with its rural areas, could benefit from an incentive program like New Mexico's.
There are incentive programs for productions to come to Utah, Colorado, Nebraska and Arizona. Film incentives exist globally and in 33 states.
Two states joined the group that gives incentives in 2021. Georgia is an example of a state which is doing well because it became user friendly to production companies about two decades ago.
According to the Georgia Film Office, film and TV productions spent $4.4 billion across the state in fiscal 2022, setting a new record.
Between July 1, 2021, and June 30, 2022, the department recorded 412 productions shooting in the state. It is a record year.
Because Atlanta is currently hosting production companies and film projects, there are jobs to be filled every day. The job market increases every year.
Wyoming currently gives no incentives.
There was a time when Wyoming had a film rebate — during the years 2008 to 2018. During this time, there were 40 individual productions who spent a total of $9.2 million purchasing goods and services at locations in Wyoming. They generated an additional $368,171 in sales tax.
These productions employed 319 Wyoming residents with wages totaling $9.1 million.
It was called the Film Industry Financial Incentive (FIFI). The incentive program sunsetted in 2018 and has not been seen since, although the Wyoming Office of Tourism (WOT) has put forth a film production rebate program for legislators to consider in the coming future. The program has two tiers.
Tier one allows a maximum of a 30 percent cash rebate; 15 percent is a base rebate, and the other 15 percent is given when certain requirements are met.
There is a minimum spend of $200,000 on qualified expenditures.
Feature films, TV series, major brand commercials, documentaries, virtual reality and multimedia are productions which are included in this rebate.
Tier two has a maximum rebate of 15 percent cash rebate, with 10 percent given as a base rebate and 5 percent  given when requirements are met. The minimum spend is $50,000.
Productions in this tier are certain commercials, documentaries, short films, webisodes, music videos, infomercials and content based mobile apps.
Qualified expenditures for both tiers include lodging, restaurant and food expenses, location/leasing fees, lumber and construction materials, rental of production equipment and vehicles, supplies and materials that will be used in the production as well as costs associated with distribution.
A Made in Wyoming tag must be included in the credits.
The rebate is only distributed after all production receipts have been submitted and verified as qualified expenditures.
The Made in Wyoming tag helps market and brand the state to viewers and other production companies.
Increasing the number of viewers who see the Wyoming tag will increase tourism, said the tourism department.
According to WOT and independent study, an estimated 23,000 jobs have been lost to other states with rebate programs in the last decade.
Big money can and has flowed into communities when a production company works in Wyoming. The Discovery Channel's 'Street Outlaws: Fastest in America' brought an estimated $1.8 million in revenue to Natrona County.
An overview of the Wyoming Film Production Incentive Bill that will be considered during the 2023 Legislative General Session was put forth at the Wyoming Hospitality and Tourism Fall Summit in Casper.
Gov. Mark Gordon spoke in support of getting productions to film in Wyoming.
"I would love to see it happen," he said. "For me growing up in Kaycee, to have 'Hole in the Wall' filmed in Utah instead of Kaycee – I find it a travesty. Then there is 'Wind River,' which is probably one of the biggest movies about Wyoming to come out in a few years, and it was filmed also in Utah. Even C.J. Box's stories are filmed in Canada. That makes no sense."
Most attendees of the fall summit agreed with Gordon's sentiments as well as many residents throughout Wyoming.
In Carbon County, fans of C.J. Box's Joe Pickett series are not happy to see the stories being filmed in Canada.
"We need to do a much better job right here," Gordon concluded. "Wyoming is a state where we have it all."
Let us know what you think!
Tagged:
1883
Big Sky
Carbon County Wyoming
Joe Pickett
Longmire
Outer Range
Wyoming filming locations
Yellowstone