"You're a Good Man Charlie Brown" coming to Ford Theatre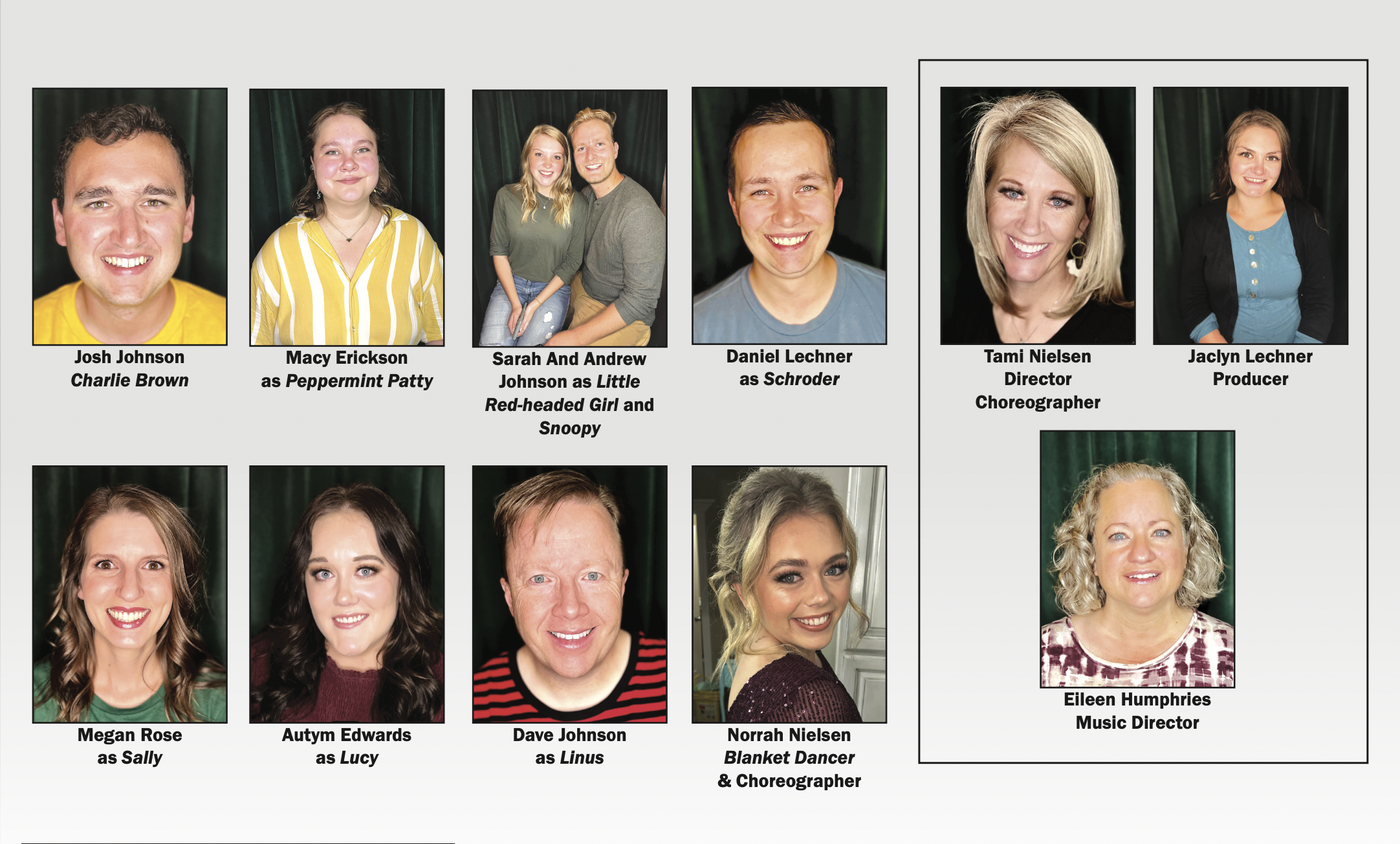 "You're a Good Man Charlie Brown" is coming to the historic Ford Theatre on November 17, 18, 19 and 21 at 7 pm. Presented by the Salt River Arts Community Theater, the production features eight local actors as well as one dancer and the combined efforts of a host of individuals who are working behind the scenes to bring Charles Schultz' "Peanuts" to life through song. 
Producer Jaclyn Lechner feels the show is perfectly cast with talented individuals who have successfully created their characters and had a great time in the process. 
The cast includes Josh Johnson, Megan Rose, Autym Edwards, Dave Johnson, Daniel Lechner, Andrew and Sarah Robinson and Macy Erickson, with Norah Nielsen as the blanket dancer. Auditions were held in August and the cast has been working for over two months now to learn the music and scripts, and to mold their portrayals of the characters in the show. 
"My favorite part of seeing this show come together is watching the characters develop," shared Tami Nielsen, Director, in an interview with SVI News by email last week. We have a cast with members ages 19-50 playing children  that are ages five to eight. It's been really fun to watch adults who were shy around each other at first, embrace childlike movements, speech and mannerisms and become comfortable with themselves and each other."
"You're a Good Man Charlie Brown" is a portrait of young Charlie Brown on the day he seeks proof that he's truly a good man. He and his friends wander through their day together, participating in a variety of common childhood experiences and discovering truths about life and other humans.
"The great thing about the Peanuts characters is that they are so relatable to all people and all ages," said Jaclyn. "Everyone in the family will enjoy the fun characters as they come to life on stage. We've all enjoyed the comic strips and movies and now we get to see them come to life on stage. There is singing, dancing and fun to be shared with all who attend."
Filled with its own unique set of challenges, the creative process for this show has afforded everyone involved with opportunities to find functional solutions to staging and spacing issues. Melissa Haderlie, who serves as Associate Producer, Eileen Humphreys, who works as Music Director, Val Chadwick Bagley who is designing and building the set, Mikaela Byrd, who manages the stage and props, and Mary and Jane Johnson, who are teamed as lighting technicians, have put their heads together working to make this production unique and entertaining as the very first Salt River Community Theater production. 
One other major obstacle that needed attention was a nearly entire lack of financing. "We are so excited that this is the first production of community theater in Star Valley, but we have had limited funds," shared Jaclyn. "However, amazing sponsors have stepped up and supported us and allowed us to get what we have needed to put this production together!" 
Hastings Ace Hardware, First Bank, Bank of Star Valley, Yeti, Voss Vision, Hunters Home Furniture, Surveyor Scherbel, Carpets Plus, SVI Media, Peak Investors, The Star Valley Arts Council and The Salt River Arts Society have all contributed in various ways to making the production possible. 
Jaclyn hopes that this is only the beginning of community theater in Star Valley and that the support and involvement will continue. The dream is to produce a musical annually, which will require expansion of the production team and increased interest from individuals in the community who have the talent needed to maintain the musical theater movement. 
"Anyone who would want to be involved is welcome to join us," said Jaclyn. "There are many opportunities here, and there is a job for anyone who is interested! Please come to the show. By coming, you are helping this program bring arts and musicals to the Valley!" 
"Something unique about 'You're a Good Man, Charlie Brown' is that it's not your typical musical that has a beginning, middle and end concluded Tami. "This musical is like a series of Peanuts comic strips. So, the action is quick. It's funny, energetic, upbeat, humorous and full of endearing characters. We all have a little bit of each of these characters in us. As I've said with most of the shows I've been involved in, There are lots of choices to make on any given evening. But you will never regret the choice of spending an evening with us, laughing, clapping and feeling all the feels." 
Tickets are available at saltriverarts.com or at the door. 
Let us know what you think!
Tagged:
"Peanuts"
"You're a Good Man Charlie Brown"
Andrew and Sarah Robinson
Autym Edwards
Charles Schultz
Daniel Lechner
Dave Johnson
Ford Theatre
Jaclyn Lechner
Josh Johnson
Macy Erickson
Megan Rose
Salt River Arts Community Theater