2020 Star Valley Half Marathon will be 'powered by Ragnar'; well-known relay 'nation' to host race on its virtual platform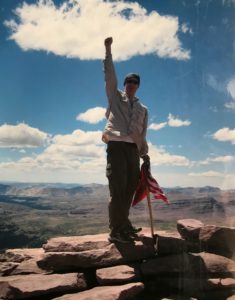 First, there was a life. Zestfully lived.
Then, there was a loss. Acutely felt.
At last, there is a gift. Endlessly giving.
This may be the only way to describe the last 10 years for the Bart and Denice Kunz family. An apt way to relate how they transformed heartache into healing not only for themselves, but also for others who carry heavy burdens. Folks throughout the country and as far away as Canada and Australia have come to know the name, Jeremy Kunz.
And that's because each year on the second Saturday of July, the Kunz family hosts the Star Valley Half Marathon to honor a husband, son, father and brother who was quick to look beyond himself. All proceeds are donated to needy causes locally.
But the 10th annual 13.1 miler almost didn't happen. The pandemic was going to shut down this race like so many other public events for reasons of public safety.
Then Ragnar Nation reached out. The folks in Utah who run the Ragnar Relay Series, what is called "the largest overnight relay series in the nation," asked if they could add the Star Valley Half Marathon to their year's list of virtual races.
So "powered by Ragnar" is the best way to describe what will be the 2020 Star Valley Half Marathon on July 11.
"When I saw Bart [on Facebook say] that the half marathon might have to be cancelled, I reached out and said, 'I think we can help you guys. We'd love to do it for Jeremy,'" Tanner Bell, CEO and co-founder of Ragnar, told SVI Media in a telephone interview.
"For us, it's a no-brainer. We're super excited to support them and their family. We have this virtual platform that we've been working on since before COVID-19. We've put on 10 virtual events over the last two years," Bell added, explaining that the Ragnar technology team is energized to execute this year's race.
Any Ragnar event is known in the running world. Many are familiar with the Wasatch Back Relay, spanning 188 miles from Logan to Park City, Utah. After its first relay in 2004, Ragnar grew to events not only throughout the United States, but also in Mexico, Canada, South Africa, and in Europe.
Add Star Valley to that list.
"Essentially, we're providing the technology," Bell related. The race is free, with all donations for merchandise such as race shirts going to needy causes in Star Valley, as in the past.
The half marathon will be virtual, in that runners chart their 13.1 course where they live. They either submit their finish times on the Ragnar Website – on the honor system – or use STRAVA, a device app that allows runners to track progress. Bell assured any participants that the race will be "STRAVA-enabled."
To Denice Kunz, "it's so cool," she told SVI. "I'm so excited about it. They're providing all the technical know-how."
The Ragnar offer was unsolicited, she added, but not surprising. "They have become our family as well. They haven't stopped caring [since Jeremy's death]."
This caring, this "love in the world" is what the Kunz family focuses on. "We just want to gather good people around us. And people are just amazing. They're just good people," she said of those who participate year after year, the some 120 volunteers in the valley who help, and the people like Bell and Ragnar co-founders, Steve and Dan Hill.
Each year of the race, held on the Saturday closest to Jeremy's birthday, July 12, being with what Kunz calls their "race family" blunts the hurt. "It's emotional being Jeremy's birthday, but during this period of time you forget how you hurt. It's lifted when you're doing something like this. Welcoming old friends back in your life."
For Bell and the Ragnar family, "It's giving back to an amazing family and an amazing community that has been so supportive of us over the years."
In fact, whenever he passes through Star Valley, Bell says he makes a point to drop by. He said he didn't personally know Jeremy, but if he is "half as amazing as his parents and family and Melinda [Jeremy's wife], then he was a pretty neat guy."
Bell did, however, attend Jeremy's funeral. A drunk driver hit the father of three during the 2009 Las Vegas Ragnar. Bell recalled how after meeting the family he came away with the impression to continue creating events to foster what Jeremy loved – life.
Both Bell and Denice Kunz affirmed that "Jeremy loved Ragnar."
So with that, Ragnar will host the virtual platform that will display participants as one big Ragnar "team." STRAVA will be real time.
Jeremy's mother recalled how 10 years ago in the wake of the accident, family members pondered Jeremy's zest for life. The word "plethora" came to mind — how the 33-year-old lived for "plethora – the most of everything."
Ragnar Nation setting the virtual platform for the 2020 race, to Denice Kunz, is "just another moment among a plethora of opportunities of what's been given us."
So join them virtually on July 11 for the 10th annual Star Valley Half Marathon. Registration for the race begins July 6 at runragnar.com. Follow svinews.com and the SVI Radio Network for more information, including possible earlier registration. If you've already signed up, you may email starvalleyhalfmarathon@gmail.com with questions, as well as any requests for refunds, which the family will honor. Also see starvalleyhalfmarathon.com for further developments. Go to your device's app store for the STRAVA app.