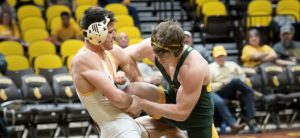 According to head coach Mark Branch and the Wyoming Cowboys Wrestling team, their efforts to consistently become of the nation's top ten programs is coinciding with a crop of new faces that are continuing the recent tradition of Bryce Meredith.
That's why when #13 Wyoming hosts a trio of teams this weekend in Laramie, including #15 North Carolina, Branch hopes that fans will come through the doors ready to cheer for the school colors rather than any specific wrestler.
"We've always had great support from our fans," he said. "But after having a couple of really strong years we have seven out of ten new faces and I think there was a lot of unknowns so we lost some of that familiarity."
This weekend the Cowboy grapplers will host the trio of Army, American and #15 North Carolina. This comes on the heels of an upset victory over #4 N.C. State 22-21 on criteria before coming up a bit short against #6 Cornell 23-9.
The Pokes then picked up wins over Michigan State 20-13 and then routed Southern Illinois University-Edwardsville, 42-6. Branch is hoping for a big turnout at the Arena-Auditorium beginning at 4:30 on Friday afternoon for the Cowboy Shootout.
"It's exciting to get behind some young guys doing some great things," he said of the Cowboys' lineup. We'd like people to get behind these individuals until you become one of those fans who can be a Wyoming fan and not just a fan of a particular wrestler. I think we put out a great product and I think the State of Wyoming and UW is proud to know that the wrestling program is now known as being a solid competitive team that are doing great things."
The #13 Cowboy Wrestlers will take on #15 North Carolina at 4:30 with duels against Army at 6 p.m. and American at 7:30 p.m.
• Building Consistency and Expectations
When UW brought in Mark Branch and his championship pedigree from Oklahoma State in 2008, it was a conscious effort to put effort and resources into a program that was ready to do more. Fans will have a chance to watch three consecutive duels on Friday evening with one of the top programs in the country wearing the Brown & Gold.
"I think we've got three duels coming up and three teams that match up really well so we're looking forward to the opportunity," he said. "I like events with multiple duels. It gives us a chance to learn something and make adjustments. If you have a bad outing you can get back out and redeem yourself."
This weekend is also big in terms of internal development.
"Every match we get is beneficial because we have such a young team," Branch added. "They are learning at every turn and we have to continue to correct mistakes. These are great opportunities to learn and refine what we've been doing."
For the program, an annual presence in the nation's top-ten is a goal.
"It's setting expectations more than goals," Brand stated. "Everybody talks about goals. They are important but at the same time you've got to have minimum expectations. How we train, how we perform in the classroom; you have to have a level of expectation. This is the standard. When we talk about goals, we want to take that next step and get a top-ten program every season. It's not so much about recruiting as it is training and development. Our success has been in the development of our athletes and getting them to become better wrestler and you do that by setting a minimum level of expectation and not settling for anything less."
• Back in Afton?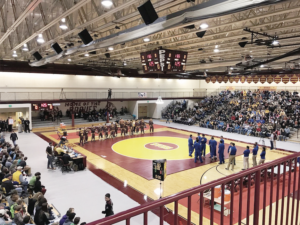 After drawing more than 2,000 fans to Star Valley High School as the Cowboys faced Boise State two years ago, Star Valley residents have asked if the UW grapplers are coming back. Listening to Branch, it sounds like it is a real possibility.
"I definitely think [we would come back]," he said. "It was certainly one of our most memorable outreach opportunities that we have had. The fact is, you never know until you go there. We get told things will be filled all the time but the fans in Afton stacked the bleachers and the fans were awesome. That was something we appreciate and we will definitely look at doing another outreach duel there in the future."
Tagged:
Cowboy Shootout
North Carolina Wrestling
Wyoming Cowboys Wrestling