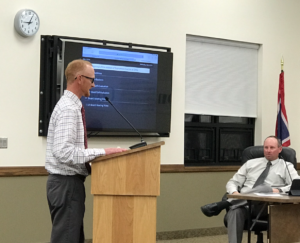 As part of the LCSD #2 regular board meeting, the approval of additional sophomore coaches for those Star Valley High School sports in the 4A Classification were approved by a unanimous vote.
Star Valley had sophomore coaches during the four-year span from the 2007-08 school years through the 2011-12 school year. However, once SVHS reverted back to the 3A Classification those positions were eliminated.
Now with the sports of volleyball and basketball competing in the 4A Class, those coaches were at the meeting to provide insights into practices and the benefits of the positions.
While some assistant coaches have been approved, the staffs of those sports are not yet complete with the approval of this motion. Activities Director Rob Erickson expects those positions to be approved at the Board of Trustees regular meeting in June.
Both programs have new head coaches after the resignations of Chad Teichert and David Moore. Blake Peterson (volleyball) and Kade Erickson (girls basketball) were approved as the new coaches of their programs last month.
Peterson was an assistant to Teichert for the past four seasons. Prior to that he was the head coach in Kemmerer where he led the Lady Rangers to the 2013 2A state title, the first team title for the program in 30 years.
Erickson will shift over from the boys program where he served as the junior varsity coach where he compiled a (60-25) record in both 3A and 4A action.
Tagged:
Blake Peterson
Kade Erickson
LCSD #2 Board of Trustees
Star Valley High School Basketball
Star Valley High School Volleyball