Afton Food Pantry's annual Drive-up Mobile Food Distribution is Saturday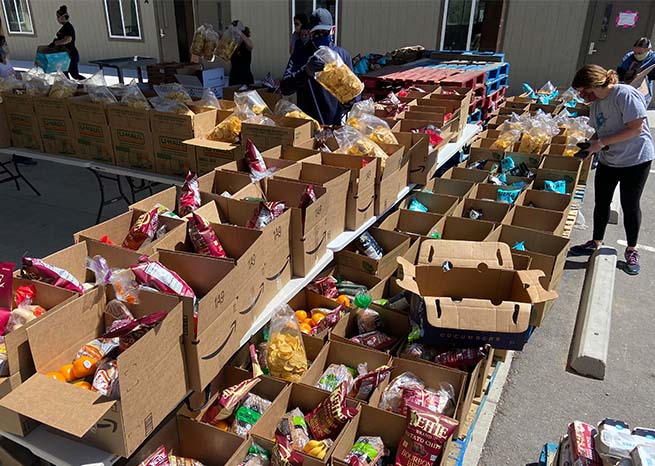 ◆ The truck brings enough to feed 400 families for a week, completely free with no application process.
Afton Food Pantry is partnering with the Food Bank of Wyoming to provide a Drive-Up Mobile Food Distribution event on Saturday, May 27 from 11 a.m. to 1 p.m. in the south parking lot of Star Valley High School. The food is entirely free. No income declaration, paperwork or pre-qualification are required. Families are just encouraged to show up and take some food home to their households and to their neighbors.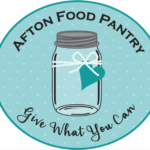 "This is our fourth year doing this and we really need people to show up, because we will have enough food for 400 families coming and if we aren't able to give it all out, then there's a chance that we can't get this mobile food pantry back," explained Sierra Mitchell, Director of the Afton Food Pantry, in an interview with SVI News last week. "It's a completely free service, but if we can't show that there's a need by getting enough people to show up, we won't be able to have it each year."
Though Mitchell and her team do not know what exactly will come on the truck, they do know that a variety of fresh fruits and vegetables, frozen foods, and non-perishable dry goods will be available. The food will be pre-boxed for families to pick up the amount they need, and everything is first come, first serve.
Mitchell shared what families can expect from the day. "We will open the parking lot at 11:00 and we will continue giving food away until 1:00 or until all the food boxes are gone. There are no more boxes after 400 boxes, so we have run out before. All a family has to do is wait in line to get into the parking lot. We will then ask each family how many households they're picking up for. People are allowed to pick up food for other households. We understand that there are individuals that may be homebound or elderly, so we do allow people to pick up food for others. All you have to do is show up, let us know how many households and how many people are in each household, so we can track accurate numbers. We write that number on their windshield and we will send them through the line where we will load the boxes for you. We will have four stations set up so we can move cars through very quickly. The line before we start is usually the longest wait."
Guests should plan on the line starting to form around 10:00. Mitchell is asking the community to follow those directing traffic and begin forming the line coming down Swift Creek Lane from the Burger King rather than coming from the direction of the Middle School.
The Star Valley High School girls soccer team is serving as the helping hands for this event as well as members of the Afton Food Pantry board, but the Pantry has a great need for regular weekly volunteers.
"We are, however, experiencing the worst shortage of volunteers at the pantry each week," shared Mitchell. "We literally have had the same two girls as our only volunteers for almost three months now. We've never had this happen before. If we can't get people to come and volunteer, we are going to have to reconsider being open every week. We run two programs each week, which adds to the problem. We just need people to come. It's a great service activity. We need roughly four or five volunteers each week for each program, so 10 volunteers a week. I know everyone is busy, but we are in deep water right now."
Mitchell is begging families to come for the drive-up distribution. "Some people feel that there are others who have a greater need, and I understand that, but if we cannot show that there is a need for this service in Lincoln County, the truck will not come again. It will go to other counties. We have to show that the food will find a home, so we really do need people to show up. We know it's Memorial Day weekend. We know school just got out. But use this food to feed your family for the first week after school is out. We really need families to come and help us to show a need. The goal is that we can just find families that will show up and take it and take some for some neighbors and just bless the community with lots of food for our families."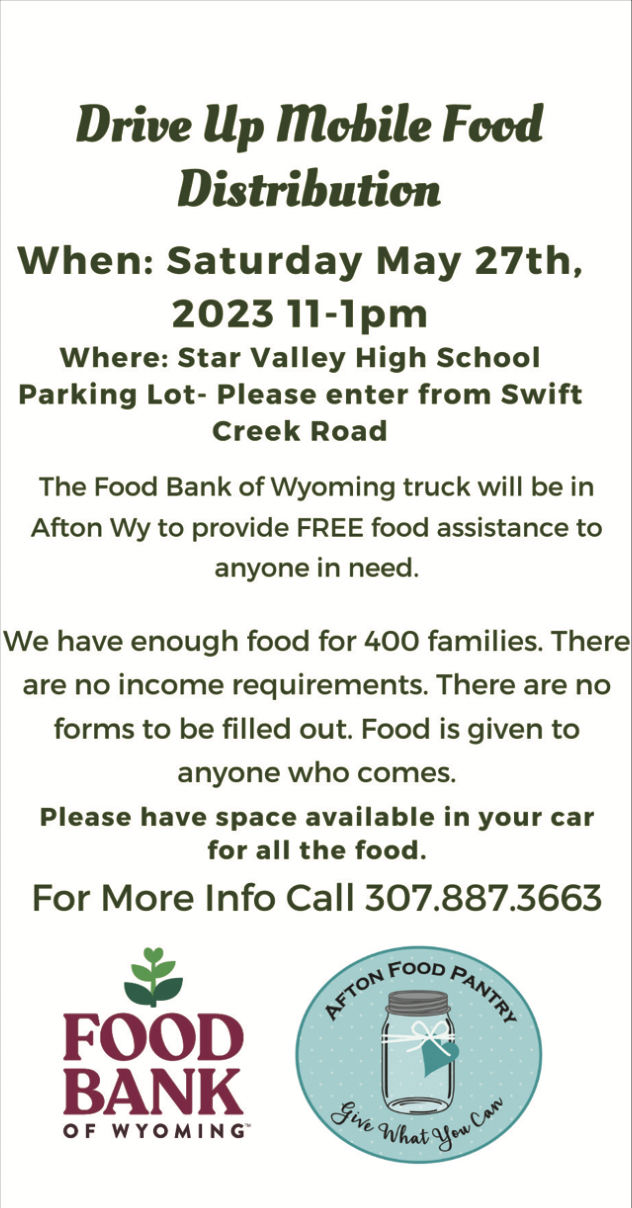 Let us know what you think!
Tagged:
Afton Food Pantry
Food Bank of Wyoming
Sierra Mitchell
Star Valley High School