Afton officially breaks winter snowfall record
The National Weather Service has confirmed that the Town of Afton has officially broken it's winter snowfall record. The NWS Pocatello, Idaho office reported that as of April 1, 157.1 inches of snow had fallen in Afton, passing the previous record of 142.6 that fell in the winter of 1981-82. The totals from the NWS were reported before the recent Monday and Tuesday storm that dumped additional snow to add to the record.
The Riverton Office of the National Weather Service reported that Afton received an additional 20 inches of snowfall on Monday and Tuesday, April 3 and 4, bringing the winter total to 177 inches. Enough to smash the previous record.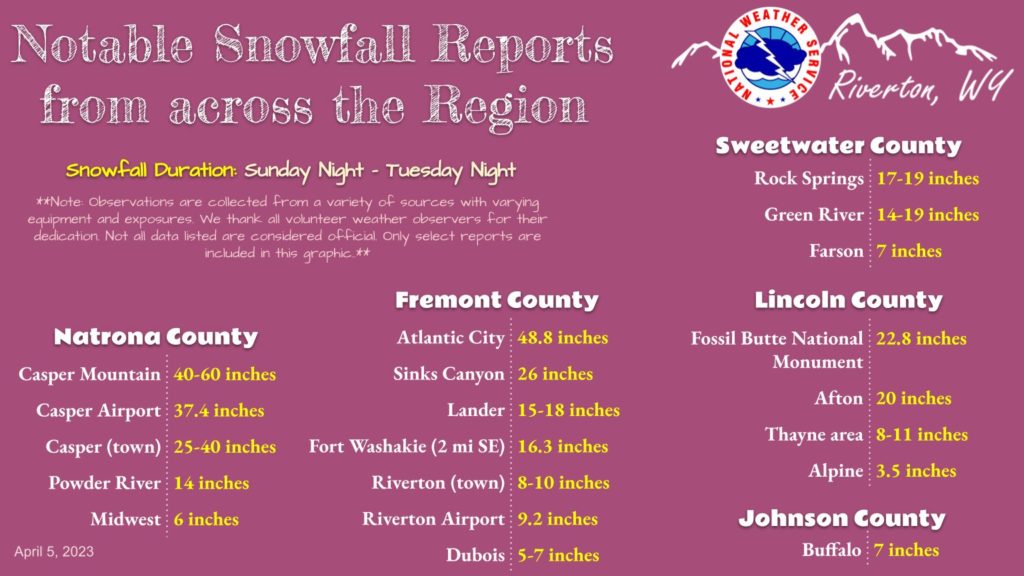 Other area storm totals reported include Thayne with 8-11 inches, Alpine with 3.5 inches and Fossil Butte National Monument with 22.8 inches.
Natrona County received the most snow from the storm, with Casper Airport measuring 37.4 inches, a storm record for Casper for anytime of the year.  Other Wyoming towns reported included Rock Springs with 17-19 inches, Lander with 15-18 inches, Riverton with 8-10 inches and Dubois with 5-7 inches.
National Weather Service Meteorologist Lance VandenBoogart, from the NWS-Riverton Office, will join SVI Radio's Weekday Wakeup morning show on Wednesday, April 12 to summarize the record breaking snowfall for Star Valley, what it will do for regional drought conditions and reservoirs, and also what it means for spring runoff and potential flooding. The interview will be live at 8:35 a.m. and can be heard on Swift 98.7 FM as well as on The Spur (107.5/106.7 FM). A recording of the interview will be available at SVInews.com/radio and the SVI News App.
Lincoln County Emergency management recently provided an update on the potential for local flooding and the need to prepare as temperatures begin to rise. Local forecast models call for temperatures in the 50's in the coming days.
Let us know what you think!