Alpine Firewise meeting planned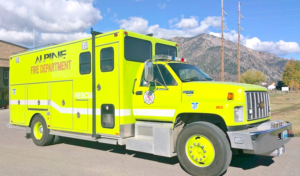 Thursday, August 28 the Alpine Fire Department will host a Firewise meeting. The meeting will take place from 1-4 p.m. in the Alpine Fire Department Building.
"A wildfire may make it necessary for neighborhood residents to evacuate," said Alpine Fire Chief Mike Vogt. "Planning together with the local fire department and law enforcement authorities can save lives."
Meeting attendees will include representatives from Bridger-Teton National Forest, Caribou Targhee National Forest, Wyoming State Forestry, Lincoln County Emergency Management, and the fire department.
"We are developing a group to better protect the Town of Alpine and outlying areas from a wildfire," Vogt said. "We welcome any input from private landowners in this process."
If you have any questions about the Firewise Program or the upcoming meeting, contact Patty Pringle, Lincoln County Fuels Mitigation Coordinator (Firewise Coordinator) at (307) 679-8574, or Alpine Fire Chief Mike Vogt (307) 654-7581.
Let us know what you think!
Tagged:
Alpine Fire Department
Bridger-Teton National Forest
Caribou-Targhee National Forest
Chief Mike Vogt
Lincoln County Emergency Management