Anderson retires after 27 years in LCSD No. 2
◆ "I want to be the person that NEVER makes a student feel worse about themselves."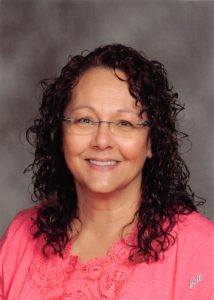 Kaylene Anderson has spent 27 years with Lincoln County School District No. 2, and the last 17 of those years as an office secretary at Star Valley Middle School. Having served every student who has entered the SVMS doors throughout those years, Kaylene knows them and has enjoyed her time with them. They will miss her, as she has announced her plans to retire at the end of the 2020-2021 school year.
Kaylene began her time with LCSD No. 2 as a substitute and then transitioned to serving as a paraprofessional in various capacities and at various schools. She served in Cokeville and Star Valley with Speech and Language, reading and office staff.
"Life at the Kennington home was never dull," Kaylene exclaimed to SVI Media about her childhood home in Harrisville, Utah, where she was the 5th of 6 children born to Don and Arlene Kennington. "We were a rowdy bunch who worked together, played together, fought together, and loved each other. Hide and Seek was a regular activity every summer night with the whole neighborhood. Friends called our home "The Kennington Commune" because everyone and anyone was welcome.

Raised in a very musical home, Kaylene has spent many hours performing and sharing her gifts with those around her. "Our parents gave us every opportunity to develop our talents and ambitions," explained Kaylene. "We had a family band that entertained all over the Ogden area. Most of us were very involved in sports, church, and civic activities."
Married to Brad Anderson, whom she calls "the best man I know," the two are parents to "four fantastic children who married four fantastic spouses and have given us six (7 ½ as of this printing) fantastic grandchildren."
Education was something that Kaylene felt was a natural fit. Having worked with children her entire life in various church callings and as a director of a children's singing group, the school district was a logical choice. "Teaching children something new and watching the reaction when they understand is its own special kind of reward."
She loved her time at SVMS and was a driving force in making the school a place where students felt part of a family and felt accepted and valued.
"Middle School is such a hard time for so many kids," observed Kaylene. "Everything is different, and they just want to fit in. My favorite quote from my father is, 'You'll never get taller by stepping on others.' Our children are bombarded with degradation and negativity. They need examples showing them how valuable they are and what they can accomplish with tenacity and hard work. I want to be the person that NEVER makes a student feel worse about themselves. I've always felt that if I can make just one student's day better, I've accomplished something."
Though Kaylene didn't expect to retire this early in her life, she is looking forward to this new chapter in her life. She has worked many years to enjoy retirement, and she plans to make the most of it. She enjoys crafting and flipping furniture, so she expects to spend plenty of time on wood projects and new builds. She is also considering reopening her children's singing group to share the benefits of vocal performance that filled her own childhood; self-confidence, listening, teamwork, and stage presence.
"I'm leaving my position in very capable hands," Kaylene assured SVI. "I'll miss my SVMS family but I'm taking countless memories and lifelong friendships as I close this chapter. My advice: Be CLASSY and stay WARRIOR STRONG!!!"
Tagged:
Kaylene Anderson