Lady Braves survive Rawlins in overtime to advance to 4th straight 3A semifinals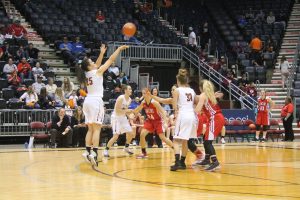 The Lady Braves' 20-point win over Rawlins on January 6, was quickly forgotten as the two teams clashed in the quarterfinals of the Wyoming 3A State Championships in Casper where Star Valley eventually prevailed 51-47 in overtime.
After a good start, the Lady Braves went ice cold in the third quarter and turned the ball over multiple times as a four-point halftime lead turned into a nine-point deficit to start the final stanza.
Star Valley opened the final quarter on a 9-0 run to tie the game and the two teams slugged it out over the next several game minutes. Rawlins tied the game 43-43 with five seconds remaining and the Lady Braves turned the ball over, giving the Outlaws the final shot which went long.
The Lady Braves opened the overtime period with a 6-0 run and held on for a 51-47 win to advance to the 3A semifinals for the fourth consecutive year. Star Valley will now face the Buffalo Bison on Friday evening with a 6 p.m. tip-off at Kelly Walsh High School.
Abby Coles scored 12 points, including the team's only three-point basket and hauled in nine rebounds to lead the way. Olivia Muir scored 12 points as well and had seven rebounds and a pair of blocked shots. Brenna Battleson, Caitland Erickson and Otessa Olsen chipped in six points apiece. The win gives Star Valley a 5-1 advantage all-time against Rawlins in state tournament games.
• Overcoming Adversity
The Lady Braves were in a giving mood on Thursday evening, giving up the ball a whopping 29 times. Rawlins wound up with 11 more shots on the night but the Lady Braves won the rebounding battle 46-26 and outscored the Outlaws 26-13 in the fourth quarter and overtime combined.
For the full bracket click here.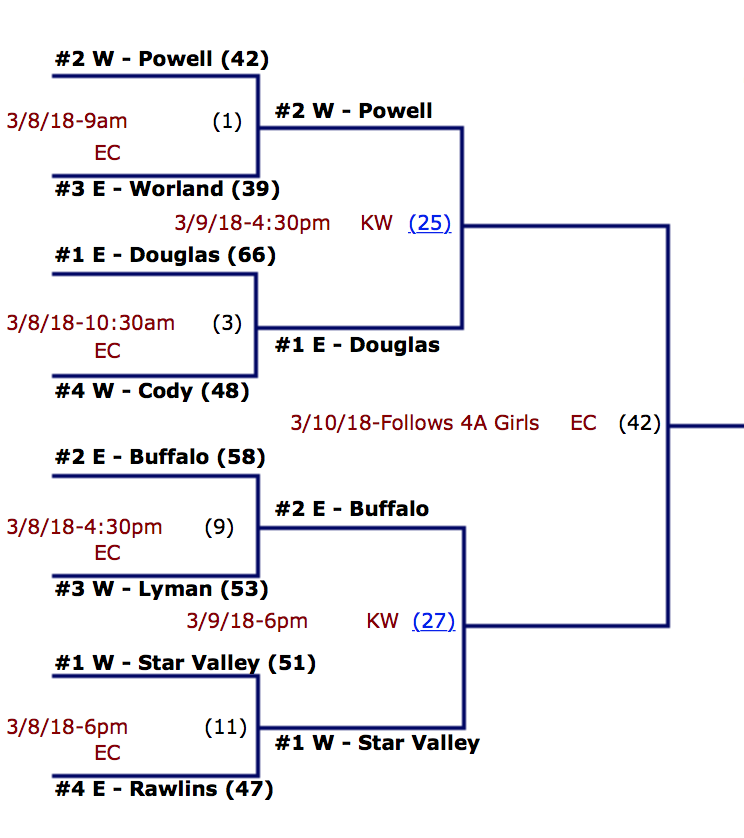 The Wyoming High School Activities Association (WHSAA) has partnered with the National Federation of High Schools (NFHS) to provide video coverage of statewide culminating events. As a result, SVI Media is not allowed to broadcast live video coverage of the state tournament. The NFHS video feed is available for purchase here.
Tagged:
Rawlins Outlaws
Star Valley Lady Braves Basketball
Wyoming State Basketball Championships