By Jasmine Hall
Wyoming Tribune Eagle
Via- Wyoming News Exchange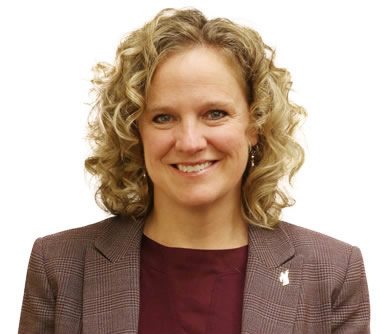 CHEYENNE — Fifth-generation Wyoming native and State Superintendent of Public Instruction Jillian Balow announced her resignation Thursday to take a similar position in Virginia.
After serving as the elected state superintendent for seven years, the Cheyenne Republican's last day is this Sunday. She was chosen by Virginia Gov.-elect Glenn Youngkin to lead alongside the next assistant superintendent of public instruction, Elizabeth Schultz, at the Virginia Department of Education.
"Jillian and Elizabeth are going to be crucial in helping Secretary of Education Aimee Guidera restore excellence in education," Youngkin said in a prepared statement. "Under my direction, they will get to work ensuring our schools remain safely open, ban critical race theory and political agendas from our classrooms, and rebuild our crumbling schools."
Although it's unclear when Balow will begin her work in Virginia, the governor-elect is set to be inaugurated Saturday. Balow said she is humbled and honored to join him in the new administration.
"Gov.-elect Youngkin made educational transformation the centerpiece of his campaign," Balow said in a prepared statement. "There is no more serious time to be in K-12 education governance than now, and Virginia is on the cutting edge of this battle for the future of our public schools."

Following Balow's announcement, Wyoming Gov. Mark Gordon thanked her for her service. He said he would officially inform the Wyoming Republican Party's Central Committee so it can prepare three candidates within the next 15 days for him to consider for her replacement.
The governor will then have five days to appoint a new superintendent from the names submitted; that person will serve the remainder of Balow's term. The post will be open for a four-year term in the November general election, with the primaries taking place in August. The filing period is May 12-27.
Until her position is filled, the Wyoming Department of Education's chief policy officer, Kari Eakins, will serve as interim superintendent.
"I have enjoyed working alongside Superintendent Balow for the past seven years in my roles as Treasurer and Governor, making her the second-longest currently serving statewide elected officer," Gordon said. "We will miss her experience and expertise. She has worked to improve our state's education system, and I thank her for her efforts. Her service to the state has been exemplary, and I wish her well in her new role."
Wyoming Education Association President Grady Hutcherson shared the same appreciation for Balow's service to the state of Wyoming. He said he considered her an advocate in supporting rural students and families, and someone who had passion for prioritizing career and technical education opportunities. He also looked to the future, with new leadership taking office Monday.
"WEA looks forward to continuing to work hand-in-hand with the Wyoming Department of Education under the leadership of Interim State Superintendent Kari Eakins," Hutchinson said. "Together, we will continue to advance educational opportunities for Wyoming students, and innovate and advocate on behalf of our students, education employees and public schools."
Balow will leave Wyoming with a long resume in both education and politics.
She started building her nearly three-decade-long career as a student at the University of Wyoming. A master's degree in education from Regis University led to her first teaching job in the small town of Hulett, northeast of Gillette.
After spending 10 years working as an educator in local classrooms, she took on leadership at a higher level. Balow served as a national literacy consultant, an executive in state government, policy adviser to former Gov. Matt Mead and most recently as the elected state superintendent of public instruction. She was first elected to the position in 2014, and re-elected in 2018.
Throughout her time in the office, she has been an advocate for the voices of parents and students. One of the larger issues she focused on in recent years has been the fight against critical race theory in schools, as well as ensuring full transparency of teachers' curricula.
In September, she announced her full support for a piece of legislation meant to be introduced in the 2022 budget session, sponsored by state Sen. Ogden Driskill, R-Devils Tower, and Senate President Dan Dockstader, R-Afton.
The draft of the Civic Transparency Act calls for school districts in Wyoming to publish a list of all instructional material used by K-12 public schools before each school year begins, as well as any speakers or activities that will take place. Not only would material be published in advance, but guidelines on examination requirements and curriculum standards for teachers focused on history and civics education would be included.
"K-12 classrooms are not an appropriate forum for radical political theory such as CRT," she said in announcing her support for the bill last year. "But it is not enough as state leaders to say what shouldn't be taught, we also need to help school districts with what should be taught. That is why this bill is so critical. This bill empowers parents with the tools they need to oversee what is being taught in their district, and provides guidance to districts on comprehensive U.S. history and civics instruction."
Balow said she plans on taking these ideals with her to Virginia. Her goals for the Youngkin administration encompass restoring parents' voices in education, pushing for innovation and student success, enhancing school choice and eliminating political ideology from local classrooms.
"I am ready and more motivated than ever to engage at this critical time in our nation's history, serving alongside Gov.-elect Youngkin as he leads Virginia through this historic opportunity to reset and restore public education with parents and students as the priority," she said.
Let us know what you think!