Bank robbed in Idaho Falls; officials seeking public's help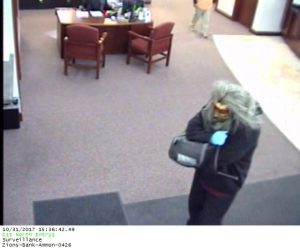 The Bonneville County Sheriff's Office reports Zions Bank in Ammon, Idaho was robbed yesterday by a person wearing dark clothing and a mask with a large amount of hair and a skull type face. All of this happening on Halloween Day.
The sheriff's office reports the suspect is approximately 5'7″ tall and walked with a limp. The suspect was last seen fleeing the bank east bound on foot along Sunnyside Road by Broulims in Ammon.
If you have any information about this Robbery, the Bonneville County Sheriff's Office asks that you call the dispatch center in Idaho Falls, at 208-529-1200 or you can also report anonymously to Crime Stoppers at 208-522-1983 or online at www.ifcrime.org.
Let us know what you think!
Tagged:
Ammon Idaho
Bonneville County Sheriff's Office
Idaho Falls bank robbery
Zions Bank