By Mike Koshmrl 
Jackson Hole Daily
Via Wyoming News Exchange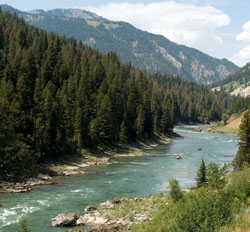 JACKSON — The brunt of a runoff season that's predicted to reach 150 percent of average will likely rush through Jackson Hole's streams and rivers in the next week or two.
There would be approximately 27,000 cubic feet of water per second flowing down the Snake River right now as it enters Palisades Reservoir if Jackson Lake Dam, and the water it impounds, was eliminated from the equation. But models tracked by the Bureau of Reclamation's Brian Stevens expect this measure of "unregulated inflow" to swell to 36,000 cfs in the next 10 days.
"We have a fair amount of snowpack left to come off," said Stevens, the bureau's Upper Snake Field Office water operations manager. "It should be done in about four weeks. We'll see where we end up."
The high flows in the forecast are a testament to the remnants of a wet winter that's melting off in the mountains. The snowpack lingering up high is still 124 percent of the long-term average, though Stevens said peak melt is expected to come a week or two earlier than normal.
The distribution of remaining snowfields is "interesting," he said.
"There's a lot of snow up high, but down low there's very little," Stevens said. "In the southern end of the basin, there's basically no snow at SNOTEL sites, but when you get up to Togwotee Pass and Two Ocean Plateau, there's still a lot."
"Unregulated inflow" above Palisades usually peaks at 24,000 cfs. During last spring's major, damaging runoff season, the measure reached 44,000 cfs — about 8,000 more than this year's forecast calls for.
Factor in Jackson Lake Dam and the water it backs up, and flows downstream in the Snake are lower. Seventeen percent of the storage space in Jackson Lake was available as of Monday. The latest release rate out of the dam, 5,500 cfs, is geared to keep water levels in the impounded lake consistent, Stevens said.
There's no saying what flows in the Snake River Canyon will top out at, because they are influenced by precipitation and weather. The same is true for releases out of Jackson Lake Dam.
Stevens' hunch is that summertime release rates will fall somewhere between 2,250 and 2,500 cfs. Water levels could taper down to that level as early as June 10 if it's abnormally dry, he said, but more likely won't level off until the second half of June.
In the meantime, the long-term forecast is for "hot and dry" weather, Stevens said, conditions that will expedite peak runoff. In Jackson, for instance, the National Weather Service is forecasting a Saturday high of 79 degrees — 13 above average, and a temperature that would flirt with a record high.
Even if the Snake's peak flows don't measure up to predictions, the 2018 runoff season has already left its mark on the record books.
After an unseasonably hot spell in early May, Snake River levels in the canyon charted into territories unrecorded since a gauge was installed in 1953. On May 10 and 11, the peak flows were above 20,000 cfs, setting new high marks for both days. The 2017 runoff season claims the record for May 12 and 13 flows in the canyon.
The glut of water headed downstream toward the Pacific Ocean has been a boon to Jackson Hole's river-running companies, like Barker-Ewing Whitewater.
"We're ahead of last year, in terms of numbers of people floating," Barker-Ewing Manager Adam Heigel said. "It's been a good season so far."
The earlier-than-usual runoff is welcome, Heigel said, because it decreases the chances that high-water restrictions for children will linger into summer. Those rules keep kids younger than 10 off whitewater boats when Snake Canyon flows surpass 18,000 cfs. The age floor goes up to 14 years old when flows in the canyon pass 25,000 cfs, he said.
Tagged:
Bureau of Reclamation's Brian Stevens
Jackson Lake
Palisades
Togwotee Pass
Two Ocean Plateau
Upper Snake Field Office