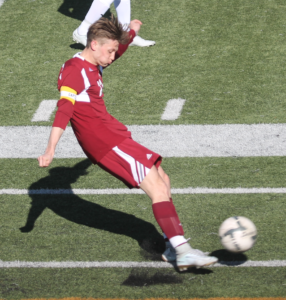 The Star Valley Braves soccer team picked up their second win over Green River in less than a week as they traveled to Sweetwater County on Tuesday, April 24, and defeated the Wolves 3-1 behind a pair of goals from senior captain Andrew Jeske and a score from Gerson Lozano. According to head coach Shane Hokum, the match didn't start out in such a positive manner.
"We seemed to come out a little sluggish at the start against Green River and they were able to pressure our goal consistently for the first 15 minutes of the game," he said. "After Green River scored, the Braves started playing more aggressive and with intensity.  We saw an equalizing goal within five minutes and before half time."
Hokum said the second half belonged to the Braves
"We pounded the goal with seven shots and two more that went in," he added. "We held Green River less than three shots the second half.  The Braves played hungry and are working hard to get the highest place for regionals.  The defense was once again solid and the offense capitalized on opportunities."
Jeske finished with two goal, Lozano had one goal and one assist and Cael Delgado had an assist in the match as well.
The win gives the Star Valley boys three in a row and five victories in their last six matches. The team will host the Natrona Mustangs on Friday at Braves Field at 5 p.m. and the Kelly Walsh Trojans on Saturday at 1 p.m. Both varsity matches will be broadcast by SVI Media.
• Lady Braves 1 Wolves 5
Things didn't go as well for the Lady Braves who dropped a disappointing 5-1 match to the Wolves just five days after defeating Green River in Afton.
Emma Thomson was responsible for the lone goal, assisted by her older sister Chloe.
The Star Valley girls will host the Fillies on Friday at 3 p.m. and the Trojans on Saturday at 11 a.m. Those varsity matches will also be broadcast by SVI Media.

Let us know what you think!
Tagged:
Green River Wolves
Kelly Walsh
Natrona County
Star Valley soccer