After such a special season, it was going to take a special number to match it at the All-State meetings in Casper.
As it turns out, a baker's dozen is pretty darn special.
Star Valley earned 13 All-State selections after going 12-0 and putting up the program's first undefeated season in over 50 years.
Here's a look at who comprised the lengthy list:
• David Castillo (Fullback)
Described by his coaches as one of the most devastating blocking fullbacks to ever put on a Braves uniform, Castillo made a habit of getting into the second and third level of the opposing defense. On the other side of the ball, he was one of Star Valley's top tacklers, racking up 60 and 80 defensive points. In his career he finished with 810 yards rushing and eight touchdowns.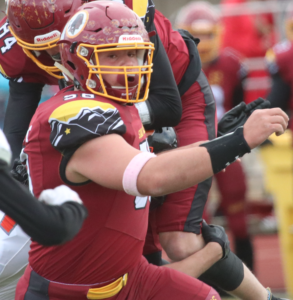 • Parker Merritt (Defensive Line)
Ask any coach that played Star Valley over the last two seasons and one name comes up every time. Merritt gutted out an incredibly impressive season on an injured knee and still managed to earn the Outstanding Lineman award for the 3A West for the second straight year. He was a wrecking ball on a defensive line that allowed the fewest rushing yards in the 3A Class and gave up just 7.3 points per game. He is a repeat All-State selection. He was also named to the Casper Star-Tribune's Super-25 Team.
• Brandon McDonald (Defensive Lineman)
Adding to the mix of big and tough defensive linemen, McDonald also backed up an outstanding junior campaign with another All-State nod this season. He was instrumental on both sides of the ball for a team that won the last 21 times he was in uniform. He finished the season with 75 defensive points.
• James Erickson (Defensive Back)
Erickson had his moments on offense and special teams, but he had a dominant stretch as a defensive back where he lead the team in interceptions (7) and was second in pass break-ups (6). He also made a habit of making impressive open-field tackles on the edge despite his small frame and had over 100 defensive points. He led the state in interceptions and defensive touchdowns.
• R.J. Cazier (Running Back)
Cazier etched a new chapter in the SVHS record books with 41 career rushing touchdowns and over 2,200 career rushing yards. The big back made it a miserable proposition to face him in the fourth quarter over the last two seasons as he became the new face of the power back in a program known for power backs. On defense, Cazier had 110 defensive points.
• Dean Shaw (Wide Receiver)
There may not have been a more versatile player in Wyoming this season. Shaw finished his career by throwing, receiving and rushing for a touchdown in consecutive games against Jackson in the semifinals and Powell in the state championship. He wrapped up his career with 835 rushing yards, 40 catches for 342 yards and 650 passing yards and six passing touchdowns. He finished his career with 17 total touchdowns.
• Hazen Erickson (Linebacker)
More often than any other player in the classification this past season, Hazen Erickson blew up the play to earn the moniker "The Blonde Bomber" (Copyright Faye Waldron). Erickson led the state in blocked punts and led the Braves in several defensive categories. On more than one occasion the opposing team scrapped half of their game plan to run away from his side of the field. He led the Braves with 190 defensive points, 83 tackles and 13 tackles for loss. He also led the Braves in yards per reception at 20.4 per catch which included four touchdowns. He was named the 3A West Defensive Player of the Year and compiled double-digit sacks during the 2019 campaign.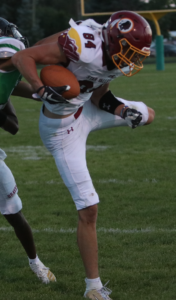 • Chase Merrell (Specialist)
Merrell will go down as one of the all-time Braves players for his ability to dominate in multiple facets of the game. He set new school records in receiving yards in a season and receiving yards in a career. His ability to high-point the deep ball or wrestle it away from the defender in mid-air became a habit in 2019. He was second on the team in interceptions (6) on defense and he was a prolific kicker who was reliable from long-range and in cold weather. His 52-yard kick this season was the longest in the state. He was named to the Super-25 list for the second time and was named the 3A West Specialist of the Year. He led the state in punting and kickoff yardage.
• Trent Clark (Offensive Line)
The Braves have been very blessed to have a stellar center for their last run of five years. For the last two seasons, that was Trent Clark. Earning his second All-State nod, Clark was rock-solid as a napper and a dominant run-blocker. Over the last two seasons, the Braves ran for 5,020 yards and 71 touchdowns. On defense he was one of the team's leading tacklers with 59 defensive points.
• Gabe Nield (Offensive Line)
Nield cut his teeth last year as a sophomore with playing time and has been a mainstay on the line. He will return next season as a senior as one of the anchors of the team.
• Lucas Chappell (Offensive Line
A newcomer to the program, Chappel was forced into service early on with injuries to other players. His reliability and versatility kept him on the field for the entire season as sophomore. In the middle of the season Chappel also lined up as a tight end in different blocking schemes. He will return with Nield to help strengthen the lineman play in his junior season.
• Bryson Jenkins (At Large)
Jenkins was clutch at many times during the season. From his key defensive touchdown against Blackfoot to a key third-down conversion against Jackson, Jenkins often made difficult plays at opportune times. On defense he was third on the team in defensive points with 110 and had a total of 55 tackles.
• Brant Nelson (At Large)
One player who was likely the victim of All-State meetings a year ago was Brant Nelson who faced an uphill battle to earn the nod as a sophomore. Not this year. He is 21-0 as a starting quarterback and returns next year to helm the team after throwing for more than 1,200 yards and 15 touchdowns this season. Nelson led the state in Quarterback Rating, Completion Percentage and Touchdown Passes. This was all done while throwing just four interceptions on the season.
2019 Star Valley Results
36-7 @ Summit Academy (UT)
28-14 @ Blackfoot (ID)
24-7 Vs Sugar-Salem (ID)
49-7 Vs Riverton
22-0 @ Green River
36-0 Vs Powell
30-0 Vs Jackson Hole
20-7 @ Cody
63-0 Vs Evanston
45-12 Vs Douglas (Quarterfinals)
42-21 Vs Jackson Hole (Semi-finals)
49-13 Vs Powell (3A State Championship)
(12-0) 444 points scored  88 points allowed
Let us know what you think!
Tagged:
Star Valley All-State selections
Star Valley Braves football