Braves staff hopes to emulate scheduling stategy from the gridiron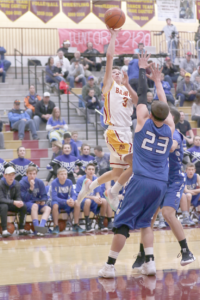 It was no secret that the Braves Football team wanted to be tested early. And that's not just coach-speak, they wanted to find things that they struggled with and fix them before the stakes got higher during the latter portion of the season.
Many of those players will be trading in their helmets for high-tops as they transition from gridiron to the cager season. The staff has done their best to create a schedule during the winter months that will not only challenge the Braves' execution, but should also point out those weaknesses.
At least that will be the plan once the team is fully healthy which is still a work in progress.
"Last week was our first week," said head coach Paul Kabonic. "We're into our full swing and getting prepped for the Preston Tournament."
That tournament begins on December 12 which is good news for a group that is still getting healthy from a 12-0 football run and some seasonal illness.
"Getting our football guys healthy this first week is a big part of [the process]." Kabonic added.
Once the team is suited up, they will be making the relatively short trip to Preston High School where they will face the host Indians and then take on either Middleton, a 4A team out of Idaho, or Green Canyon, a 4A team out of Utah. While the Braves are also officially in the Wyoming 4A ranks, their student population will be significantly less than any of the other team in attendance.

Meridian will be there," Kabonic said. "Bonneville, Mountain Crest, Century. I think we're by far the smallest school there."
The coach also pointed out that the junior varsity will have a full slate of games as well as the sophomore team. The freshman team will be in Pinedale for tournament play.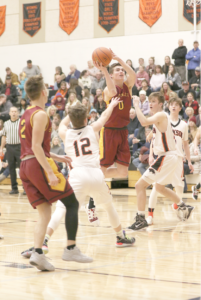 After the Preston tournament, the Braves will be on the road for a pair of match-ups against familiar foes in Blackfoot and Sugar-Salem.
"If we were doing the collegiate thing I don't think we could do much better in terms of playing tough opponents," Kabonic reiterated. "Sugar won it all and they are gonna try to get healthy too. That could be a rough game; football players with a low score. Blackfoot plays in a really tough conference and they are hoping to be in the top half of that group"
Just before 2019 ends, the Braves will then head to the Juan Diego Tournament where they will see defending Utah champion Layton-Christian, a defending champion from Nevada and the Ridgeline Riverhawks.
"I don't think we could challenge ourselves much more, Kabonic concluded. "We're trying to expose what our weaknesses are and be ready come playoff time."
Let us know what you think!