Braves take down "Baby Broncs" in easy win
◆ Star Valley hosting Evanston on Thursday; Green River on Saturday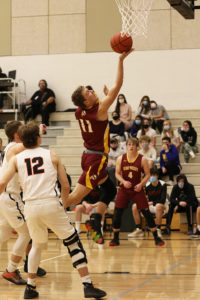 Starting underclassmen almost across the board, the Jackson Broncs are clearly building for the future and experiencing some growing pains as they roll into more salty programs.
That was certainly the case on Friday night as Star Valley substituted players liberally and tinkered with lineups not seen before in the season as they rolled back the Broncs 65-39 to win their third straight game overall.
Star Valley's scoring was extremely balanced led by Brant Nelson's 12. Tristan Kleeman, Dylan Johnson, Croix Jenkins and Jacob Hodges all scored eight points apiece with Kortlen Hilton scoring seven and Kolter Merritt and Zach Johnson each scoring five.
"If you look at our [season] stats, we've got just Kolter who is in double figures and a whole lot of guys who are hovering about eight points," said Head Coach Paul Kabonic. "Now we're getting guys scoring eight points with Dylan and Croix and Jacob off the bench. We really don't have a one-man show this year."

Now riding that three-game win streak, the Braves will have a chance to keep that momentum rolling as they host Evanston (2-6)(1-0) this Thursday evening at 7:30 p.m. and Green River (3-6)(1-1) at 3:30 p.m. on Saturday afternoon.
"These are the ones you gotta get," Kabonic said of the home games. "I don't think there is any team [in our district] that can just show up. With Evanston playing as well as they are and beating Green River they've gotta feel pretty good. They've won a couple in a row now. They are big and they've got some pretty capable guards. I expect them to be better and better every game."
• Coverage
The basketball games will be broadcast by SVI Media at svinews.com and also via traditional radio on Swift 98.7 FM in the Star Valley area. Audio and video coverage can also be found by utilizing the SVI News App.
The Aspen Physical Therapy Countdown to Tip-off will begin at approximately 5:35 p.m. on Thursday for the girls varsity game. The boys varsity game is scheduled to begin at 7:30 p.m.
On Saturday the Braves will host Green River with a varsity start scheduled for 3:30 p.m.
4A Northwest
Team Overall Conference
Riverton 5-5 3-0
Rock Springs 1-7 1-1
Cody 2-8 1-2
Natrona 3-5 0-2
4A Southwest
Team Overall Conference
Star Valley 3-6 1-0
Green River 3-6 1-1
Evanston 2-6 1-0
Jackson 1-7 0-2
4A Northeast
Team Overall Conference
Sheridan 8-1 2-0
Thunder Basin 7-3 1-1
Gillette 6-3 1-1
Kelly Walsh 2-7 0-2
4A Southeast
Team Overall Conference
Chey. East 9-0 1-0
Chey. Central 8-1 1-0
Laramie 7-1 0-0
Chey. South 3-5 0-2