Braves tame Broncos in overtime 60-55
• Horsley paces Braves with 27 in home-opener.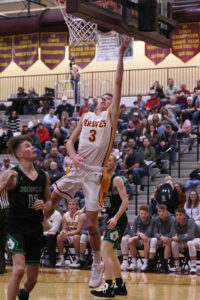 When head coach Paul Kabonic saw the schedule that his Braves would face in non-conference, he told them that he wasn't sure that he assured them of any wins on that slate.
It has indeed been a challenging campaign thus far with Star Valley sitting at (3-6) overall and having played the entire season to this point at less than 100-percent.
But there have been positives as well such as this past Saturday's win over Blackfoot, a perennial contender in Idaho's 4A Class. Star Valley picked up the win 60-55 in overtime after seeing some crucial missed free throws combine with a last-second buzzer-beater to force overtime by the visitors.
One big factor was senior Taylor Horsley who had the game-high of 27 points to pace the win. He hit four, three-point baskets and made seven of nine free throws in the effort.
Chase Merrell scored 16 points including several key free throws in overtime as well. Merrell and Mason Erickson tied for the game-high of seven rebounds.
The schedule will now sit idle as the team will have no games to play at the varsity level this weekend, a rarity for January. The team will host Sugar-Salem on Tuesday with a chance to win on the home floor after dropping a last-second loss to the Diggers in Idaho just prior to Christmas.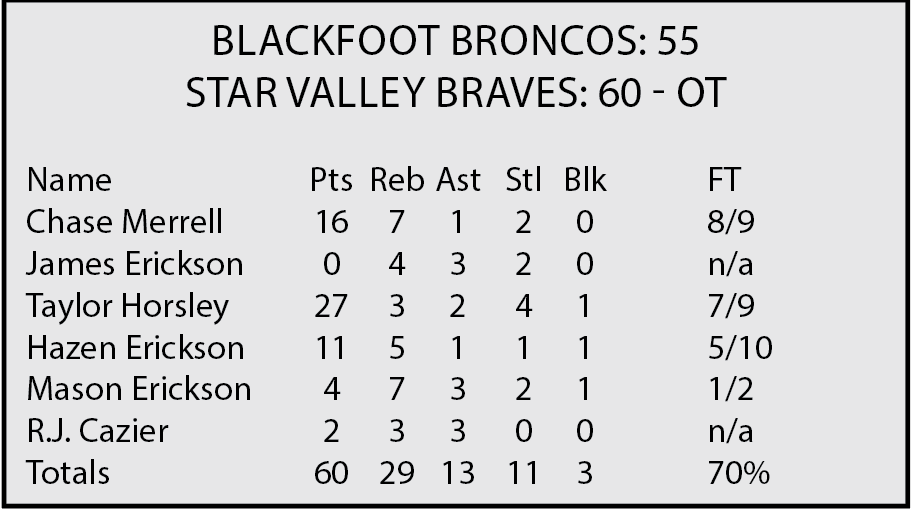 Tagged:
Blackfoot Broncos
Star Valley Braves Basketball