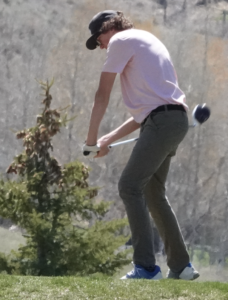 The SVHS golf team continues to gain some valuable experience as they played another tournament in Lander this past weekend.
"We attended our third tournament of our spring golf season on Friday," said coach Kelly Fullmer. "Lander, winner of the last two state championships, was without one of their all-state returning golfers, Wilson Brockie. In his absence, our boys were able to beat the host team by one stroke and win the tournament comprised of nine teams."

According to Fullmer, "senior Kaden Spaulding, in the midst of his senior farewell tour, again led our team with a score of 78, but I was pleased to see new varsity golfer junior Tyler Hodges shoot an 81 to place in the top team with Kaden along with sophomore Karsen Spaulding, who shot a great back nine to card an 82."
The golfers hope to steal one more weekend of good weather from the fickle springtime weather gnomes.
"We will be in Pinedale this coming Thursday to wrap up our spring season," Fullmer added. "I'm noticing improvement throughout the roster. We've finished second and first twice this spring, but that's been with the help of a departing senior. Freshmen Tanner Thompson and Hodges will have to fill the gaps left by Kaden and fellow senior Tristian Hicks. From what they've show us this spring, both in performance and dedication, we will have a strong team come August."
According to Fullmer, no girls traveled with the SVHS team to Lander.
Tagged:
Kaden Spaulding
Karsen Spaulding
Kelly Fullmer
SVHS Spring Golf
Tanner Thompson
Tristian Hicks
Tyler Hodges