Breathing new life into old history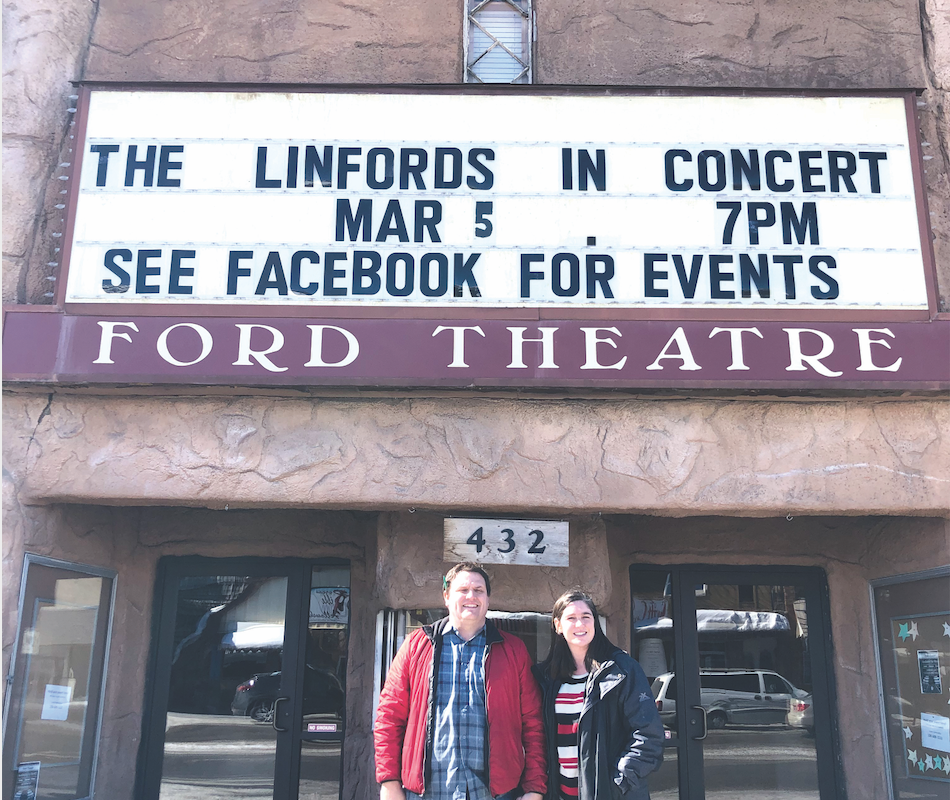 ◆ Ford Theatre reopens as live performance venue showcasing local talent.
The children's orchestra was playing "Mary Had a Little Lamb." But with instruments in youthful hands and the attention span of young minds, it was just noisy chaos. A young James Arbizu, studying music education at Weber State University, was flustered. So he altered course.
The undergraduate running a campus "string project" for elementary school children dropped the key from a major to a minor. And he changed the name of the tune to "Mary Lost Her Little Lamb."
What followed was musical magic. As the last note faded, "you could hear a pin drop. Everyone realized we had a moment. That was cool."
Today, several years later with a master's degree and several years teaching music in Star Valley behind him, Arbizu recalled that moment. "It was touching. Young kids can be in touch with music more than we give them credit."
And it is this desire to give local musicians – young and old – such "moments" that less-than-gently nudged Arbizu and his wife, Daphne, to take over the Ford Theatre in Afton. Once a movie venue for the likes of John Wayne and Audrey Hepburn, whose images stand out in high relief on the brownstone façade, the newly reopened historic building at 432 Washington is now an intimate gathering place for arts and musical performances.
FOLLOW FORD THEATRE ON FACEBOOK.
Since the theatre opened in December – as COVID restrictions eased – the old building has been the site for concerts by local pianist Jane Andersen and the Hahn Family, among others as well as the toe-tapping music of The Linfords.

James and his equally musical wife moved to Star Valley in 2009 for James to teach music education in the school district after his degrees from Weber State University and BYU. In 2013, they purchased Mountain Music in Afton. Then, after years of watching the Ford Theatre change hands, the Arbizus leased the building in hopes of having more than just the high school auditorium for performances.
When asked why a school educator who runs a music store with his wife – along with raising five kids ranging from ages 17 to 2 – would also pick up a live-performance venue, James laughed.
"Because we're crazy," he told SVI Media during a recent telephone interview. "There's a need here, and we saw [the theatre] as a way to fulfill that need.
"This is another venue for intimate performances, a place for people to do recitals. It just grabbed us. We've been figuring how to make it something that would serve the community."
That "something" is for many in Star Valley not only a historic site, but also a sentimental one. Originally named the Wray Theatre, the venue opened in 1935 with 450 seats and hosted movies like Lady and the Tramp, the latter according to a 1956 yearbook for Star Valley High School. In that photo, lines of parents and kids line up in the snow under the marquee waiting to see that classic Disney film.
The Arbizus actually took over operation of the building in 2019, but COVID restrictions delayed their plans – as well as their 2020 schedule. In all, James related, "the wheels were turning" on how to make it work.
"Life is crazy, but I found a way. [He said to his wife], 'Let's see if we can do it.'"
One avenue to "make it work" as COVID interrupted 2020 was a new non-profit – Salt River Arts Society. "The mission [of the Society] is creating space for music and the vision to have the Ford Theatre become a performance center at full capacity. To have it utilized every day possible for that purpose."
Arbizu expressed gratitude for the owner of the Ford Theatre building for supporting their efforts and for private donations to the society.
Currently, all performances are held under COVID protocol from the state and county health departments, which includes social distancing – hence partial capacity – and masking.
So far so good, Arbizu said. The Andersen concert was sold out, as well as other performances including a dry bar comedy night. Daphne emphasized that all ticket receipts support Ford Theatre.
"We'd love to use this historic building in our community for the arts and to gather together and make music and enjoy each other," Daphne said during the SVI telephone interview.
One local artist couldn't agree more. "New life has been given to Ford Theatre," Teddy Linford Cunningham told SVI Media, a few days before she and her brother Cal were to perform at the new venue.
"This can become a safe place for budding musicians, for young people in our valley and old space for those of us who have grown up in the valley.
"I remember going to shows. My mom and dad went on a date there when they were dating. When my mom was a young teen, she saw an Elvis movie. It was very impactful.
"My first date was the Ford Theatre. I don't remember the movie. I remember being in a line of people and was there with a guy. I would have been 16."
Cal and Teddy have been performing in large and small venues since they were children, playing music they've written, and music their brother, Jake, has written. So for them "breathing new life into some old history" is a "great combination."
Daphne Arbizu said it succinctly. "It's amazing how much [talent] is packed into this little community, how they are supportive of the arts."
Growing the musical community through an arts society and the Ford Theatre is "a big endeavor," she explained. "[But] James believes the community loves the arts, and that's something that would be good for the community."
— Editor's note: Some historic information for this article comes from cinematreasures.org.