Bridger-Teton honors Star Valley Ranch Trails System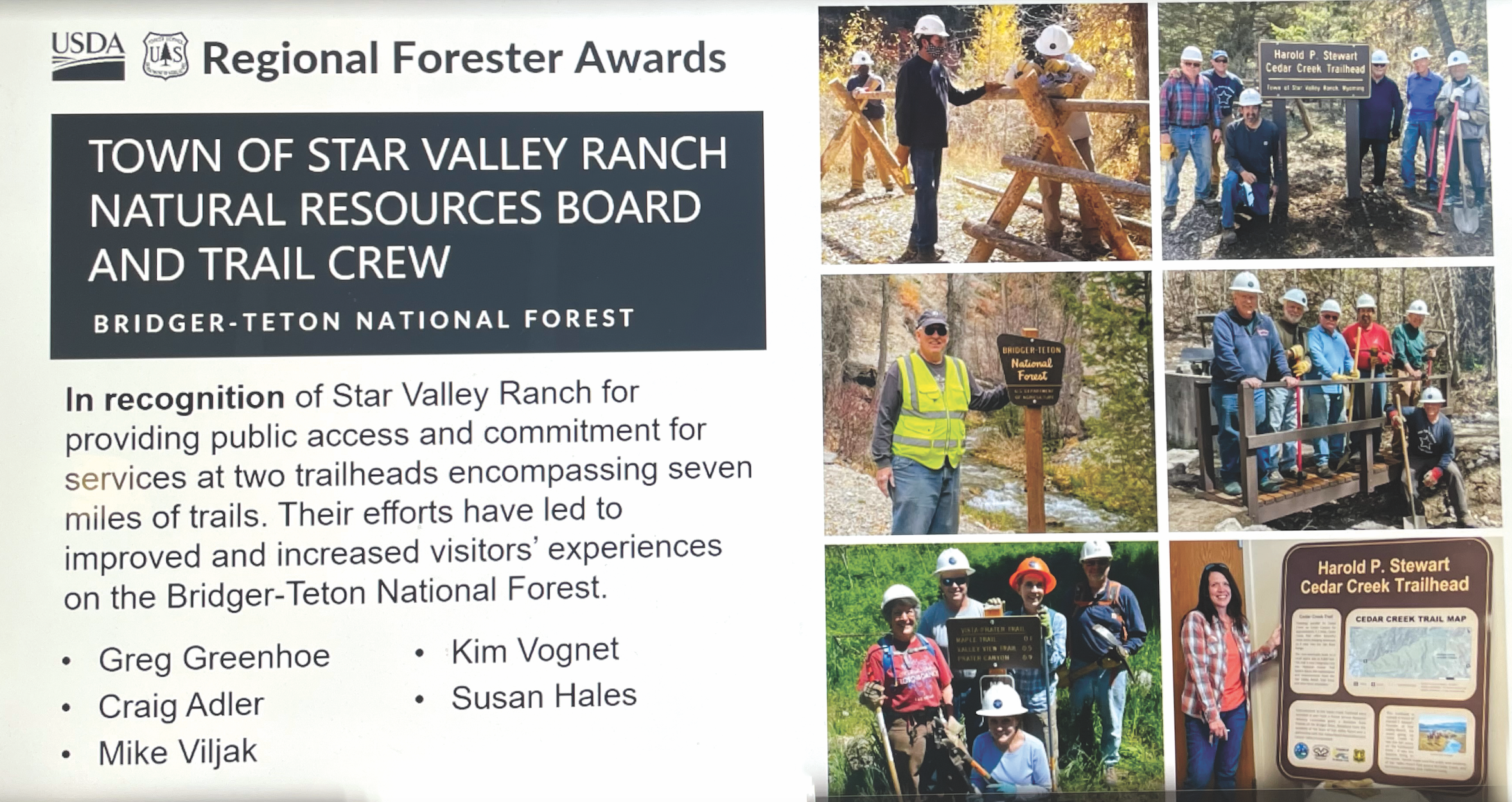 ◆ B-T supervisor presents award to SV NRB chairman in a live-stream broadcast.
The Bridger-Teton National Forest honored Star Valley Ranch and a group of community volunteers who created a trail system under the direction of the town's Natural Resource Board.
The board and volunteers were acknowledged for "two trailheads encompassing seven miles of trails," in and adjacent to the Town of Star Valley Ranch.
The honor was presented to Star Valley Ranch at the 2021 Regional Forester Awards Ceremony streamed live on Nov. 2.
The B-T noted, "Their efforts have led to improved and increased visitors' experiences on the Bridger-Teton National Forest."
B-T Forest Supervisor Tricia O'Connor presented the award to Greg Greenhoe, Chairman of the Star Valley Ranch Natural Resource Board.
The following is a transcript of that presentation.

B-T Forest Supervisor Tricia O'Connor: I would like to introduce an amazing group of partners that have made a huge impact on the Bridger-Teton National Forest. I would like to start with the Chairman of the Star Valley Ranch Natural Resource Board, Greg Greenhoe. I would also like to welcome Craig Adler, Mike Viljak, Kim Vognet, Susan Hales and others who couldn't be here today.
In 2021, the Town of Star Valley Ranch Natural Resource Board and the Star Valley Ranch Trail Crew secured the public right-of-way across a six-acre parcel of private land at the mouth of Cedar Canyon adjacent to Cedar Creek trail and negotiated to cross 300 feet of a golf course. They developed a professional, safe, and inviting trailhead with a parking area adjacent to the Forest Service boundary for the benefit of Forest Service visitors.
Through grants, fundraising, donations (totaling $18,007) and more than 800 hours of volunteer time, they developed a parking area that holds about 15 cars; designed and installed signage and an informational kiosk; constructed a small footbridge over the irrigation channel and buck & pole fencing to confine public access to the easement and prevent resource damage; and provided and continue to maintain a portable toilet with screening for public use.
In addition, since 2015, the Natural Resource Board committed to construct and maintain a new trail system on the Bridger-Teton National Forest adjacent to the Town of Star Valley Ranch. Since then, volunteers on the trail crew have constructed 2.7 miles of non-motorized hiking trails and maintained or improved over 4.5 miles of existing trail. We couldn't do all the great things we do without amazing partners like this. Greg, please accept this award on behalf of the Regional Forester.
SVR Natural Resource Board Chairman Greg Greenhoe: On behalf of the Town of Star Valley Ranch, Wyoming our Natural Resource Board and all of our volunteers we thank you for the honor of receiving this award.
In turn I would like to thank all of our volunteers who made this project a reality. Other than the road surfacing, this project was completed 100% by volunteers on our volunteer trail crew.
And I want to thank our partners in the project; our Resource Advisory Committee whose grant provide for half of the project cost
And additional funds and support from the Friends of the Bridger-Teton organization.
And to Leisure Valley Inc. the landowners who provided us with the easement and permanent access to Cedar Creek and the Bridget-Teton NF.
Let us know what you think!
Tagged:
2021 Regional forester Awards Ceremony
Bridger-Teton National Forest
Greg Greenhoe
Star Valley Ranch Natural Resource Board
Town of Star Valley Ranch
Tricia O'Connor