Bureau of Reclamation to reduce water flow from Jackson Lake Dam starting May 10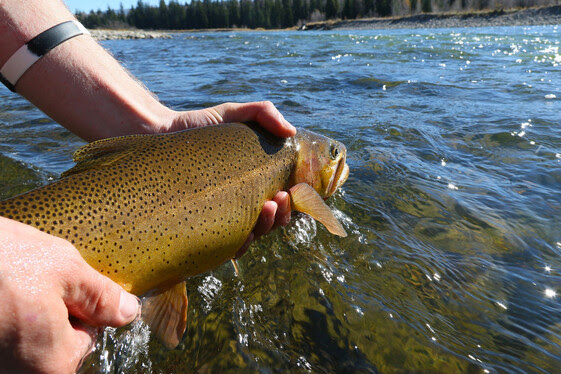 CHEYENNE — The Bureau of Reclamation (BOR) Upper Snake Field Office has informed the State of Wyoming that a reduction of water flow from Jackson Lake Dam will occur for six to eight weeks starting May 10. According to the BOR, flow reductions from the dam are necessary to prevent water from leaving the system and spilling over Milner Dam downstream in Idaho due to the above-average snowpack.
As of today, the BOR intends to reduce water flows from 280 cubic feet per second (cfs) to 50. The minimum flow required to maintain the fishery below the dam and maintain water within the world-famous Oxbow Bend is 280 cfs. The 4.5-mile stretch of river below the dam is critical habitat for Snake River cutthroat trout, shore birds, wildlife and the bluehead sucker — a species of greatest conservation need. Any reduction of water flow below 280 cfs in this area will harm the ecosystem and negatively affect outdoor recreation, tourism and angler opportunities.
The Wyoming State Engineer's Office, Wyoming Water Development Office and the Wyoming Game and Fish Department have been working with BOR in an attempt to find reasonable solutions to maintain flows at levels that will not be harmful to native wildlife. The BOR has not initiated a reduction of flow to this magnitude in decades.
"This drastic change in water operations by the Bureau of Reclamation with extremely short notice has made this situation particularly challenging," said Game and Fish Director Brian Nesvik. "To this point and through many discussions with the BOR, we have not been able to find long-term solutions, however we continue to maintain hope we can buy some time to find mutually agreeable ways forward."
Water storage was purchased by the State of Wyoming in the early 1990s. BOR is demanding that Wyoming use its available water storage to supplement water flows to maintain fisheries. This requirement is concerning to Game and Fish, particularly since there is above-average water runoff predicted in the Snake River drainage. The State of Wyoming is prepared to utilize its available water storage in an effort to maintain water flows, but current predictions estimate the account will be exhausted prior to the end of the period BOR intends to reduce flows.
"This decision by BOR has the potential to impact spawning native fish, anglers and recreational users and visitors at Wyoming's beloved Grand Teton National Park," Nesvik said. "Reducing flows during a year when we have significantly more water available than normal is hard to comprehend and Wyoming cannot support this reduction. The State of Wyoming is calling on BOR to develop alternative solutions quickly to keep flow rates at the minimum level to conserve wildlife."
The State Engineer's Office, Wyoming Water Development Office and Game and Fish remain committed to working with BOR to maintain flows at levels that will avoid negative impacts to the fishery. State leaders are also working in good faith with senior officials in the Department of Interior to find a mutually agreeable path forward that protects critical wildlife habitats.
Let us know what you think!
Tagged:
Bureau of Reclamation
Jackson Lake Dam
Upper Snake Field Office
Wyoming Game and Fish Department