Chance of A Lifetime: Williams rallies student body
Star Valley High School is a remarkable place. In 2016 its teams won ten state championships and were close to winning two more. It boasts exceptional drama and music programs. Last year, 19-20 the football, dance, hip-hop, dance jazz, and wrestling all won state championships. Coach Ty Draney has an almost unbelievable cross country dynasty. Coach Eddie Clark has accomplished the same type of dynastic dominance with his wrestling program. 
Thirty-six music students (band, orchestra and choir) were selected for All-State honors,  seven in cross country, seven in drama, thirteen in football, one in journalism, seven in wrestling and two in basketball. This fall, the perennially-winning volleyball team competed again at the 4A level and won consolation. 
It's no coincidence that its students earned over $155,000 in scholarships in 2019 and its students average 24 on their ACT scores. Students perform well above the average on state tests and students go on to be successful in a variety of endeavors in life.
Not only is the school highly successful in its activities, teachers and staff encourage a well-rounded life for students. The high school frequently does 'Braves in Action' service days where students go into the community and help others. 

It is in the context of the service and the idea of developing the entire student promoted at SVHS that a rather unusual, heart-warming event happened––a bike race between a student, Chance Williams, and counselor, Josh Frazier. More about that in a minute.
Bryan Nichols, case manager, teacher, mentor, and first-year SPED teacher to Chance Williams told how he first encountered Chance, "I met him as I was student-teaching last year. When I was hired full time this year, he was the first person I told I was coming back as his teacher. He gave me a big old hug. Chance has the biggest heart––he'd give you the shirt off his back, and I was really excited to get the opportunity to work with him again. Chance is really one in a million."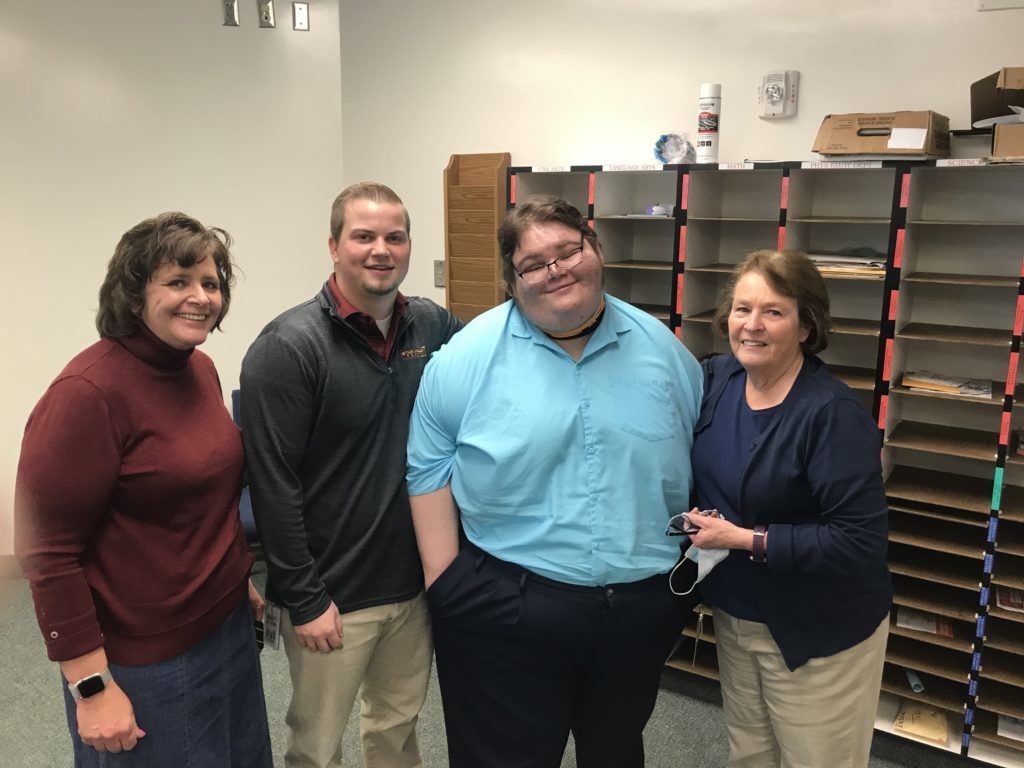 Williams has not had the easiest life. He sometimes struggles with health issues himself. He bears a large responsibility to help take care of family members who need a lot of support, so Chance shops for groceries, cleans the house, prepares food, and helps with medical needs.
Notwithstanding some personal challenges, Williams is positive and optimistic. He aims to please. He makes every effort to do what is asked of him by his teachers. Students in the school like him. A staff member who works with Chance, Rene Andrews, laughingly explained: "When we go with him in the hallways, kids interact with Chance. They high-five as he comes by. They may not know who I am, but everybody knows who Chance is."
Coach McKay Young, and his Braves football team––they've won more state championships than you can shake a stick at–– have adopted Chance, even though he doesn't play. Chance spoke of his relationship with the Braves, "Oh, I love those guys! I"m so proud of them. I've never seen a team work so hard. When we went undefeated last year, it just won my heart, and while they didn't go all the way this year, they worked hard, had fun, and I'm still proud of them." 
After the game with Green River, the team invited Chance to come down and take a picture with them. The team captain gave him a water bottle and T-shirt. Typically, Chance would be on the sideline with the team but this year due to Covid and the risk of him getting hurt, he cheers from the stands. Bryan Nichols said of the team's kindness, "It's awesome to see him light up with joy in reaction. I honestly don't believe there's a kid in the high school who doesn't like Chance."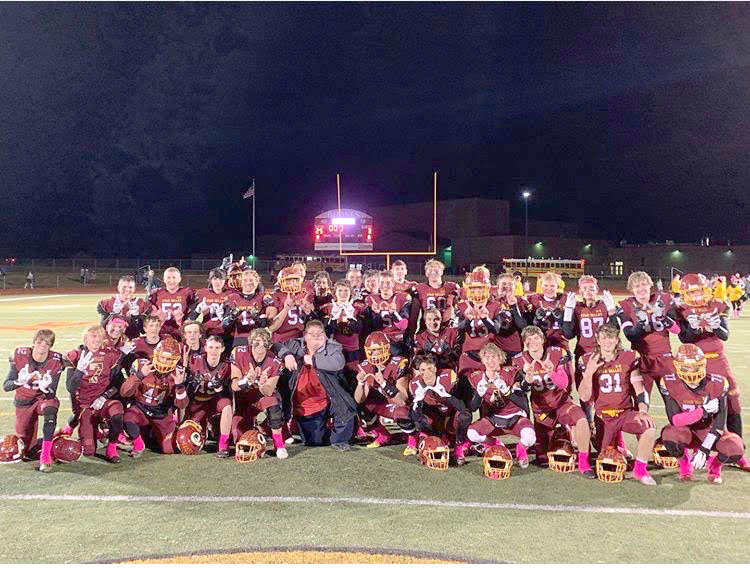 Part of Chance's educational program is to get lots of movement each day as part of his routine. To that end, he does a number of tasks, the most significant of which is to check that the school doors are locked and closed each day. He does it with pride and isn't above giving another student a bit of a chewing if they prop a door so they can re-enter. As to his future, Chance hopes to be either a vet assistant or a marine. Many of his family members have served in the military.
The great race, as it is coming to be known, happened as a casual, off-hand remark that counselor, Josh Frazier made. He challenged Chance to a race early in the fall and didn't think more of it. The idea grew organically and gathered momentum. People around SVHS started to have some fun with it.  Frazier would good-naturedly go into his classroom and trash-talk Chance. Not to be outdone, Chance would come into Mr. Frazier's office and do a "stare down." 
In an interview this week, Chance, with complete sincerity, commented about Mr. Frazier's performance, "He did a lot better than I thought he would." 
The tension and buzz about the race grew.
School secretaries, Gina Fulmer and Heather Warren added fuel to the fire about the race. They started a vote in the school for who would win. Votes were cast by putting a marshmallow in a box––either for Williams or Frazier. Random strangers coming to the school were pressed to vote for one of the racers. There was more trash talk, secret training events, staredowns, special accoutrements added to the bicycles to add fun to the race. Elaborate preparations were made to record the event.
The day of the big race came just before Christmas break.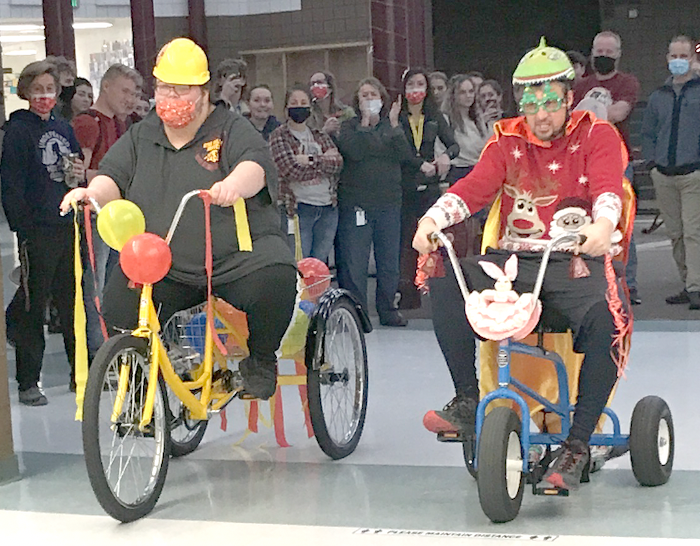 Principal, Jason Horsley, served as race starter. On your marks, set, go. And off they went. Williams and Frazier rode down every hall at the school which totaled nearly a mile. Students came out of their classes, lined the halls, and cheered the racers on. Turn-arounds were especially difficult, but observers jumped in at one point and helped the racers get their bikes turned around.
There was some weaving on the parts of both contestants to maintain the lead when they got it. There was a near-collision on a corner near the end of the race. There was also a bit of foul play as a few spectators launched some paper snowballs at Frazier in an attempt to help Chance win. 
The race ended in a photo finish at the commons area, Chance Wiliams the victor. There was quite the pandemonium in the end, cheering, an awards ceremony for Chance in which he was awarded the great race T-shirt. Josh Frazier said it took him nearly a half hour to recover and he needed a defibrillator to restart his heart. When asked how he felt about winning, Chance said, "It made me feel awesome. I never knew I had so many fans." To the high school students, he said, "I appreciate that so much. Thank you, guys!"

Part of the great race challenge was that the loser of the race had to take a whipped cream pie in the face. Frazier did so with good humor, and since the racer with the fewest votes had to take another pie. Frazier was set to take another one in the face, when Chance stepped up and volunteered to take the second pie. Trash bag over him, Chance took one for Mr. Frazier. Grinning ear to ear, he shouted,  "Give it to me!"
Frazier commented, a bit emotionally: "My favorite part of the whole thing was when people were cheering for Chance––which was right, it was his moment, but he never forgot me. He came over and raised my hand so we could enjoy the moment together." 
Bryan Nichols commented about the end of the race, "This is exactly why I went into education, to get to see kids so happy and full of joy." Both Frazier and Nichols expressed appreciation for the SVHS admin. team, Kory Hokanson, Rob Erickson and Jason Horsley. Frazier said, "There was never a question whether this was going to happen or not. They totally got behind us, and 'said let us know what you need and we'll get it done.' It's great to work with people like that."
(Audio: Jason Horsley speaks about Chance and his effect on the student body)
Sometimes small moments can be great ones. Maybe Chance's gesture of respect and affection for his teacher and mentor was one of the greatest moments of all in the history of SVHS.
'The great race' is a testament to the power that teachers have to impact students' lives, but also their impact on ours. As much as the school has done to embrace and show love to Chance, he's given perhaps even more in return––through his respect, thoughtfulness and grace in such an everyday moment, he has grafted a bit of greatness back onto his teachers, fellow students and himself. It's a race everybody won.
*Special thanks to SVHS student, Peter Visser, for recording the race and sharing with SVI media
Tagged:
Chance Williams
Josh Frazier
Star Valley High School