Check out electric powered travel when you test drive an Electric Vehicle through LVE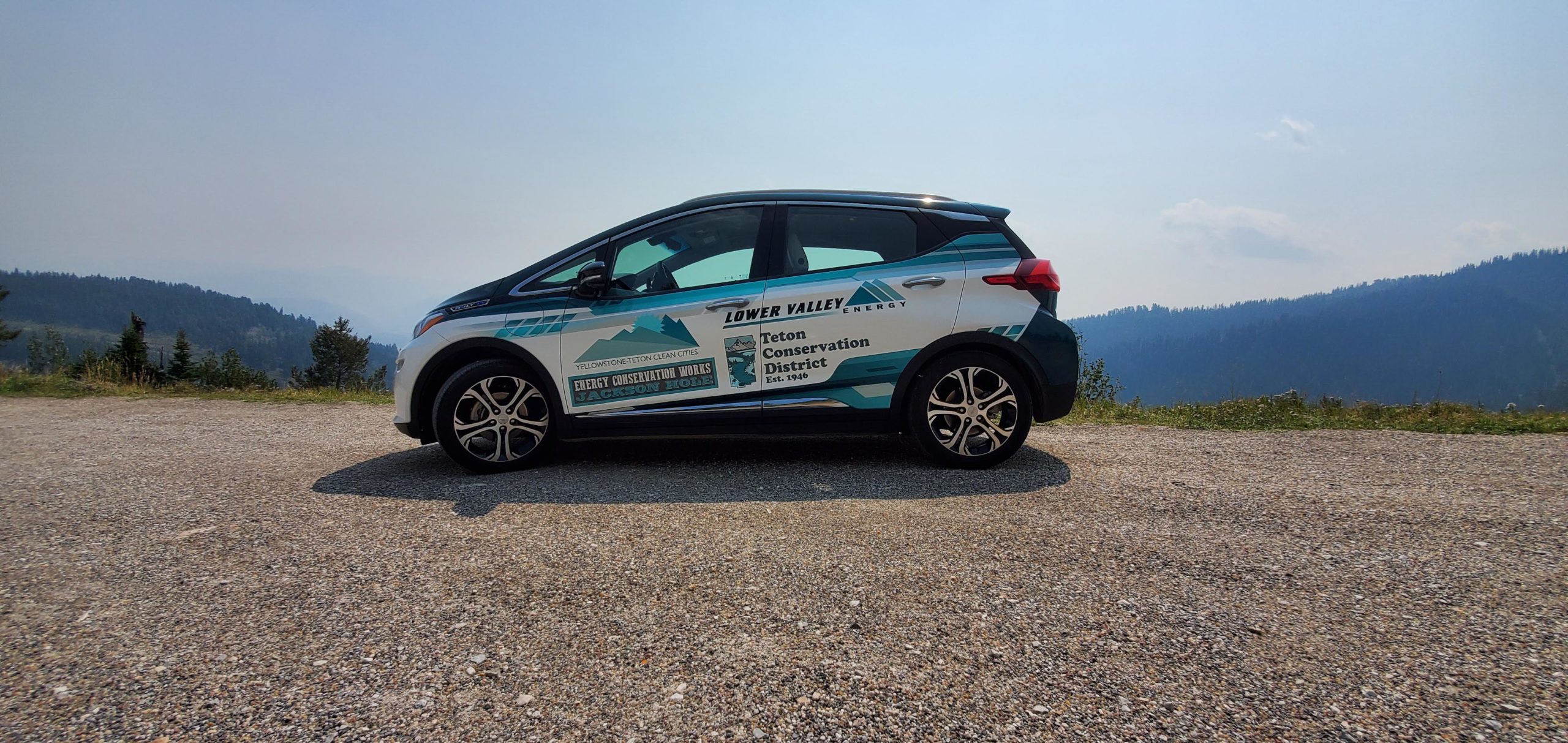 ◆ Drive the 2020 Chevy Bolt for a few days and for a longer trip or two.
Lower Valley Energy has implemented a new program in which members have the opportunity to borrow an Electric Vehicle as a trial experience.
"Lower Valley Energy (LVE) thought it was important to provide education and awareness to our members about the growing electric vehicle (EV) industry, which has significant impacts on electric utilities," Amy Walton, Conservation Specialist with LVE told SVI News. "That is why LVE has teamed up with Yellowstone-Teton Clean Cities, Energy Conservation Works, and Teton Conservation District to offer our members an opportunity to drive an EV for themselves."
LVE members can take a turn driving the electric-powered 2020 Chevrolet Bolt by signing up through the LVE website at https://www.lvenergy.com/2021/06/30/test-drive-an-electric-car/.  Though there is currently a wait list that will schedule your use of the car out a few months, LVE will notify you when the car is available for you to drive.
Any individual interested in using the car for a few days must meet the following requirements:
• Be a member of Lower Valley Energy
• Members must be over 25 years old with a current, valid driver's license.  A copy of your license is required for LVE records.
• Members must possess current, valid auto insurance.  A copy of your insurance card is also required for LVE records.
• Members must agree to sign a loaner agreement form with all terms and conditions.

"This vehicle seats four people comfortably. It comes with a trickle charger that plugs into any 120-volt outlet," explained Walton. "This is Level 1 of EV charging and will change the vehicle 4/5 miles per hour.  There are currently no Level 2 or Level 3 (DC fast chargers) in Star Valley.   A Level 2 charger will charge about 25 miles per hour.   A Level 3 DC fast charger will charge 180 miles per hour.  Jackson has several Level 2 chargers throughout the town, including one at the LVE Jackson Office.  There is also a Level 3 DC fast charger in the Jackson Town parking garage.  All these charging stations are currently free."
Under this program, LVE agrees to lend a member this EV for a few days. Members can take the car home for personal use either Tuesday through Thursday or Friday through Monday. Currently LVE has no restrictions on distance on the distance a member can drive the car during their trial period, and LVE encourages members to plan to take one or two longer trips.
"Know where you are going to charge the vehicle in advance," suggested Walton.  "The website PlugShare is an excellent tool to help plan your trip."
Visit https://www.plugshare.com/  to locate charging stations for your trip route.
"This is a very exciting program to be able to offer our members," said Walton.  "Driving an EV is a unique experience which deserves a 'try before you buy' exposure.  It is amazingly cheap to run and maintain. Allowing members to take it home for multiple days gives them the opportunity to get used to the differences that come with an EV.  We are hoping it will eliminate some of the range anxiety and ease people into the idea of charging a vehicle."
Having driven the car herself, Walton recommends taking advantage of the opportunity. "I have driven the car and thoroughly enjoyed it!   The most surprising aspect is the power that an electric motor has.  Our CEO, Jim Webb, gave the car the nickname "Zippy," which is quite appropriate.  I think most people that have driven it have been pleasantly surprised by the power, design, and overall experience."
Let us know what you think!
Tagged:
2020 Chevy Bolt
Energy Conservation Works
Lower Valley Energy
LVE
Teton Conservation District
Yellowstone-Teton Clean Cities