By Billy Arnold
Jackson Hole Daily
Via- Wyoming News Exchange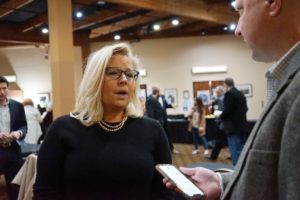 JACKSON — Speaking to Wyoming reporters shortly after Ukrainian President Volodymyr Zelenskyy addressed the U.S. Congress, Rep. Liz Cheney did not explicitly say whether there was a trigger that would lead her to support expanded military involvement in Ukraine.
Responding to a question from Wyoming Public Radio's Bob Beck, the Wyoming Republican said there is more the U.S. could do to make sure the Ukrainians "have everything they need to defend themselves and to make sure that this is not a situation where Putin succeeds."
That, she said, included moving faster to get the country missiles and MiG 29 aircraft, which Zelenskyy had requested as an alternative to a no-fly zone. The U.S. had earlier scrapped with Poland over the European country's plans to send its MiGs to Ukraine, concerned about provoking Russia.
But Cheney did not directly answer Beck's question, which comes as a nuclear power — Russia — invades its denuclearized neighbor that ceded its weapons in exchange for a security pledge from the U.S., U.K. and its current invader. A U.S. or NATO military intervention could risk putting two nuclear powers in conflict.
"I think there are concerns about enlarging this conflict," said Cheney, also stating that the U.S. has to "be absolutely committed to our NATO obligations and our NATO allies."

Gary Grappo, a former U.S. ambassador and diplomat who served in Baghdad during Iraq's 2010 elections, said Cheney's record as a proponent of NATO and U.S. engagement abroad, "including military support," speaks for itself. But he said that, generally, D.C. officials are concerned about "escalation," whether through direct involvement of U.S. forces in Ukraine or establishing a no-fly zone in the area.
On Wednesday morning, Zelenskyy asked the U.S. Congress to establish a no-fly zone over Ukraine.
"If you declare a no-fly zone, you're prepared to enforce it and enforcing it means, in the case of Ukraine, shooting down Russian aircraft who fly into Ukrainian airspace," Grappo told the Jackson Hole Daily.
The former ambassador said the calculation is also different in Ukraine than in other areas where the U.S. and its allies have imposed no-fly zones, such as the Balkans in the 1990s.
"In every case, we had pretty substantial air superiority and the country over which it was enforced did not have access to nuclear weapons," Grappo said.
Cheney spoke with Wyoming reporters for about 30 minutes Wednesday, taking six questions from WPR, K2 Radio, the Associated Press, the Casper-Star Tribune, KHOL, and Wyofile. Among other things, reporters asked her about energy and whether she was using the crisis to promote her pro-domestic fossil fuel development agenda, whether she'd had second thoughts about her vote against impeaching then-President Donald Trump in 2019, and how the U.S. response to Ukraine could have been "faster and more complete."
Cheney said that her position "has not changed" on fossil fuels, bashing the Biden administration for nixing the Keystone XL pipeline and banning new leases for oil and gas development on public lands.
"I think what we're seeing today is how important it really is for America to be energy independent," Cheney said. "But we're also seeing America right now has the ability to be the arsenal of energy for the world."
Cheney likewise said her position on the 2019 impeachment has not changed. That's when Trump was being investigated for pressuring Zelenskyy to announce investigations into Joe Biden, while withholding military assistance for the country and a meeting with the White House.
Cheney's stance is in contrast to Rep. Adam Kinzinger's, a fellow Republican who has joined her on the House commission investigating the Jan. 6 insurrection at the U.S. Capitol. Kinzinger said he regretted not voting for impeachment then.
"I think the question at the time was very clearly whether or not the House had the clear evidence we needed to determine that he committed high crimes and misdemeanors," Cheney said. "I do not have a different view now than I did then about the evidence that was presented."But she didn't waste the opportunity to criticize Trump for his positions on NATO and his praise for Putin, which the former president has repeated in recent weeks.
"Donald Trump was attacking NATO and attacking our allies. Both NATO and our allies are extremely important," Cheney said. "And we need leaders who are going to recognize the indispensable role of the United States and in leading the world and standing for freedom."
Let us know what you think!
Tagged:
Bob Beck
NATO
Rep. Liz Cheney
Ukrainian President Volodymyr Zelenskyy