Christmas Creche set for Sunday in the Thayne Community Center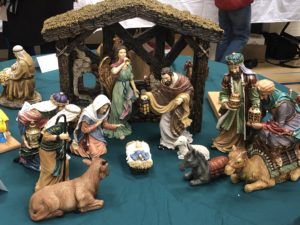 The 2019 Community Christmas Creche will open its doors at 1 p.m. on Sunday, December 8. The event will take place in the Thayne Community Center Gymnasium. Admission is free and open to the public. Musical presentations and readings will begin at 2 p.m. the event will continue through 7 p.m.
"Come and feel the true Spirit of Christmas at our interfaith nativity exhibit," said Kim Dockstader, one of the event coordinators.
Displays will include nativities from around the world donated to the display by area residents.
Anyone wishing to showcase a nativity in the 2019 Community Christmas Creche is invite to bring their nativity to the Thayne Community Center on Saturday, December 7 from 2-4 p.m.
Seasonal music will be performed by student choir groups, church groups, community groups and individuals throughout the event.
Guest readers will share scripture passages, poems and inspirational words.

A children's craft room will also be set up to give youngsters a chance to create a Christmas showpiece.
New at the 2019 event will be a gingerbread nativity display and "Tell Me a Story" Journal Writing.
The Creche is an open house style, attendees can come for whatever length of time they choose.
In addition to the presentations, displays and crafts, refreshments will be served.
For more information on the 2019 Community Christmas Creche, contact Kim Dockstader at (307) 886-1500.
Tagged:
Community Christmas Creche
Thayne Community Center