Come Help Rehabilitate Jackknife Trails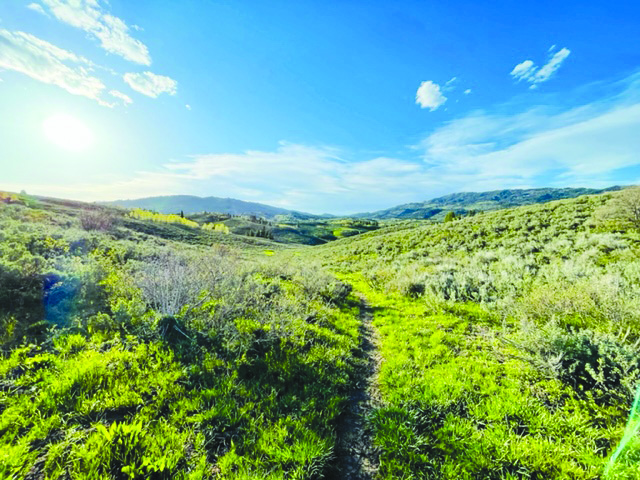 ◆ Alpine Pathways and Trails hopes to make areas more user-friendly.
By Breanna Call
SVI Media
This summer, Alpine Trails and Pathways is focusing on rehabilitating the trails in the Jackknife and Haderlie Ridge areas. The specific trails, numbered by the forest service, are 459, 460, 461, and 462. These trails cover roughly 10 miles. There are few trails to hike at the north end of the valley, so the goal is to improve the al- ready existing trails so they can be more user-friendly. Currently, many horseback riders and cattlemen use the area, but there are also bikers, hikers, explorers, and hunters who would benefit from improving the trails.
Jeremy Larsen, Alpine town councilman and founder of Alpine Trails and Pathways, says locals have been reaching out asking for "some trail love." He says the trails need "a little bit of TLC. They are a little overgrown for hikers and bikers. There's a lot of erosion mitigation that needs to happen." The plan is to cut back overgrowth, remove any deadfall, and monitor areas that may need to be rerouted or repaired because of erosion. This process will make the hiking trails more accessible and enjoyable for the community.

But Alpine Trails and Pathways can't do it alone. In fact, the program is looking for volunteers. "We're just getting started," says Larsen. "Anyone that wants to reach out to me and help out, I'm more than happy to have the help. I'm planning on being up there at least one day a week just to work on it myself." They welcome any individuals, families, businesses, or community and church groups who are willing to help clear the trails. Larsen says, "We'll meet at the trail- head and then head out and do what project needs to be done at the time."
Alpine Trails and Pathways has big plans for the area. They hope to eventually rehabilitate the surrounding areas as well, including from Black Mountain to Tin Cup and as far west as Caribou City to the front range. Larsen says, "That's easily a 10- year project."
If interested in volunteering or if you have questions, email alpinetap@gmail.com or visit alpinetap.org.
Let us know what you think!
Tagged:
Alpine Trails and Pathways
Black Mountain
Caribou City
Haderlie Ridge
Jeremy Larsen
Tin Cup
Town of Alpine