Community Events: June 2- 6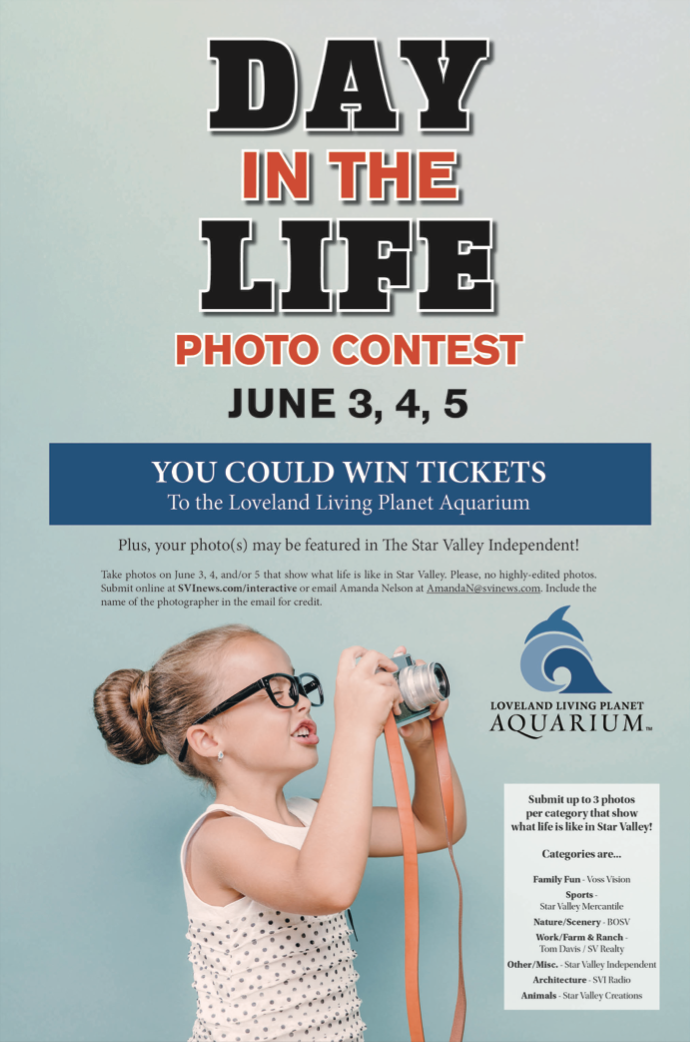 © Copyright
Star Valley Independent
• Thursday, June 2
CRYPTO PRESENTATION with the office of U.S. Senator Cynthia Lummis. 11:30 a.m.-1 p.m. at the Afton Civic Center. Light refreshments.
• June 3-5
ANNUAL DAY IN THE LIFE photo contest, hosted by the Star Valley Independent. Take photos on Friday, Saturday or Sunday that you feel best represents a day in the life in Star Valley. Select photos will be printed in the Star Valley Independent with a gallery also online at SVInews.com. Email photos to amandan@ svinews.com.
• Friday, June 3
FIRST ANNUAL Star Valley Youth Hunter Education Challenge. For ages 8-18. Friday and Saturday up Grover Park.
HUNTER SAFETY CLASS in the SVHS Media Center. 6:00 p.m. on Friday and 8:00 a.m. on Saturday. Register on the Wyoming Game & Fish website.
21ST ANNUAL GOLF CLASSIC hosted by the Star Valley Health Charitable Foundation. Cedar Creek Course at Star Valley Ranch. Breakfast & Check-in at 8:00, shotgun start at 9:00.
MAGILL & MURRAY at the Afton Ford Theatre. World renowned Irish fiddle and bouzouki. 7:00 p.m. Tickets at SaltRiverArts.com.
THREE RIVERS YOUTH CHORUS: Spring Concert. 7 p.m. Thayne Community Center Gymnasium.
• Saturday, June 4
LUCKY'S PLACE AHASV Annual Flea Market. 8 a.m. to 3 p.m. 4986 Muddy String Rd, Thayne. All proceeds go directly to the homeless and displaced animals of Star Valley.
FREE FISHING DAY IN WYOMING. No license required. Includes kids fishing derby at the Kemmerer Community Pond and kids fishing at the Star Valley View Golf Course in Afton.
• Monday, June 6
PUBLIC MEETING regarding Election Integrity & Security in Wyoming presented by Secretary of State Ed Buchanan and Lincoln County Clerk April Brunski. 5:30 at the Afton Civic Center.
REGISTRATION DEADLINE for Thayne youth soccer. Visit Thayne-wy. com.
Let us know what you think!
Tagged:
Day in the Life Photo Contest
Star Valley Community Events