Confirmed coronavirus total tops 1,000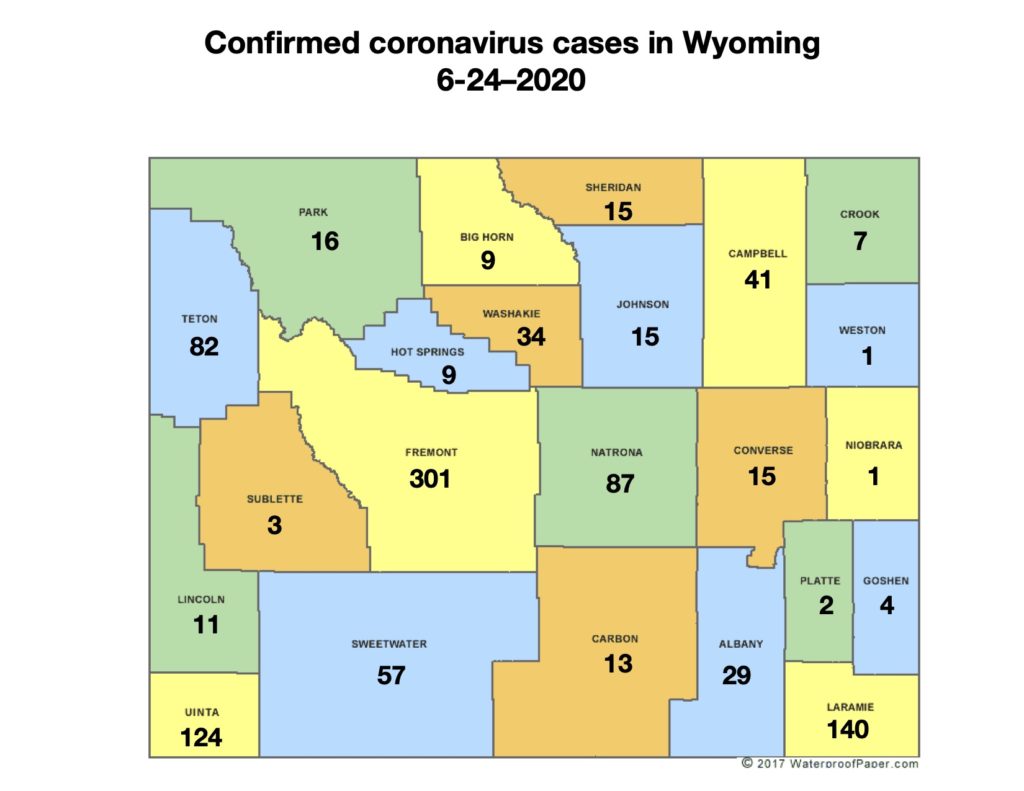 The number of coronavirus cases confirmed in Wyoming since the illness was first detected in the state in mid-March topped the 1,000 mark Wednesday.
The Wyoming Department of Health, in its daily coronavirus update, reported 24 new cases had been detected in eight counties to bring the state's total since the pandemic began to 1,016.
New cases were reported in Albany, Campbell, Fremont, Laramie, Natrona, Park, Sweetwater and Uinta counties. Sweetwater County had the highest number of new cases at seven.
As of Wednesday, the total number of cases seen since the pandemic began stood at 301 in Fremont County; 140 in Laramie County; 124 in Uinta County; 87 in Natrona County; 82 in Teton County; 57 in Sweetwater; 41 in Campbell; 34 in Washakie; 29 in Albany; 16 in Park; 15 in Converse, Johnson and Sheridan; 13 in Carbon; 11 in Lincoln; nine in Big Horn and Hot Springs; seven in Crook; four in Goshen; three in Sublette; two in Platte, and one in Niobrara and Weston.
The number of recoveries increased by 13 on Wednesday to total 966, including 759 recoveries among people with confirmed cases and 207 among those with probable cases.

Probable cases involve patients who show signs of coronavirus and have been in contact with someone with a confirmed case but have not been tested for the illness. The department said it has seen 263 probable cases since mid-March.
Active cases on Wednesday were set at 295, with 239 involving people with confirmed cases and 56 involving those with probable cases.
Currently 20 deaths in Wyoming have been attributed to the virus.