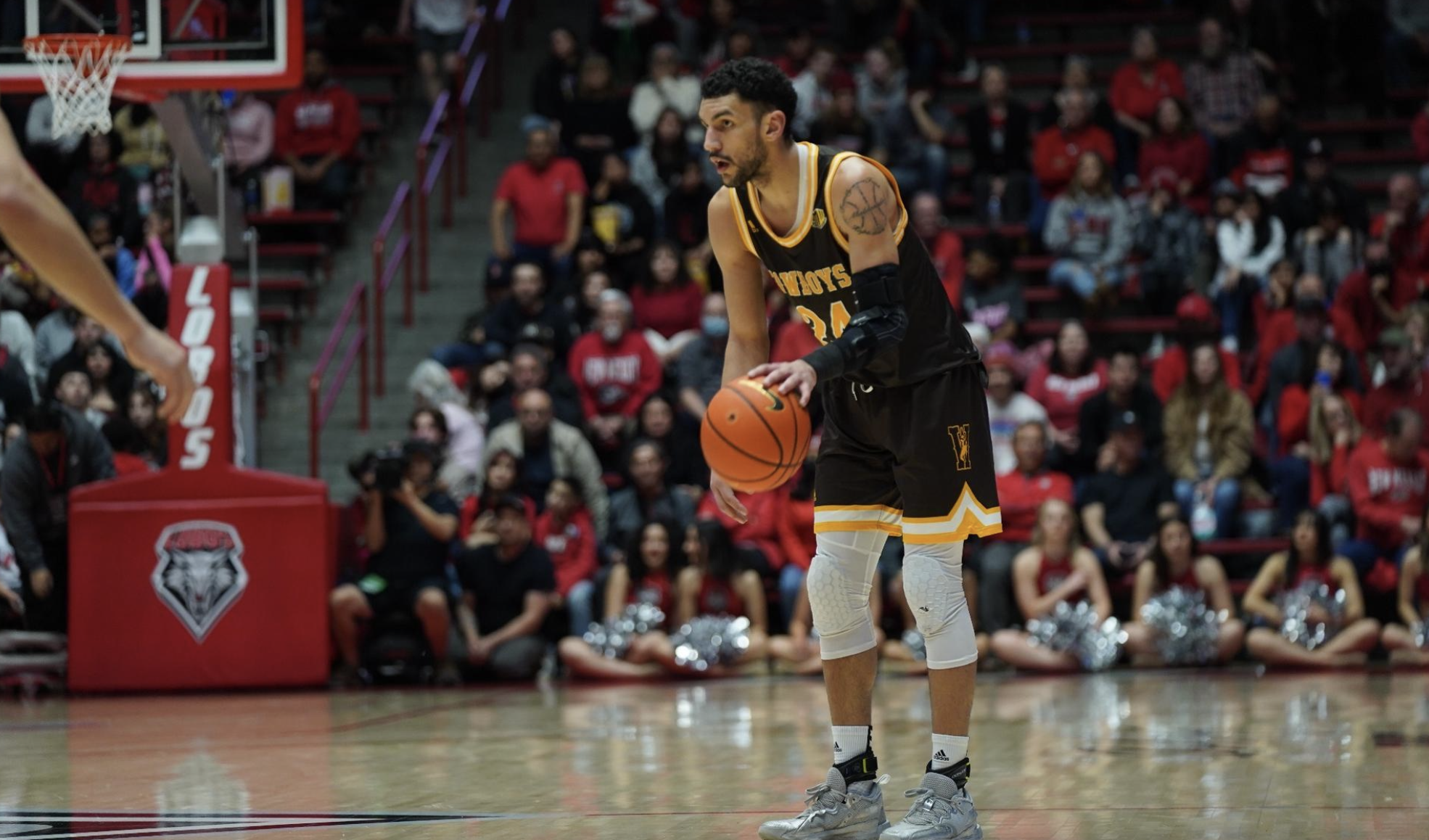 • First win in The Pit since 2016
Albuquerque, N.M.  (Feb. 14, 2023) – The Wyoming Cowboys celebrated Valentine's Day with a 70-56 win over New Mexico in The Pit on Tuesday evening. It was the first win there since Jan. 16, 2016 and the largest win in the building since winning by 14-points on Jan. 14, 1995.
"I knew with those guys we have in that locker room first and foremost they care about one another and they care about the University of Wyoming.  Most of those guys have been with me from day one — Thompson, Kenny, Maldo, JO, X and Wenzel, had to go through COVID at Utah but then he came in at the semester.  For those guys to go through COVID to build a program and then to get to the NCAA Tournament and then to have the circumstances this season, which has been really tough, it shows when you have character what you can accomplish and that's what our locker room has is character.  They play for one another, and I'm so proud of those guys.  It would have been very easy for our guys to just say 'you know what it's been too hard this year let's just give up,' but for our guys to come in here and feel what they're feeling tonight is great.  It is an awesome, awesome feeling, great win in a hard place to win
"We had to be the team tonight to make winning plays.  You go back and watch some of the times tonight when we went flying in there to get offensive rebounds — Wenzel,Thompson, JO, Maldo, Barnhart, Powell — those guys were relentless.  That is what it takes to beat New Mexico in The Pit.  We knew we were going to be facing a team who was going to be desperate tonight.  But our guys love each other, they play for each other and I can go down swinging with those kind of guys.
"I can't thank those guys enough in that locker room — the players, my assistant coaches.  They could have just as easily said the season is over, but we have a lot of season left and we're going to continue to find a way to get better.  That's what I owe Hunter Thompson, Hunter Maldonado and all those guys in that locker room."

The Pokes were led by Hunter Maldonado with 20 points for his 102nd game in double-figures in his career. He also added 10 rebounds for his 15th career double-double. Hunter Thompson hit four threes and moved into fourth all-time passing Riley Grabau with Thompson having 172 in his career. He had 12 points in the game.  Brendan Wenzel added 13 points for his eighth game in double-figures this season and third-straight. Xavier DuSell added 11 points in the game. Jeremiah Oden added nine points and seven rebounds.
The Cowboys held New Mexico to 37 percent from the field in the contest and Wyoming shot 43 percent. The Pokes knocked down 11 three-pointers and held the Lobos to only five makes from deep. The Pokes dominated the glass 39-32 and scored 16 second chance points. Wyoming led for 38 minutes in the contest.
After the Lobos opened the contest with a jumper, Wyoming would go on an 11-0 run over seven minutes to make it a 11-2 game. Thompson added a pair of threes and Wenzel added three freebies and Maldonado added a basket. Wyoming forced 12-straight missed shots by the Lobos, but Jamal Mashburn, jr. added a bucket for a 11-4 game with 12:33 left in the first frame.
Kenny Foster returned to the lineup for the first time in conference play and hit a triple to make it a 14-6 game with under 11 minutes left in the half. Josiah Allick and Mashburn, Jr. along with a fast break bucket capped a 8-0 run for New Mexico and tied the game at 14-14 with 9:18 left in the first half.
The Lobos would take a brief lead, but a three-pointer from Oden and a trio of freebies from Maldonado gave Wyoming a 20-16 lead with seven minutes left in the frame. Thompson two more three-pointers and gave Wyoming a 26-17 lead with under six minutes left.  Maldonado would cap the 14-1 run over nearly three-minutes with just over five minutes left in the half for a 28-17 game.
The Pokes went scoreless for over three minutes, but Maldonado stopped the slide with a layup and made it a 30-22 game with under two minutes left in the opening twenty minutes. The Pokes would take a 32-25 lead into the half holding the Lobos to 31 percent in the first half.
DuSell would open the second half with a trio of three-balls and would give the Pokes a 45-29 lead in the opening three-plus minutes. Maldonado would make it a 47-29 game with 14:16 remaining with the Pokes holding the Lobos scoreless for 3:41.
The Lobos cut the lead to 15-points at 47-32 and held the Pokes scoreless for over two minutes. Maldonado hit a pair of free throws and pushed the lead to 49-32 with 12:04 left in the game. Oden added a reverse layup and gave the Pokes a 53-34 lead nearly halfway through the second half and Wenzel made it a 20-point game at 56-36 seconds later.
The Lobos would pull within 15-points once again this time at 58-43 around the eight-minute mark of the contest. Mashburn, Jr. made it a 13-point game with 6:46 left. He would later make it a 12-point contest at 61-49 with 5:42 remaining with a pair of free throws.
Allick made it a nine-point game at 61-52 with five minutes left, as the Lobos made five-straight shots and held the Pokes scoreless for nearly four minutes. Maldonado and DuSell added baskets and gave Wyoming a 12-point lead at 65-53 with four minutes left on the clock.
Oden put back a missed layup and gave Wyoming a 14-point advantage at 67-53 with just over three minutes left. Wenzel hit a late three-pointer and the Pokes walked away with the impressive 70-56 win.
The Lobos were led by Mo Udeze with 12 points and 17 rebounds.
The Cowboys return to Laramie for a Friday night game. They'll host Air Force at 8 p.m. inside the Arena-Auditorium.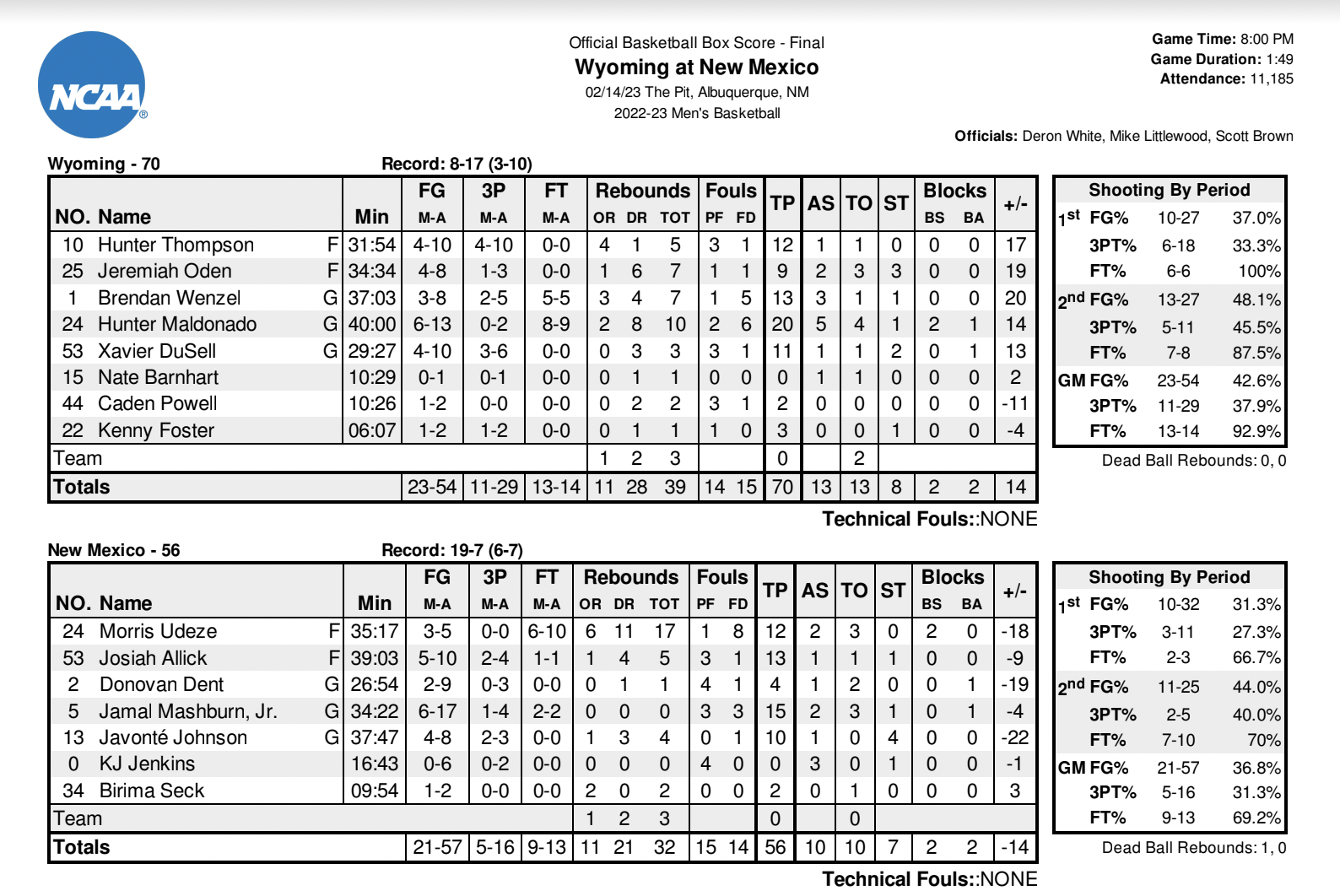 Let us know what you think!
Tagged:
Air Force Falcons Basketball
Hunter Maldonado
Hunter Thompson
Jeff Linder
Jeremiah Oden
Mo Udeze
New Mexico Lobos
Wyoming Cowboys Basketball
Xavier DuSell