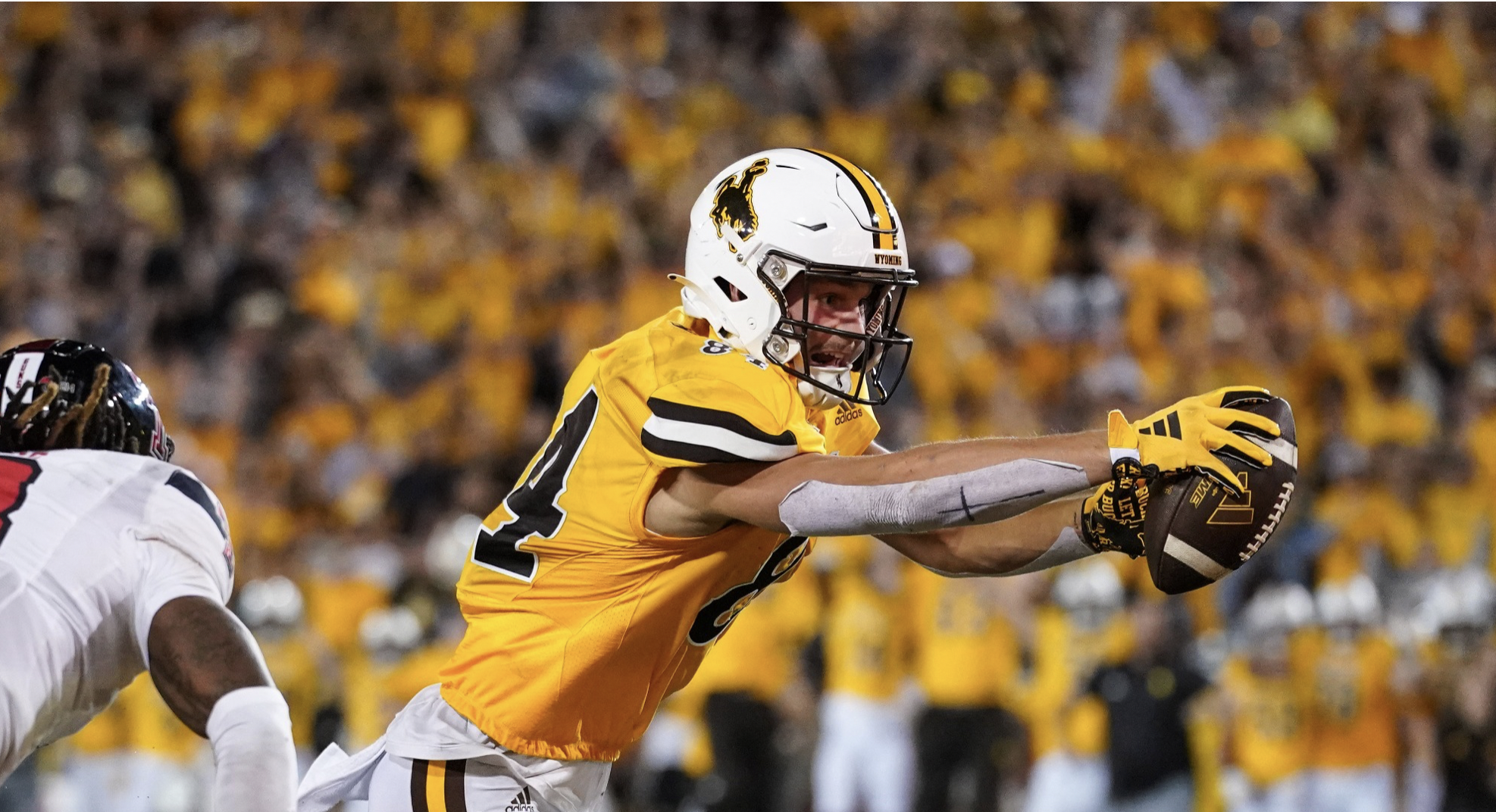 Nick Seeman
Assistant Athletic Director, Communications
University of Wyoming Athletics
LARAMIE, Wyo.  (Oct. 24 ,2023) – The Wyoming Cowboys return to action after the bye week with a trip to Boise State on Saturday afternoon at 3:30 p.m. MT. The contest is a key game in the Mountain West, as both teams are 2-1 in conference play with the Cowboys entering the game 5-2 overall and the broncos 3-4 so far on the season.
The contest will be broadcasted on FS2 with Eric Collins on the call joined in the booth by Devin Gardner. The game will also be available on the 26 stations of The Cowboy Sports Network with Keith Kelley on the call, Kevin McKinney on color and Erick Pauley on the sidelines.
About The Game 
Joe Moore Award Midseason Watch List: The Joe Moore Award for the Most Outstanding Offensive Line Unit in College Football has revealed the members of its 2023 Midseason Honor Roll.  The announcement was made in conjunction with The Foundation for Teamwork, which has presented the unique award since 2015. Of the 133 Football Bowl Subdivision (FBS) programs competing in 2023, only 23 were named to the Joe Moore Award Midseason Honor Roll.  Those 23 programs earning a spot on this year's midseason honor roll are the offensive line units of Wyoming, Air Force,  Clemson, Duke, Florida, Florida State, Georgia, Kansas State, Kentucky, Louisville, LSU, Miami, Michigan, Missouri, Notre Dame, Ohio State, Oregon, Oregon State, Penn State, Tennessee, Texas, UCF and Washington. The physical Wyoming offensive line has registered 146 knockdown blocks through seven games,  – an average of 16 knockdowns per game.  Despite injuries at the running back and quarterback position, Wyoming has been able to maintain an average of 5.3 yards per rush.
Peasley Throws for Season-High: Quarterback Andrew Peasley threw for a season-high 212 at Air Force. It marked the second most in his career after throwing for 256 yards against Tulsa last season. He also threw for three touchdowns at Air Force tying a career-high and he also rushed for one. Over his last three games, Peasley has throw for seven scores and rushed for two more scores.
Scott Leads Pokes in Receptions at Air Force: Running back Sam Scott carried the ball and also led the team with three receptions against Air Force. He finished the contest with 43 yards receiving and had 34 yards after the catch. It tied a career-high in receptions and was a career-high with his 43 yards..
Pokes on Third Down: The Cowboys were an impressive 9-of-15 on third downs against Air Force for 60 percent, which was a season-high. Wyoming was 9-of-10 in the first half of the contest. UW recorded 11 first downs via passing plays and over the last two games has 23 first downs via the air.
Wyoming Cowboys' Best Starts During the Craig Bohl Era: Through the first seven games of the 2023 season, the Wyoming Cowboys are off to one of their best starts during the time Craig Bohl has served as head coach of the Cowboys. Wyoming is 5-2 entering this week's game at Boise State.  That is the third time in the Bohl era that Wyoming has begun a season 5-2  The Cowboys also began the 2016 season and the 2019 season with 5-2 records through seven games. In both 2016 and 2019, Wyoming went on to win their eighth game of the  season.  The Cowboys won the eighth game of the 2016 season at home over Boise State by a score of 30-28.  In 2019, the Cowboys won the eighth game of the season at home against Nevada, 31-3.
This Week's National Rankings
Entering this week's Wyoming at Boise State game, the Cowboys are receiving votes in the: AFCA Coaches' Poll. The Wyoming Cowboys enter this week's game receiving nine points in the AFCA Coaches' Poll to rank No. 33.
Close Games a Big Part of 2023 Cowboy Football Season: Through the first seven games of the 2023 season, Wyoming has had four of their seven games decided by a touchdown or less and the Cowboys have won three of those four close games.  Below is a breakdown of those close finishes in 2023.
                                                                        Final Scores and
Wyoming Opponents (Date and Location)            Margins of Victory
Texas Tech (Sept. 2 in Laramie, Wyo.)                      W 35-33, +2 (2 OTs)
Appalachian State (Sept. 23 in Laramie, Wyo.)     W 22-19, +3
Fresno State (Oct. 7 in Laramie, Wyo.)                     W 24-19, +5
at Air Force (Oct. 14 in Colorado Springs, Colo.)   L 27-34, -7
Gibbs Hits Double-Digit Tackles Once Again: Linebacker Easton Gibbs had another solid contest. He recorded a season-high 12 tackles at Air Force. It marked his third double-digit tackle game of the season and the 16th time in his career. He leads the Cowboys in tackles this season with 63 on the season for nine per game, which ranks fourth in the conference and No. 28 in the nation.
Isaac Whte Makes Plays: Safety Isaac White tied a career-high with nine tackles in the contest at Air Force. For the season, White has recorded 40 tackles and leads the team with six pass breakups this season. He ranks No. 27 in the conference in tackles and in pass breakups this season. He and his fellow safety Wyett Ekeler have combined for 86 tackles so far this season.
Wieland Finding the Endzone: Wide receiver Wyatt Wieland hauled in a touchdown against Air Force for his fourth of the season and his third in the last two games. He now has more scores this season than he had coming into his final season into the Brown and Gold. He has five touchdown receptions in his career at Wyoming.
Winningest Active FBS Football Coaches (By Total Victories):  The winningest active Football Bowl Subdivision (FBS) coaches include Wyoming's Craig Bohl, who is currently No. 12 on the list.  The list below is compiled by the NCAA.The coaches listed include all active FBS coaches who have coached at an FBS school at least five years.  The number of wins below include all of the coaches' wins at four-year colleges and universities.
Rank, Coach, Current School                       Total Victories
Nick Saban, Alabama                                287
Mack Brown, North Carolina                   280
Brian Kelly, LSU                                          279
K.C. Keeler, Sam Houston                        259
Kirk Ferentz, Iowa                                       204
Willie Fritz, Tulane                                     203
Chris Creighton, Eastern Michigan        189
Terry Bowden, ULM                                  180
Rich Rodriguez, Jacksonville State         178
Jerry Kill, New Mexico State                   170
Dabo Swinney, Clemson                           165
Craig Bohl, Wyoming                        161
 Mike Gundy, Oklahoma State               161
Kyle Whittingham, Utah                         160
Lance Leipold, Kansas                              159
Dave Clawson, Wake Forest                  153
Jim Harbaugh, Michigan                         137
Troy Calhoun, Air Force                  128
Jimbo Fisher, Texas A&M                       126
Chuck Martin, Miami (Ohio)                 125
Jeff Tedford, Fresno State                    124
Bold indicates current Mountain West Conference coaches
Welch in Mountain West Games: Tight end Treyton Welch has been a problem for teams in the Mountain West in his career. He hauled in a touchdown at Air Force along with three catches. In his career in conference games, Welch has eight of his nine career touchdown receptions against opponents in the Mountain West.
Marquez Makes Big Play: Wide receiver Ryan Marquez is fourth on the team this season with 10 catches for 106 yards and averages 10.6 yards per catch. In the Air Force contest, Marquez hauled in a 27 yard catch in the first quarter, which was a career long. The former Walkon earned a scholarship this past spring.
Finding Different Targets in Passing Game: The Cowboy offense has really spread the ball around this season. For the season, 17 different players have caught a pass this season. Five of those players have hauled in a touchdown pass as well. Five players have double-digit catches this season with wide receiver Wyatt Wieland leading the team with 26 catches for the year. Tight end Treyton Welch has 19 for the season.
Being Harsh: Defensive end Sabastian Harsh had a solid day at Air Force. He recorded a career-high eight tackles in the contest. He also recorded a tackle for loss in the game. In six games this season, Harsh has 29 tackles averaging nearly five per game. His 29 tackles this season is a career-high for the Nebraska native.
Let us know what you think!