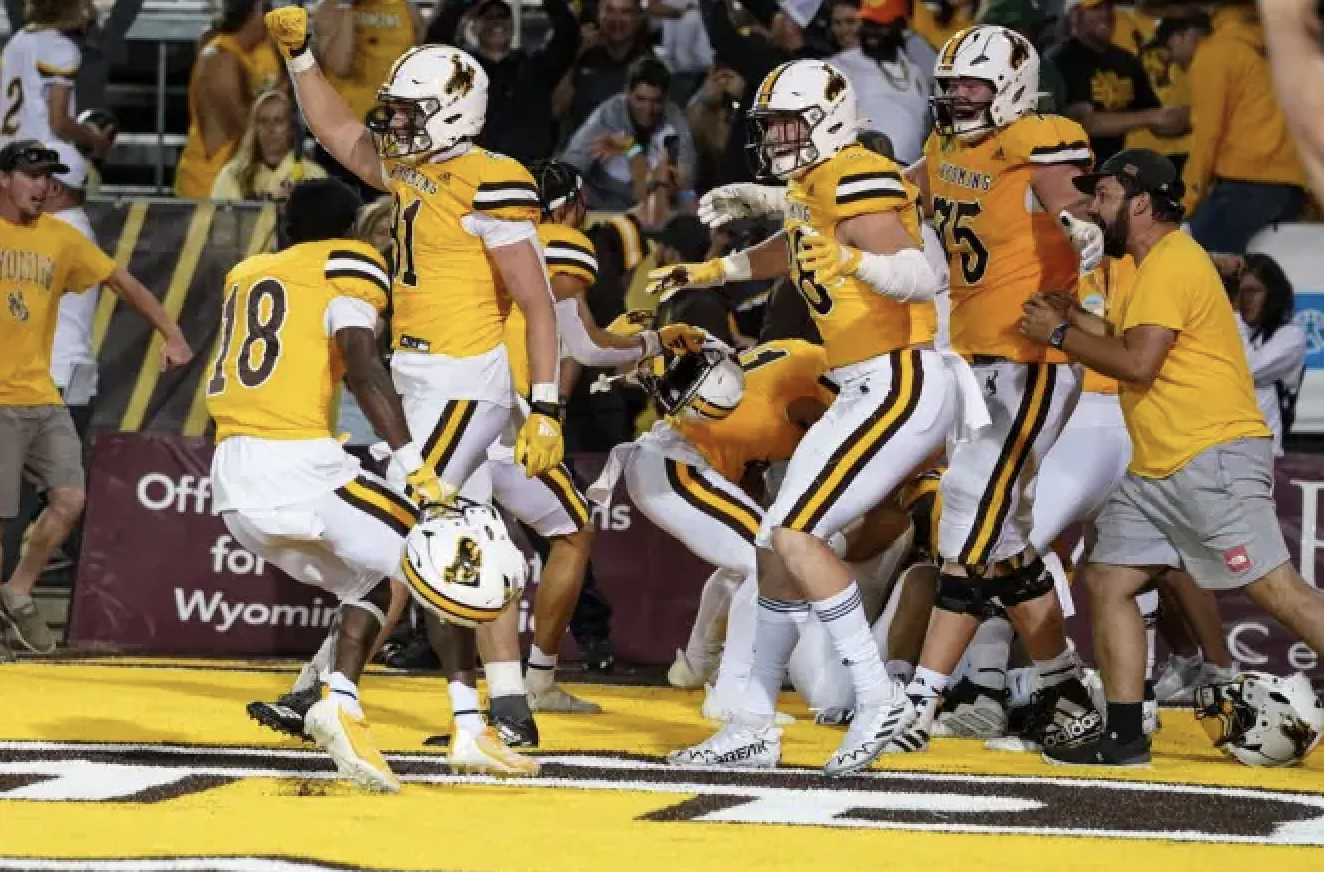 Wyoming trailed 17-0 early in the contest – 
The Wyoming Cowboys sealed one of the most thrilling wins in program history Saturday night in Laramie as they scored the winning two-point conversion in the second overtime to defeat Texas Tech, which entered the game ranked No. 24 in the nation in the Coaches Poll.
"That's a cowboy-tough win," UW head coach Craig Bohl said postgame. "Andrew Peasley, he's as tough as boot leather. Hats off to Texas Tech. Coach McGuire is doing a great job. He's a perfect fit. Both he and I knew it would be a tight ballgame. I'm really proud of our football team. I think our maturity showed because we did not start fast. Every checkpoint I talked about in the pregame meal about what we needed to do, it's 17-0 and I thought, "Did these guys even listen to that?" There was certainly an amount of frustration, but the players worked through those mistakes and good things started to happen. Texas Tech is ranked, and they deserved to be ranked. We beat a good football team tonight. We have passionate fans. They were on pins and needles because they bleed brown and gold. It was neat to see our players enjoy all the fans on the field."
The Cowboys scored their winning touchdown in the second overtime on a fourth and seven from the Texas Tech 11-yard line.  Cowboy quarterback Andrew Peasley faced a blitzing Red Raider but calmly found tight end John Michael Gyllenborg across the middle for the touchdown to tie the game at 33-33.  The Cowboy defense had already denied Texas Tech on their two-point conversion in the second overtime.  The Cowboys then turned to sophomore running back Sam Scott.  Peasley handed off to Scott who burst through the line and into the end zone to give the Cowboys their 35-33 victory.
It was the first win for the Pokes over a Top 25 team since the 2016 season.  In 2016, Wyoming defeated San Diego State on Nov. 19 in Laramie by a score of 34-33.  The Aztecs were ranked 24th in the Associated Press poll and 25th in the Coaches poll at the time.  Earlier in the 2016 season, the Cowboys defeated Boise State on Oct. 29 by a 30-28 score.  The Broncos were ranked 13th in both national polls at the time.
"This is the type of team we have," Bohl said.  "And that started back after the bowl game. You don't come up with these kind of wins without great chemistry because what occurs when you don't have great maturity or great chemistry and you're down like that, I've seen some ugly things get said on the sidelines and finger points. Guys were certainly upset, but they were encouraging one another."
Texas Tech forced overtime with only 41 seconds remaining in regulation when place-kicker Gino Garcia made a 27-yard field goal to tie the game at 20-20, capping off a 13-play, 69-yard drive that took 2:58 off the clock.  Wyoming forced TTU into the field-goal attempt after holding on a third and eight from the Wyoming 12-yard line.  After the ensuing kickoff, there were only 41 seconds remaining in regulation and the Cowboys ran two plays before time expired.
In the first overtime, Texas Tech elected to go on defense first.  Cowboy QB Peasley ran for 10 yards on a second and seven at the Tech 22 to give UW a first down.  He then connected with running backs Scott and D.Q. James on passes of two and five yards, respectively, putting the ball at the Red Raider five-yard line.  Peasley took it in from there, running up the middle as he avoided tacklers for the touchdown.  Cowboy place-kicker John Hoyland came in to kick the extra point and put Wyoming up 27-20.
Texas Tech then leaned on their quarterback Tyler Shough in the first overtime.  They had Shough carry the ball on the first three plays of the series.  He carried for four, seven and seven yards, moving the ball to the Wyoming seven-yard line.  Running back Tahj Brooks then carried for one yard on second and three, and on third an two he carried the ball into the end zone from six yards out.  Place-kicker Garcia added the extra point to tie the game at 27-27 heading into the second overtime.
Wyoming went on defense first in the second overtime.  The UW defense held the Red Raiders to no yards on their first two plays, but Shough found running back Brooks in the right flat for a completion of 10 yards on third down, giving Texas Tech a first down at the Wyoming 15.  After a run for no gain, Shough connected with wide receiver Jerand Brandley for the 15-yard touchdown to put Tech back in the lead at 33-27.  On what would prove to be a critical play, the Cowboy defense stepped up and denied Texas Tech's two-point attempt.
It was then that the Cowboys created their second overtime heroics on the TD throw by Peasley to Gyllenborg and the two-point run by Scott to begin the season with a 1-0 record.
Saturday's win was the fourth time that Wyoming has defeated a team from an autonomous five conference in Laramie since 2004.  UW also defeated Ole Miss in Laramie in 2004 (37-32), beat Virginia (23-3) in 2007 and defeated Missouri (37-31) in 2019.  Like Saturday's win over Texas Tech, the wins over Virginia and Missouri came in Wyoming's season openers those seasons.
Individual highlights for the Cowboys included:
•Peasley completed 18 of 34 passes for 149 yards and threw two touchdown passes.  He also rushed for  68 yards on 15 carries and a touchdown to account for 217 yards of total offense.
•Running back Scott, fullback Caleb Driskill and tight end Gyllenborg each scored the first touchdowns of their careers.
•Linebacker Shae Suiaunoa led Wyoming with 12 tackles.  It was one shy of his career high 13 tackles last season against Hawai'i.
•Nickel back Wrook Brown had his first career interception.
•Cowboy place-kicker Hoyland kicked a career long 56-yard field goal, breaking his previous record of 55 yards against Tulsa in 2022.
Up Next
Wyoming will host Portland State on Saturday, Sept. 9 in a 2 p.m. kickoff in War Memorial Stadium.  That game will be streamed on the Mountain West Network.
Let us know what you think!