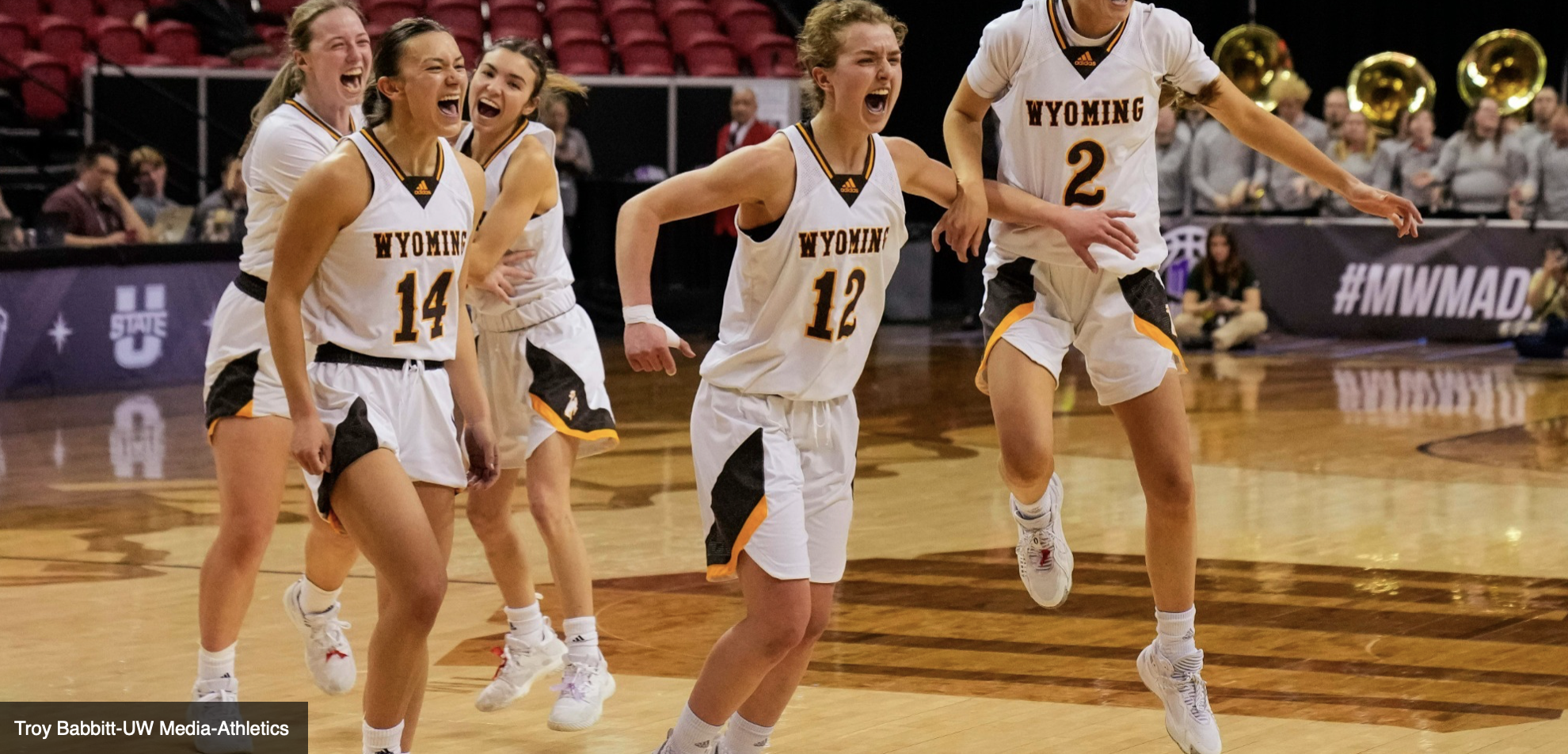 • Wyoming seeking its second MW Tournament title in three seasons
For the third time in program history, the Wyoming Cowgirls will play for a Mountain West Tournament title Wednesday night at 8 p.m., Mountain Time. The second-seeded Cowgirls will face-off with top-seeded and No. 21 nationally-ranked UNLV.
Wednesday's game will be broadcast live on the CBS Sports Network with Chris Hassel and Megan McKeown on the call. The contest can also be heard across the Cowgirl Radio Network with David Settle on the call.

ABOUT THE COWGIRLS
Wyoming (22-9) enters the championship game off the strength of a 65-56 victory over Border Rival Colorado State in the semifinals. Allyson Fertig recorded her second consecutive double-double in the win as she scored 15 points and grabbed a game-high 15 rebounds. Grace Ellis also notched a double-double in the victory, tallying 10 points and 12 boards. Two others finished in double figures against the Rams as Malene Pedersen scored 14 while Emily Mellema tallied 10 off the bench. The Cowgirls enjoyed a 50-23 advantage in rebounding and outscored CSU 36-18 in the paint and 15-2 on second-chance points.
Pedersen is averaging 19 points, 5.5 rebounds and 3.5 assists per game during the tournament to lead the Cowgirls while Fertig is at 14 points and 13 rebounds per. On the season, Fertig is averaging a team-leading 13.5 points, nine rebounds and 1.9 blocks per game while Pedersen is third on the squad at 11 points per contest. Quinn Weidemann is second on the Cowgirls averaging 11.6 points per contest and is shooting over 38-percent from 3-point range.
UW is 1-1 all-time in the Mountain West Tournament Finals. The Cowgirls lost in 2019 to Boise State, 68-51 and defeated Fresno State in the 2021 championship game, 59-56. Wyoming is 17-22 all-time at the Mountain West Tournament.
SCOUTING UNLV
The 21st-ranked and No. 1 seed Lady Rebles have won 21 consecutive games entering Wednesday's championship game. UNLV is led by a trio of All-Mountain West honorees. Desi-Rae Young leads UNLV with 17.8 points per game and the conference with 10 rebounds a contest. Young is shooting 59.4-percent from the floor and has tallied 1.6 steals per game while also being named to the league's All-Defensive Team. Essence Booker is averaging 13 points and 4.1 assists per game on the way to all-conference accolades while Justice Ethridge comes in at 9.3 a contest. Alyssa Brown is second on the team averaging 7.6 boards per game and has a teamhigh 22 blocks.
As a team, the Lady Rebels average a league-leading 77.3 points per game and is allowing just 62.5 a contest defensively. UNLV is shooting 46.2-percent from the field and nearly 34-percent from beyond-the-arc. Lady Rebel opponents are shooting 39.2-percent from the floor and 31.6-percent from 3-point range. UNLV is plus-7.5 rebounds per game as a team in 2022-23. The Lady Rebels are led by the Mountain West Coach of the Year, Lindy La Rocque.
SERIES HISTORY AGAINST UNLV
The all-time series between the two programs is tied at 28 wins each after UNLV won both regular-season meetings earlier this season. Wyoming is 2-1 at the Mountain West Tournament against the Lady Rebels, having last met in the quarterfinals of the 2021 tournament. The Cowgirls won that contest, 72-56 thanks to setting a MW Tournament record by making 15 3-pointers. In 10 career games previously against the Lady Rebels, Weidemann is averaging 13.2 points per game on 52.4-percent shooting from the floor and 49-percent from 3-point range.
Let us know what you think!
Tagged:
colorado state rams
Mountain West Conference
UNLV Rebels
Wyoming Cowgirls