Cross-Country runners will be in Boise at the Nike Northwest Regionals this weekend.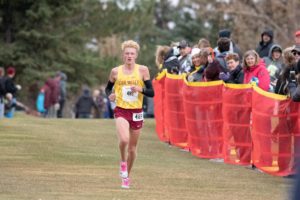 For many runners, the last weekend in October is the end of the Wyoming season but for the ones who continue to aspire for more, the state weekend is becoming just another important date on a busier and longer schedule.
Many members of the Star Valley Cross-Country team will be traveling to Boise, Idaho where they will run in the Nike Northwest Regionals this weekend. Run on the same course as the Bob Firman Classic in September at Eagle Island, the best runners from Wyoming, Washington, Oregon, Montana, Idaho Hawaii and Alaska compete for top times and qualifying positions at the NikeCross Nationals next month.
CLICK HERE FOR THE OFFICIAL PAGE OF THE NIKE NORTHWEST REGIONALS.
"Originally this was a team-only thing but over the past few years they've included individuals," coach Ty Draney stated of the event. "They will take 22 teams from boys and girls in the championship division who are all vying to run as teams or individuals. You have to be one of the top two teams or top five individuals to qualify."
Peter Visser is the team's top hope to qualify for the race individually. Star Valley's highest finish to this point has been Hailey [Ricks] Whetten who placed eighth.
Draney stated that Wyoming actually may have a slight advantage in at least one way with more time in-between their culminating event.
"With three weeks I think it's actually an advantage," he stated. "Oregon and Washington had their state meet last weekend. It makes it easier [for them] to ride that peak but it's pretty tough to race your best two weekends in a row. We ramp up the mileage bit during this time. The biggest difference will be our mind set that the state meet isn't the end of the cross country season. The mental focus and emotional focus to say yeah that's important but we've got business to take care of here. I think that's an important key; that these meets are business as usual."

Let us know what you think!
Tagged:
Boise Idaho
Eagle Island
Nike Northwest Regional
NikeCross
Peter Visser
Star Valley cross-country