Dancing With the Stars earns Ford Theatre additional $5150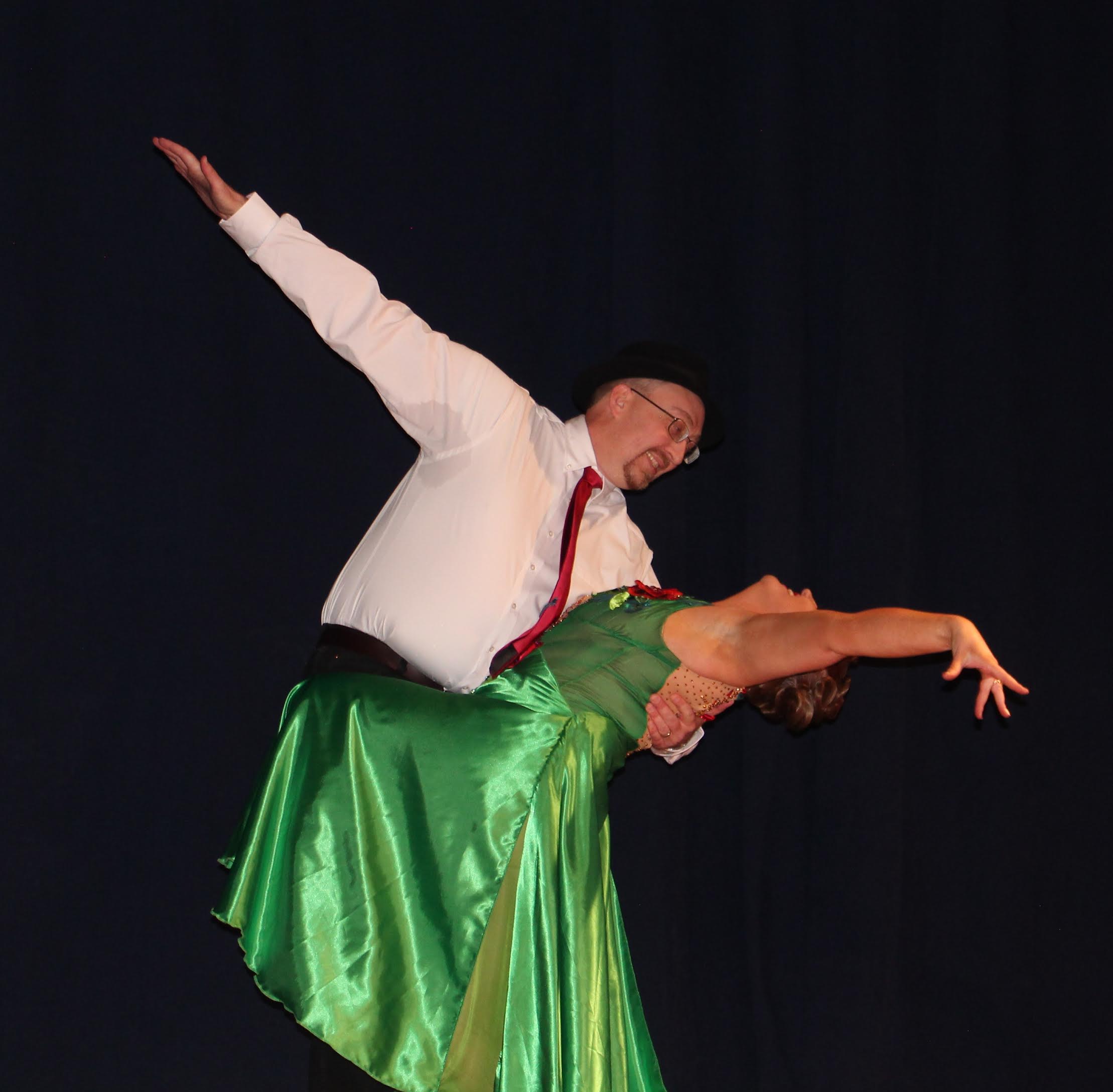 ◆ Added to $30,000 in grant money, the funds are earmarked for lighting and sound renovation.
Six individuals from Star Valley, who are an integral part of the Star Valley community, competed Saturday, February 26 at the Ford Theatre in Star Valley's version of Dancing With the Stars earning $5150 toward new lighting and sound systems for the historic theatre.
Duke Dance, Josh Jardine, Dr. Christian Morgan, Jennifer Wilkins, Rowena Buehler and Kari Allred competed for the honor of winning the Dancing with the Stars competition. Audience members in attendance honored Buehler with the trophy but enjoyed the colorful and well-executed performances of every contestant.
The evening's benefit to raise funds for the restoration of the theatre is the work of the Salt River Arts Society and the evening's purse makes a total of $35,150 that the theatre has now received through grants and fundraising to make needed improvements to the historic theatre.
"It's amazing," exclaimed Ford Theatre administrator and operator, James Arbizu, who wrote grants for the improvements and organized the evening's event. "People are coming together to support some of our valley's well- known people and the theatre. I hope everyone has a good time and it would be awesome if people decide to help support the theatre to help us bring in more people like Colin Raye and other acts that require more than we can afford otherwise."

Entertainment didn't stop with dancing. Laughter rocked the house with clever comic relief from Master of Ceremonies Steve Wight, who also served as auctioneer as various donated items earned significant additional funds. Bigger auction items included a .22 caliber pistol, a Knabe upright piano, and a western-themed drawing by local artist, Doug Monson.
Professional dancers from the Arthur Murray Dance Center in Las Vegas came to dance with our local stars, bringing expertise and showmanship to the stage. Before the show, they taught the local stars routines in specific ballroom dance styles, and partnered with them in competition. Justin McClendon, Jeravae Christensen and Jennifer Williamson skillfully performed several other dance numbers for the audience to enjoy.
"We each learned these dances in under three hours," commented Jardine. "I'm not much of a dancer, so I didn't know if they really wanted me to do this or not. I just hope that we can raise some funds for the Ford Theatre and do some fun things for the community."
"Justin is amazing," said Buehler before the performance. "He's the partner to all the girls. He's a true master of ballroom. I've been dancing since I was three years old, but this is my first official ballroom satiation. He gave me the Tango, which is one of the hardest styles of ballroom."
"I came with one goal in mind and that's not to lose to Josh [Jardine] tonight," teased Dance. "So, if I can just not lose to Josh, I don't care what else ever happens." On a serious note, he commented on the quality of his experience and the benefit to the theatre. "It's been a cool experience to be taught by someone that has the experience that the dancers do. For me, that's been the highlight already, regardless of how things go. It's a great event for the theatre. Arbizus are killing it with this kind of stuff."
Dr. Christian Morgan was nervous. "Hopefully I don't make a fool of myself. I'm not much of a dancer, but I'm going to give it a try. I felt it was my obligation to accept the honor," he joked. His children are ballroom dancers, which motivated him to try. He brought the house down with his own exit performance, dancing freestyle as he descended the stairs to his seat.
"This is the best opportunity ever," chimed in Jen Wilkins, "Because the community gets to see us in a different light and hopefully it inspires others to do the same. I hope to give good inspiration. It's excellent fundraising, so we can continue to do these kinds of things here."
Kari Allred was excited to do something different. "It's super exciting and super fun. It was really sweet that they thought to ask me, and it's been really fun to do."
Several other community members enriched the program with vocal performances. Addy Waldron, Norah Nielsen, Ki Simkins, Abby Gershuny, the B Side Band and the Kal and Traci Sellers Family added variety and appeal to the evening.
The newly earned money for theatre renovation is earmarked for lighting and sound upgrades. According to Daphne Arbizu, who also runs the theatre with her husband, James, they have been operating with used and non-functional equipment. They want to maintain the historic look of the theatre as much as possible but need to install more modern lighting options.
"We are also hoping to purchase microphones for community theater – hand-held mics as well as wireless mics," added Daphne.
Commenting on the organization that has provided their grant money, Daphne explained, "They want to invest in something that will thrive, and the more people that get involved, the more likely it is to succeed. We would love to do community theater in there, and to do that, you really need different kinds of mics [than what we have]."
Anyone interested in donating to theatre renovations can contact James or Daphne at 208-688-1222. Sponsors who wish to purchase a seat in the theatre and have their name engraved on a plaque affixed to the seat can donate $250. The Arbizus would love to sell every seat in the house.
Let us know what you think!
Tagged:
Arthur Murray Dance Center
Dancing With the Stars
Ford Theatre
James Arbizu
Salt River Arts Society