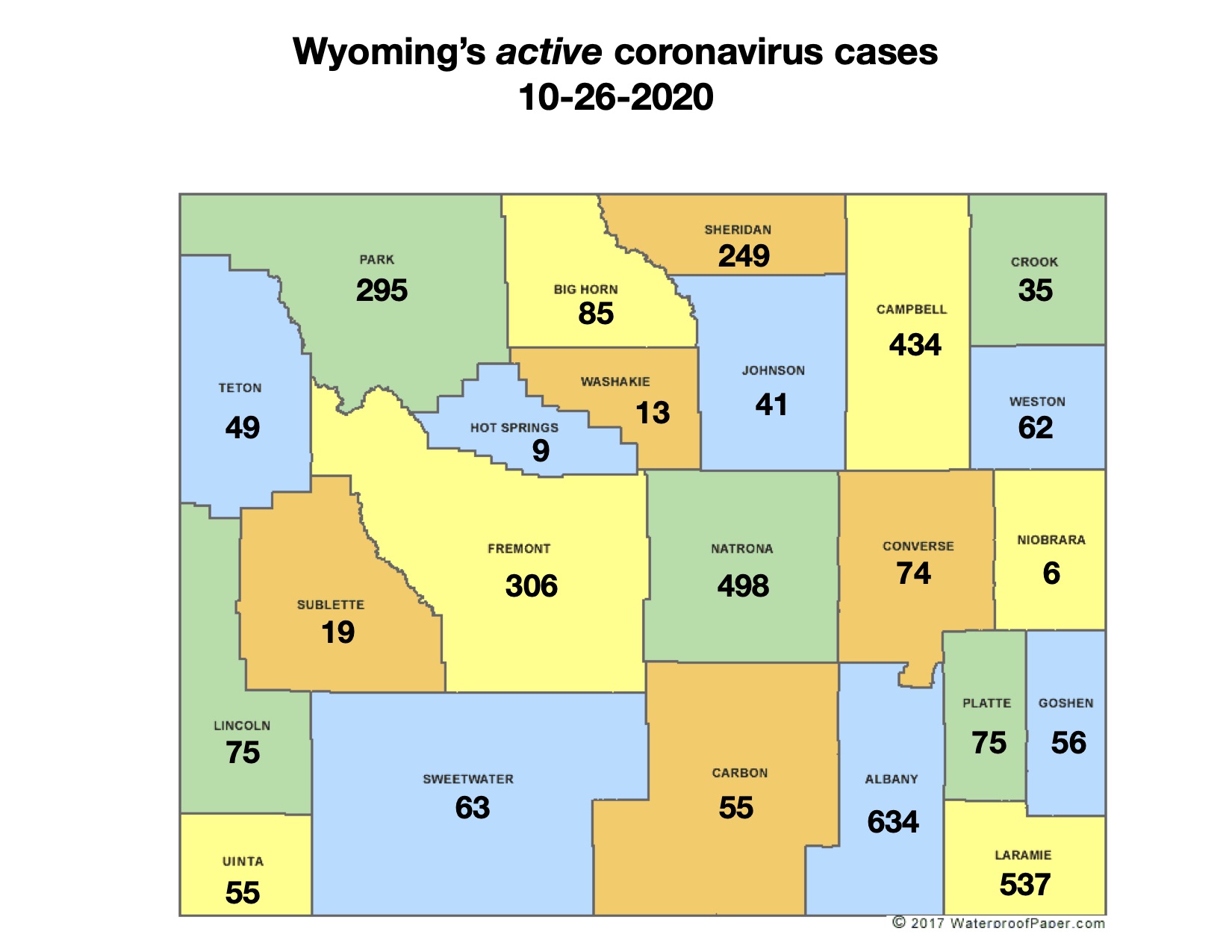 By The Wyoming News Exchange
The deaths of nine more Wyoming residents, including five residents of a Big Horn County long-term care facility, have been attributed to the coronavirus, the Department of Health announced Monday.
The department said the deaths bring to 77 the number of Wyoming residents whose deaths have been linked to the virus.
The five Big Horn County residents who died last week all had health conditions recognized as putting people at higher risk from the coronavirus, the department said. Only one was known to have been hospitalized for treatment.
Other victims included an older Laramie County man who died earlier this month after being hospitalized for treatment in another state; an older Platte County man who died earlier this month after being hospitalized in another state, and an older Lincoln County woman who died last week and was also being treated in another state.
An older Albany County man who lived at a long-term care facility also died last week.
The announcement came as the number of active coronavirus cases in the state increased by 277, boosted by the report of 387 new laboratory-confirmed cases.
The department, in its daily coronavirus update, said in addition to the confirmed cases, 49 new probable cases were reported Monday, as were 150 recoveries.
The numbers left the state with 3,725 active cases, an increase of 277 from Sunday.

Albany County had 634 active cases; Laramie County had 537; Natrona County had 498; Campbell County had 434; Fremont County had 306; Park County had 295; Sheridan County had 249; Big Horn had 85; Lincoln and Platte had 75; Converse had 74; Sweetwater had 63; Weston had 62; Goshen had 56; Carbon and Uinta had 55; Teton had 49; Johnson had 41; Crook had 35; Sublette had 19; Washakie had 13; Hot Springs had nine, and Niobrara had six.
Active cases are determined by adding the total confirmed and probable coronavirus cases diagnosed since the illness first surfaced in Wyoming on March 12, subtracting the number of recoveries during the same period among patients with both confirmed and probable cases and taking into account the number of deaths attributed to the illness.
The number of new confirmed cases is the highest included in the Health Department's daily report since the pandemic began. However, because the department's weekend reports are issued in the morning, the period of time between Monday's report and Sunday's report was actually 30 hours, not the 24-hour time span usually covered by the department's reports.
Reports of new cases came from all but two of Wyoming's counties, Sublette and Washakie. Albany County had the highest number of new cases at 89, while Campbell County reported 61 and Natrona County reported 47.
The number of probable cases increased by 49 on Monday to total 1,694 since the first case was diagnosed in Wyoming in mid-March. A probable case is one where the patient has coronavirus symptoms and has been in contact with someone with a confirmed case, but has not been tested for the illness.
The number of people to recover from confirmed or probable cases since the pandemic began was 7,675 as of Monday, an increase of 150 from Sunday.
Let us know what you think!