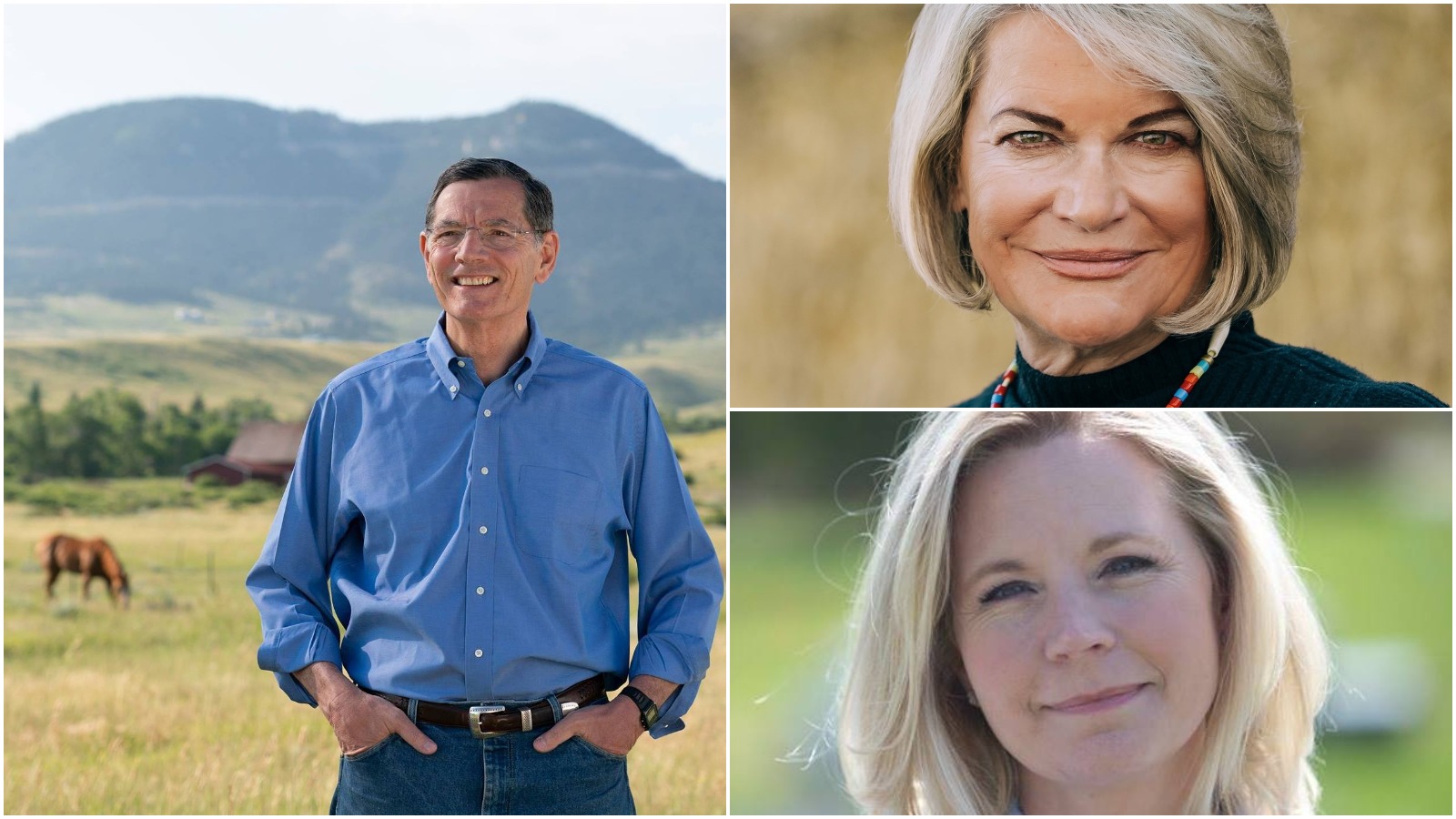 By Camille Erickson
Casper Star-Tribune
Via- Wyoming News Exchange
CASPER — Wyoming's trio of delegates in Washington have introduced legislation to block the Biden administration from ordering a moratorium on new federal leases to energy companies.
Three bills swiftly prepared by Wyoming lawmakers for introduction Thursday in the U.S. House of Representatives and Senate come in direct response to an executive order issued by President Joe Biden the day before. Biden's order directed the Interior Department to stop issuing new federal leases to oil and gas companies to provide the agencies with time to examine the program.
Biden's order issued Wednesday directs the Interior Department to pause leasing, "pending completion of a comprehensive review and reconsideration of Federal oil and gas permitting and leasing practice," according to the order.
But proposed legislation sponsored by Sens. Cynthia Lummis and John Barrasso and Rep. Liz Cheney would prohibit the president or other top officials leading the departments of Interior, Agriculture or Energy from suspending mineral leasing and permitting on federal lands and waters, unless Congress issues a joint resolution of approval.

"The executive actions from the Biden Administration banning new leasing and permitting on federal land endanger our economy and threaten our national security," Cheney said in a statement. "The legislation I am introducing today would safeguard against these damaging orders, and prevent the job loss, higher energy costs, and loss of revenue that promises to come with them. These bills will defend the interests of the people of Wyoming and our nation, and I will work with partners in Washington to push for their consideration."
Cheney's bill, called the Safeguarding Oil and Gas Leasing and Permitting Act, has attracted over 20 co-sponsors in the House.
Wyoming political and energy industry leaders quickly leaped to endorse Cheney's legislation.
"I commend Congresswoman Cheney for her continued leadership to protect the people of Wyoming," Gov. Mark Gordon said in a statement. "The introduction of the Safeguarding Oil and Gas Leasing and Permitting Act, along with similar legislation for coal, underscores her support of Wyoming. The leasing moratorium announced by the Biden administration today shows that traditional Wyoming energy industries are being targeted by climate-only activists. By sponsoring these bills, Cheney shows that Congress needs to participate in these brash, unilateral DC-based actions."
Pete Obermueller, president of the Petroleum Association of Wyoming, also welcomed the bill.
"Wyomingites know that a government closest to the people leads to better results," Obermueller said in a statement. "Representative Cheney's 'Safeguarding Oil and Gas Leasing and Permitting Act' will require any actions proposed by extremists within the Biden Administration to gut America's multiple-use mandate be approved by Congress. The Petroleum Association of Wyoming applauds Congresswoman Cheney's common-sense bill that will give voice to those elected offices with a constitutional responsibility to represent the people and lands affected by these misguided attempts to wreak havoc on economies across the West."
To complement the proposed bill to ban the Biden administration from using executive actions to pause new federal leasing, Cheney also introduced the Safeguarding Coal Leasing Act, to allow coal leasing to continue.
"Representative Cheney has always been a strong advocate for Wyoming's mining industry, and we appreciate her continued support," Wyoming Mining Association executive director Travis Deti said.
Wyoming produces more coal than any other state in the country, though production has been steadily declining in response to diminished demand nationwide. That said, the executive order issued by Biden on Wednesday does not impose a moratorium on coal leasing.
An order issued by the Interior Department on Jan. 20 pausing new leasing for "fossil fuel" development could impact coal leasing though in the short term. The 60- day pause in leasing was instituted to give the federal agency time to transition to a new administration and evaluate its duties, according to the order.
The Obama administration did impose a moratorium on new coal leasing. But the Trump administration took multiple steps to try to reject the leasing pause. Both attempts were met with lawsuits and litigation on the matter has yet to be settled.
What Biden's order does do, however, is ask the Interior Department to "consider whether to adjust royalties associated with coal, oil, and gas resources extracted from public lands and offshore waters, or take other appropriate action, to account for corresponding climate costs."
Energy companies developing on federal land must pay royalties and other fees to the federal government in return for extracting minerals.
On the Senate side, another companion bill sponsored by Lummis and Barrasso was set to be introduced Thursday. It's called the Protecting our Wealth of Energy Resources, or POWER, Act of 2021.
"The Biden Ban would be nothing short of catastrophic for western states that are already reeling from the decline in energy usage brought on by the pandemic and continued volatility in energy markets," Lummis said in a statement. "It's a one-two punch that means disaster for energy jobs, families and communities. Through the POWER Act, Congress would reiterate that federal lands should serve not the whims of a radical progressive minority, but the needs of all Americans."
The act has garnered support from over 20 senators.

Biden's trio of executive orders combating climate change issued on Wednesday have attracted widespread backlash from Wyoming's fossil fuel supporters. That's because Biden's executive orders could have a significant impact in Wyoming's energy sector and economy. In Wyoming, the fossil fuel industries employ thousands of workers and drive a substantial portion of economic activity.
About 51% of oil production and roughly 92% of natural production here come from federal minerals. The state still relies heavily on oil and gas production for revenue to fund transportation, public education, infrastructure and government at the local and state level.
Oil and gas operators with existing leases still hold rights and will likely be able to continue drilling under the new order, according to energy experts. Proponents of the orders have said the way the federal government leases land to oil and gas has been in need of reform for too long.
But several Wyoming lawmakers continue to worry about the state's future if operators face roadblocks drilling on federal land long-term.
"President Biden's ban on new oil, gas, and coal leases is illegal and it robs people in Wyoming of their livelihoods. I will fight it every step of the way," Barrasso said in a statement. "Energy production on public lands is a critical source of revenue for our public schools, roads and bridges, water projects, and other essential services. It creates good-paying jobs and is the economic lifeblood of Wyoming. Senator Lummis and I are introducing the POWER Act to protect our way of life in the West. Our legislation will keep energy workers in their jobs and stop the president from pursuing this divisive and disastrous policy."
Let us know what you think!
Tagged:
President Joe Biden
Representative Liz Cheney
Senator Cynthia Lummis
Senator John Barrasso
Wyoming delegates