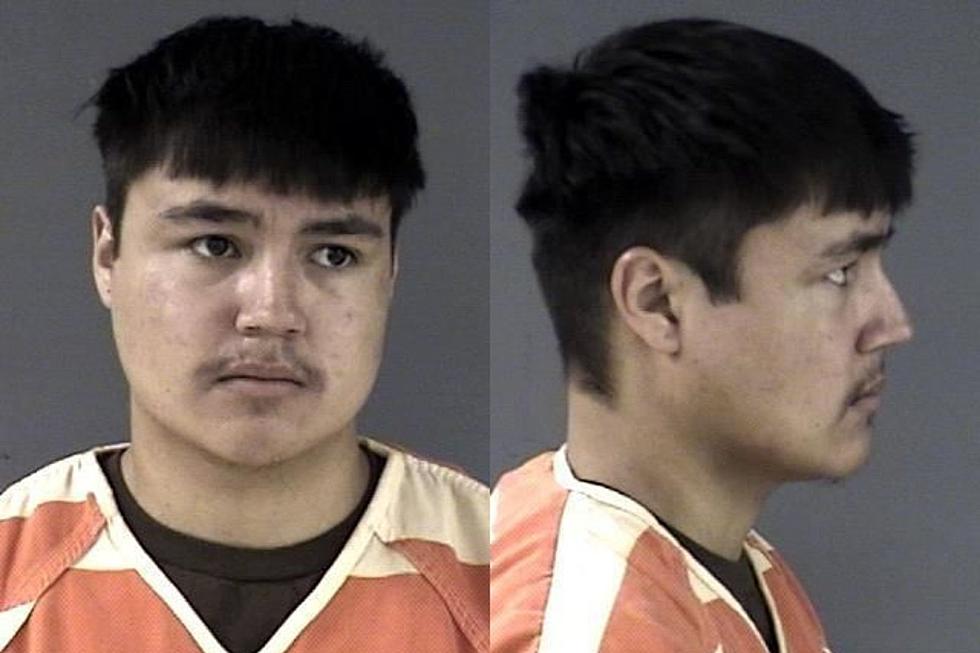 By Samir Knox
Wyoming Tribune Eagle
Via- Wyoming News Exchange
CHEYENNE — The teen charged with pulling the trigger of the gun that killed Angelina Harrison as she rode in a car Jan. 9 on Dell Range Boulevard was sentenced Monday to 15 to 20 years in prison.
Tirso Munguia, 19, was sentenced on one count of involuntary manslaughter by Goshen County District Judge Edward Buchanan, who described the defendant as "stupid" for "cavalierly flaunting the law" due to his conduct that led to Harrison's death.
"I cannot fathom the level of stupidity and recklessness it takes to point a firearm just in the general direction of someone else … and pulling the trigger," Buchanan said to Munguia.
Munguia is the second of three defendants to be sentenced in connection with the death of Harrison, 16. He was one of three people present in a vehicle traveling down Dell Range Boulevard on the evening of Jan. 9.The other two defendants, Sarah Heath, 26, and Cody Nicholson, 18, have also pleaded guilty.
According to court documents, the three defendants were traveling with Harrison that night when Nicholson handed Munguia a loaded handgun, which went off while Munguia was handling it.
Initially, Munguia maintained that this discharge was an accident, but when proving a factual basis for his guilty plea earlier this year, Munguia said he pulled the trigger.
At Monday's hearing, Harrison's parents, David and Amanda Harrison, cited this as an example of the deception Munguia used to protect himself and his co-defendants instead of helping their daughter and getting her medical treatment.
Both parents said that the three co-defendants pulled into an urgent care parking lot, but decided against taking her to medical providers, instead taking her to the Frontier Mall parking lot to establish an alibi.
When reading his victim impact statement to Judge Buchanan, David Harrison said that medical professionals told him Angelina Harrison might have lived if she had been taken for medical treatment soon enough.
Munguia was represented by Steven Iberlin, a Casper attorney. Iberlin argued for a lighter sentence for the defendant, citing his young age, lack of criminal history and cooperation with law enforcement as mitigating factors. He asked that Munguia receive a five- to seven-year prison sentence.
The Harrison family categorically rejected the idea of Munguia cooperating with law enforcement, however.
Iberlin characterized Munguia as being a key part of the investigation into Heath, the driver of the vehicle at the time of the shooting.
David Harrison said, however, that Munguia was only cooperative with the state after the Laramie County District Attorney's Office offered him a bond reduction.
David Harrison called this a "bribe" by the state.
Iberlin addressed Buchanan first on Monday, and after his statement, Munguia addressed the judge directly.
"I never meant for any of this to happen," Munguia said in tears. "… (It's) my fault, but I'm going to be better."
He added that he took "full responsibility" for his actions.
Laramie County assistant district attorney William Edelman asked Buchanan for the state's arguments to begin with victim impact statements from David and Amanda Harrison and a close personal friend of Angelina Harrison, Meadow Roher.
All three of them struggled to remember Angelina Harrison without crying.
Angelina Harrison's parents both recalled the chain of events that led to them discovering their daughter had been killed.They both said that law enforcement and the district attorney's office were not helpful from the beginning.
"There's a chance that he could have saved her," Amanda Harrison said of Munguia. "… No matter what the sentence is,Tirso will still get to live his life."
Amanda Harrison said her family and loved ones will not get the same opportunity, and that they were serving a "life sentence" without Angelina Harrison.
At several points during his statement, David Harrison addressed Munguia directly, condemning him for the harm he caused the Harrison family.
"You were supposed to be her friend," he said. "… She always defended you."
He emphasized that Munguia chose to kill her, saying, "You owe me everything."
"(Angelina Harrison) didn't do anything wrong except trusting you and the people in that car," David Harrison said. "The only forgiveness you'll get is on your own judgment day. …The courts will never punish you enough."
The family expressed their disappointment for the involuntary manslaughter charge Munguia pleaded to instead of the original second-degree murder charge.
The state clashed with Iberlin over the ability to allow a statement from Roher, who was described as "like a daughter" by David Harrison, but not an immediate relative.The argument centered on who could be qualified as a "victim" in the eyes of the court.
Iberlin argued that, although Wyoming statute was broad in its definition, Roher should not be allowed to speak due to her not being a direct relative.
Buchanan called a five-minute recess to review the statute himself, but ultimately allowed Roher to speak.
"Angelina never gave up on me," Roher said. "She gave me purpose. … Until this day, I will do anything for Angelina."
After the statements, Edelman spoke to Buchanan directly, arguing for the maximum punishment allowed by law. He said that America has experienced gun violence almost daily and that "a lot of people were getting numb to it."
Edelman added that, especially in Wyoming, it takes extreme recklessness to point a gun at someone without intending to shoot at them. He wanted the maximum sentence to send a message to Munguia, and other young people with guns, to learn more discretion with deadly weapons.
Buchanan ordered that Munguia be sentenced to 15 to 20 years in prison without the possibility of parole, along with $6,625.52 in restitution, $5,000 in public defender's fees and $275 in other fees. He is allowed to appeal his sentence.
The sentence also came with a recommendation from Buchanan for the Intensive Treatment Unit for substance abuse problems because all three defendants seemed to be intoxicated on the night of the shooting.
"No sentence could ever make you pay the price," Buchanan said to the defendant. "There will never be a punishment that I could give that brings back a life. … You will have an opportunity to make correct decisions in the future, someday."
Heath was sentenced last month to nearly four-and-a-half years in prison for her role in Angelina Harrison's death, which included driving the car that night, furnishing alcohol to minors and a marijuana possession charge.
Nicholson, the third and final defendant in the case, is set for sentencing on Nov. 6.
Let us know what you think!
Tagged:
Angelina Harrison
Cody Nichoilson
Dell Range shooter
Judge Edward Buchanan
Meadow Roher
Sarah Heath
Tirso Munguia