DeMello, Walters named Alpine EMT and Firefighter of the Year
Alpine residents Dave Walters and Dustin DeMello were recognized for their service to the northern Star Valley community. Walters was recognized as the Alpine Fire and EMS Firefighter of the Year while DeMello was named EMT of the year.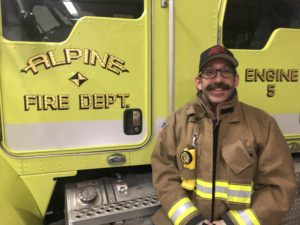 Alpine Fire Chief Mike Vogt said that Walters responded to nearly half the calls this year and also coordinated food drives and toy drives for local families during Thanksgiving and Christmas. Vogt commented on Walters' great attitude and willingness to try anything that is needed. "We are grateful for his efforts and caring for the community." Voyt stated. "We thank his family for allowing him to be absent at inconvenient times."
Walters has lived in Alpine with his family for about 14 years but just joined the fire department last year. "I started doing some volunteer firefighting when I was 18, 19 years old and wanted to end up getting into that career but never made it happen." Said Walters. "Now later on in life I have the businesses under control and wanted to give back to the community. So I decided to go to Alpine Fire Department and see if they needed people, which they of course do."

"I went on, I think, 112 calls last year." Walters continued. "I really enjoy going out into the community, responding to calls and doing what I can."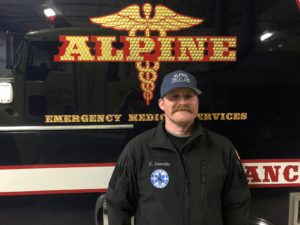 Alpine EMT of the year, Dustin DeMello, who also serves on the fire department, began volunteering as an EMT about four years ago. "I had an incident myself with my daughter when she was really young. The EMT's that we had at that time were tied up on another call and couldn't get to her very quickly." said DeMello.
"So I decided I would start to help out so hopefully that wouldn't happen again."
When asked about what he finds most rewarding as an EMT, DeMello responded by saying "Just seeing it in people's eyes that they were taken care of and the level of service that our small community can offer with what we have is so awesome."
"DeMello is an upcoming leader to Alpine EMS." Said Chief Voyt. "When Dustin is on scene you can expect a cool head and details covered.
"Alpine is very fortunate to have highly skilled members that are compassionate to the needs of the Alpine Fire District." Said Vogt. "Please join us in thanking these two members for their outstanding service to the community."

Let us know what you think!
Tagged:
Alpine Fire Department
Alpine Wyoming
Dave Walters
Dustin DeMello
Mike Vogt