Distance runners compete in Rexburg and Jackson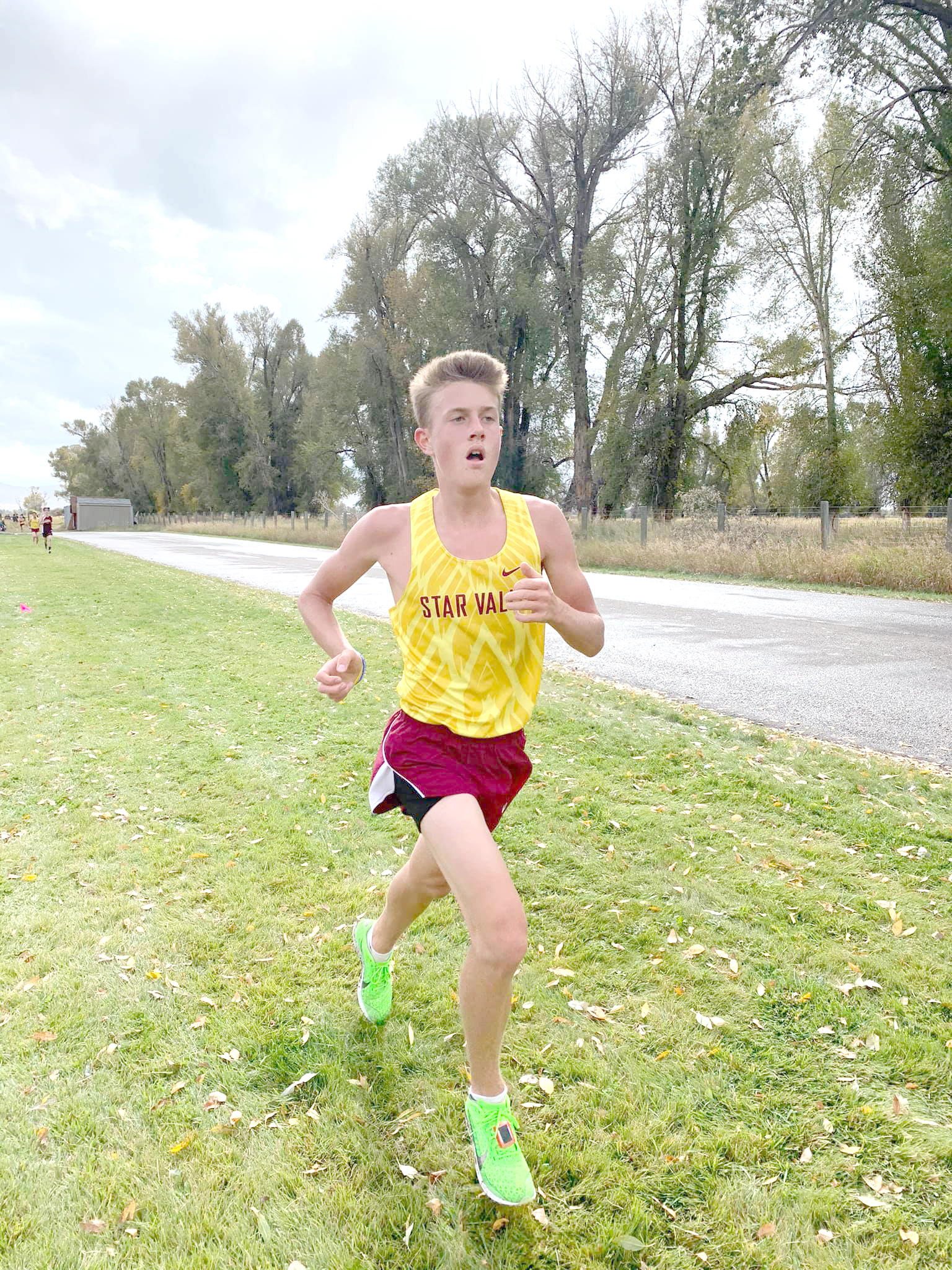 ◆ Cross-country teams will be in Evanston this weekend.
The SVHS Cross-Country team ran in a pair of different venues last week as they logged an event in Rexburg at the Madison Quad Meet on Thursday and then traveled to Jackson to run on the Lockhart Ranch adjoining Jackson Hole High School on Saturday.
"It was a great opportunity," replied head coach Ty Draney "Idaho Falls by some ratings is the top boys team in the state period. Sugar [Salem] is a perennial powerhouse; their boys and girls won last year. Madison is a big school and their top kid won the Tiger-Grizz meet so it was a great chance to run a flat course and crank out some great times."
Peter Visser out-dueled some good runners amid windy conditions to win the race in the final 200 meters. Jacie Angell placed third in the women's race to lead the Lady Braves. The Braves placed fourth and the ladies were third.
"It would have been great to see if there was no wind but on the other hand it's good practice," Draney said of the Madison course. "Pete had a race with somebody to push him so that was good. He shifted gears and won in the last 200 meters."

Due to coronavirus protocols, the meet in Jackson was run in two waves of four teams each.
"Our big thing that we've known from the get-go is that we needed to get experience," Draney added. "This was a great course, just off the high school so it was flat and fast and the kids ran hard," Draney said of the Jackson course.
Angell won the race with Liberty and Eve Mavy along with Sara McKen all placing in the top-ten. Visser did not run in Jackson but instead cheered on his teammates as Johnny Hunting placed seventh overall in the varsity boys' race.
"We're a little dinged up," Draney added. "Emily [Strasburg] didn't finish so we're playing that by ear. Liberty and Jacie ran top five and Jacie had her two top races ever this week so that bodes well. This is kind of the first chance kids can physiologically reap some benefits of the in-season training. We've got four more weeks to see if we can take another big jump"
The cross-country team will be in Evanston this Friday afternoon with races beginning at 4 p.m.
Varsity 2 Race (Women)
Jacie Angell 20:22 (1st)
Liberty Mavy 20:44 (4th)
Eve Mavy 21:02 (6th)
Sara McKen 21:32 (10th)
Emmalee Hale 21:52 (15th)
Jill England 22:07
JV 2 Race (Women)
Gentry Hendriks 23:31 (8th)
Kaelle Opitz 23:31 (9th)
Lilian Weiler 24:24 (10th)
Kaia Barkdull 24:59 (13th)
Elsie Pieper 25:45 (15th)
Anna Kallgren 26:03
Jenna Young 32:03
Varsity 2 Race (Men)
Johnny Hunting 17:37 (7th)
Noah Draney 18:11 (12th)
Bryan Hahn 18:12 (14th)
Wyatt Dunn 18:18 (16th)
Josh Strgar 19:14 (21st)
JV 2 Race (Men)
Beau Skinner 18:48 (6th)
Steven Schwab 19:18 (8th)
Peter Lorch 19:35 (12th
Weston Angell 19:38 (13th)
Preston Buehler 20:10 (17th)
Kai Hendriks 21:08
Aaron Hyde 21:17
Renn Helm 21:40
James Heywood 22:25
AJ Clark 22:59
Ashton Aitken 24:15
Ryan Gibbons 26:19
@ Madison Quad (Women)
Jacie Angell 19:59 (3rd)
Emily Strasburg 20:48 (11th)
Liberty Mavy 21:07 (13th)
Eve Mavy 21:38 (20th)
Sara McKen 21:45 (22nd)
Jill England 22:08
Emmalee Hale 22:34
Kaia Barkdull 24:15
Gentry Hendriks 24:20
Kaelle Opitz 24:20
Lilian Weiler 24:20
Elsie Pieper 26:13
Jaylen Allred 26:22
Anna Kallgren 26:58
Jenna Young 31:19
Madison Quad (Men)
Peter Visser 15:32 (1st)
Johnny Hunting 17:39 (19th)
Wyatt Dunn 18:08 (29th)
Bryan Hahn 18:10 (30th)
Noah Draney 18:11 (32nd)
Beau Skinner 18:53
Josh Strgar 19:16
Preston Buehler 19:51
Peter Lorch 19:57
Henk Visser 20:08
Steven Schwab 20:19
Weston Angell 20:55
Caleb Thygerson 21:03
Kelson Allred 21:40
Aaron Hyde 22:06
Renn Helm 22:18
AJ Clark 24:28
James Heywood 26:16
Ryan Gibbons 30:13
Ashton Aitken 30:17
Tagged:
Jackson Invite
Madison Quad
Star Valley cross-country
Tiger-Grizz