Eagle Project brings flag retirement boxes to Star Valley
After considering options for his Eagle Scout project, Cash Dunn says he tried to think of something he could do for the community.
"I heard that there was only one drop-off to retire flags, which was all the way down in Alpine."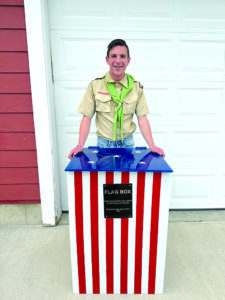 Dunn saw that having a drop-off in more communities throughout the valley, might help people properly dispose of their flags, with access to more drop-off locations.
He explained when a flag should be retired, emphasizing the effects that the wind has overtime, causing damage to flags. Other reasons to retire a flag could include staining and fading.
Before using the box, you are asked to fold the flags, respectfully. The flags will then be gathered and disposed of properly by the local Scouts of America.
There are other ways to retire the flag, but if you are unable to do so, you are more than welcome to utilize the boxes that Dunn has worked hard to create.
Boxes are located at the Star Valley Branch Library in Afton, Thayne Community Center, Etna Community Center and Alpine Civic Center.
According to the U.S. Flag Code, "The flag, when it is in such condition that it is no longer a fitting emblem of display, should be destroyed in a dignified way, preferably by burning."
Let us know what you think!
Tagged:
Cash Dunn