Etna Coalition organizes, meets to discuss housing proposal
A group of over 50 people met at the Etna Civic Center Thursday evening, March 11 to discuss a proposed tiny-home development project and RV dealership/150 unit RV park near Etna. 
Area residents, Mitch and Margo Knutson, organized the meeting to see what their neighbors were thinking about it. The couple put together a Facebook page earlier this month under the name Etna Coalition and it has already garnered 91 official followers. Many citizens have reached out individually, leading the Knutsons to believe there are in the neighborhood of 130-150 people who have expressed interest, and concern, about the project.
Margo Knutson, who has a background in business and politics, commented, "We went to the Planning and Zoning meeting a few weeks ago. We did some research on this and talked with some other people. We're all concerned about the high density of the development. I think it's the biggest in the area." 
The Knutsons didn't want to lead anyone towards any specific conclusion about the proposed developments at the meeting, just hear their neighbors' opinions. People from Etna, Thayne and Bedford attended the meeting. 
The Knutsons were impressed with the level of preparedness of the group that met this week. "We had provided people with all the information, and we thought we were going to spend a bunch of time educating people on what was the deal, and they came prepared. They studied. They knew the facts. We were able to go over everything quickly."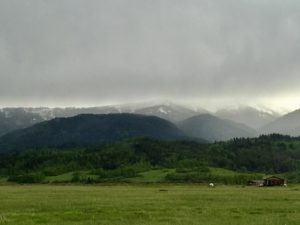 While community members in Etna aren't looking for more government, they have lamented that there is really no representation at the town level.
Some specific concerns the group generated were of the density of the units concentrated in such a small area, the impact on water and sewer services, the drain on medical, fire services and law enforcement, increase in traffic both in Etna and Highway 89, ingress and egress to the area, and the fact that it will be located adjacent to Etna Elementary. 
Margo Knutson said, "I was at Etna the other day watching the kids play, and I thought that's really close to the elementary school. That concerns me a little bit."
Residents maintain there isn't a lot of detail in the developers' application right now. 
An employee at Planning and Zoning explained last week that the application has been put in. "That's all that's happened. Nobody's accepted anything or said what's going to happen. It's still early in the process to talk much about it."
The Knutsons issued an open invitation to citizens interested in the development to join the Etna Coalition on Facebook.
The residents' understanding is the application, while approved initially, must go through two more approvals at the Planning and Zoning Committee before it moves forward for approval of the county commissioners. The next Planning and Zoning meeting will be on April 28.
Tagged:
Etna
Etna Coalition
Lincoln County Commissioners
Mitch and Margo Knutson
Planning and Zoning