Etna residents win $800,000 Cowboy Draw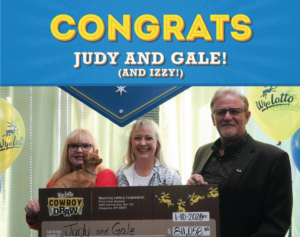 A pair of friends from Etna are the first big winners of 2020 for the Wyoming Lottery.
The winning ticket was purchased at the Thayne Maverik on Christmas Eve but the official awarding of the money did not take place until Friday January 10.
The following was posted by the WyoLotto Instagram page:
"Whether it's saving each other's lives (Yep you read that right) or hitting the jackpot with Cowboy draw, these two friends have been through it all! 25 years ago the two met when Gale was very ill in the hospital needing a transfusion and Judy came to the rescue after getting the call and giving a direct donation ( but only after she had finished fighting a house fire as a firefighter! ) 😮
The two buy tickets often, always promising to share the winnings and today that promise came through. These two Etna residents haven't decided yet what they are doing with their winnings, but if you ask Izzy the Chihuahua she had a few ideas that included Luxury chew toys and gold plated dog dishes."
Look for more information in the January 15, 2020 edition of the Star Valley Independent.