Etna student, Eden Adams, wins Wyoming Letters About Literature contest
Etna Elementary student, Eden Adams, recently learned she won first prize in the Wyoming Letters about Literature contest for 2020-21. Adams is a sixth-grader in Mr. Brant Crowther's class at Etna, and her sincere, heart-warming letter to author Kimberly Brubaker Bradley won the 4th-6th grade category. 
The Wyoming Letters About Literature is just one of several literacy programs sponsored by the Wyoming State Library. Students are asked to read a book, poem, or speech and write to the author (living or dead) about how the book affected them personally. Students compete in three age categories: Level 1 (grades 4-6), Level 2 (grades 7-8), and Level 3 (grades 9-12). At each age level, Wyoming winners will receive an Amazon gift card worth $150 for first place, $100 for second, or $50 for third.
Eden's mother, Joslin Adams, commented about her daughter, "Eden is amazing. We're not sure where she came from. She loves to read and write. When the kids were out of school last March because of COVID, Eden read the entire Harry Potter series. All she wanted from Santa this year was a library of books."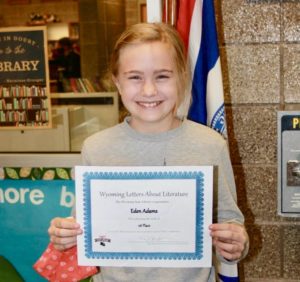 Principal, Keith Klein, sang Adams' praises saying, "Eden is a talented writer for several reasons. She can generate ideas beyond what her experiences and knowledge would predict. She is also very creative."
The Wyoming State Library system explains its rationale for sponsoring the letter-writing to authors program: "Research has shown that children gain greater understanding of what they have read when they are given frequent opportunities to respond to what they've read, especially through writing. The writing response, in turn, helps to develop the students' critical reading and thinking skills. And so the cycle goes—children who read, write better; children who write, read more. This reading-writing link is the very heart of the Letters about Literature program." 
Principal Klein affirmed the goals of the program are met by students at Etna, specifically Eden, saying, "She has a knack not only for organizing her writing, but everything in general, including her time. She has worked hard to build a strong foundation in terms of grammar, usage, and vocabulary. I estimate this is only the beginning of her 'noter wriety' as an author."
Dear Kimberly Brubaker Bradley,  Dec 18, By Eden Adams 
Your book, The War that Saved My Life Is amazing. While reading this book I got to see a different view of World War II.. I've only read WW2 books that were either about people that were Jews or those who were German. Your book gives a different perspective. One that I've never thought of. It also helped bring my mom and me together 
This book helped me understand what it was like for other countries during WW2. In your book, you don't see the perspective of a Jew, you see the perspective of an English girl. She has a horrible life, too. Probably not as harsh as a Jews life in this time, but still hard. You never actually think about what other countries might have been going through during that time.. You think of the Jews and the Germans.. This book gives you an input on what those people might have been through at that time. You get a sense of how horrible it was. Germans bombed England and many other places, too. After reading this book, I found I was more sympathetic to those other countries who fought. Thank you for giving me an opportunity to see from a different perspective. 
You also helped my mom and I grow closer together. We hugged, we cried and we–not very often– laughed, crying predominating. When we learned about how horribly Mam treated Ada, we cried. When Mam came to pick Ada and Jamie, we both hugged each other and we cried sad tears. This story made me feel my mom's love for me more than I ever have before. After this long, sad journey through the amazing book, my mom and I decided we would spend even more time together. She bought me a book called Just Mom and Me, so that we could think of activities to do. Now, almost every month, we try to do something out of that book. My mom and I are now very close, and I owe it all to you. My mom and I are so close. Thank you for helping me to be closer with my mother. 
You helped me so much in very different ways. Your book made my mom and I closer and you helped me to see and understand another perspective on WW2. Every time a family member–besides my mom– asks me for a book recommendation, I always say, "The War That Saved My Life, By Kimberly Brubaker Bradley." Your book is #1 on my list. 
Sincerely, Eden Adams 
Tagged:
Eden Adams
Etna Elementary
Principal Keith Klein
Wyoming Letters About Literature