"Faith, Family and Fun" are the tenets of the Berean Bible soccer camp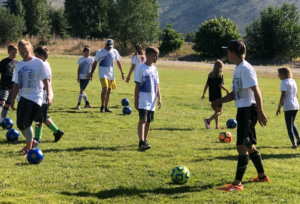 The Berean Bible Fellowship hosted its third annual summer soccer camp. The camp took place at the Simplot Fields west of Afton as part of the fellowship's summer "Faith, Family and Fun."
"After 12 years of watching my son play soccer, I became a fan," said Pastor Doug Hollen. "We were looking for a way to serve the community."
According to Pastor Hollen, it was while brainstorming with a friend from the College Heights Baptist Church in Casper when the idea of holding a soccer camp started taking shape. That brainstorming session took place four years ago.
" Now this is our third annual soccer camp," Pastor Hollen said. "Plans are already in the works for next year."

According to Hollen, the goals of the soccer camp are pretty straightforward.
"We wanted this to be a blessing to the community so we keep it affordable so all families can participate," he said. "Every camper gets a soccer ball, t-shirt, and water bottle. As a Church, we also wanted a faith-based camp, so we use Upwards; their motto is 'Play with Purpose: Mentally, Athletically, Spiritually, and Socially.'"
"During a break in the action, the coaches take time to teach the kids a story from the Bible," Pastor Hollen continued. "We cap off the week each year with the kids scrimmaging the coaches followed by a barbecue for all the players and families. What a fun week!"
Area families seem to share that same idea.
"We just love this soccer camp," said Lacy Horrocks. "It's an uplifting environment and amazing talented coaches. What a great opportunity for everyone of all faiths."
Tagged:
Berean Bible Fellowship
College Heights Baptist Church in Casper
Pastor Doug Hollen