Fire south of Douglas 0% contained at 653 acres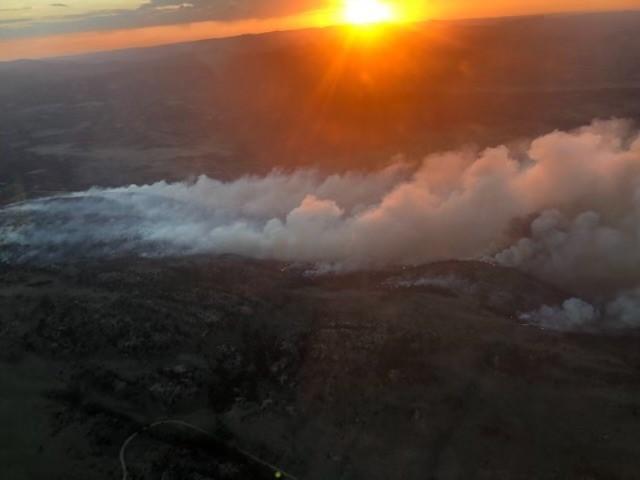 DOUGLAS (WNE) — Six hundred eighty-three acres have burned six miles southwest of Esterbrook as of Tuesday, and the fire remained 0% contained, although Forest Service fire crews are on the scene battling the blaze.
Esterbrook is a very small town located south of Douglas.
The Monday Creek Fire was reported July 9 around 1:30 p.m. and was started by a lightning strike, according to fire officials.
When first responders arrived, the fire had already grown to 15 acres in 15 minutes. By the end of the second day, it had rapidly grown to 683 acres, although it has shrunk on its own to 653 acres, according to inciweb.nwcg.gov
Due to the fire's location, Converse County Road 5/7 is closed to non-residents from mile marker 32 to the Albany-Converse County line.
To help keep the fire from running wild, 224 personnel are working on this fire including federal, state and local firefighters, with six helicopters and single engine air tankers (SEATs).
Large SEATs from Colorado delivered 14,500 gallons of fire retardant and SEATs out of Casper delivered an additional 6,400 gallons.
The aircraft and ground crew have begun to control the fire to the rugged, rural area. Crews completed a dozer line on the eastern edge of the fire as of Tuesday noon.
The weather in the mountainous area on July 11 had cooled off from the 101 degree high the previous day to something in the mid-70s with a 35% relative humidity.
"We are looking for days like this to aggressively push back the fire," said Mike De Fries, Wyoming Incident Management Team 2 information officer.

Let us know what you think!
Tagged:
Albany-Converse County line
Converse County Road
Esterbrook Wyoming
Mike De Fries
Monday Creek Fire