Fire that forced Jackson evacuations blamed on balloons
By Allie Gross and Rebecca Huntington
Jackson Hole Daily
Via- Wyoming News Exchange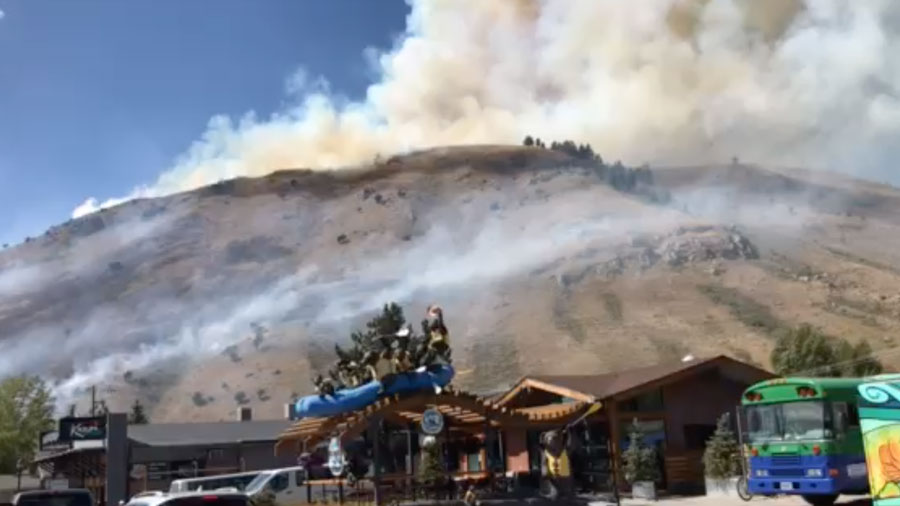 JACKSON — A bundle of Mylar balloons tangled with power lines and created an electric arc that started the 255-acre Saddle Butte Fire, investigators confirmed Monday night.
The arc sent flaming materials flying to the ground, igniting dried grass below the power lines.
"Because the metal balloon, that tin foil balloon, was creating an arc it would drop sparks on the ground and that's what started the fire," Jackson Hole Fire/EMS Chief Brady Hansen said Monday.
The metal caused the reaction, as rubber balloons wouldn't have caused the arc, Hansen said.
Jackson police, Jackson Hole Fire/EMS and the Bridger-Teton National Forest conducted interviews, took witness statements and investigated the site to determine the fire's cause. Hansen said authorities know the individual that had the balloons and how the balloons escaped, but it's unlikely they'll see consequences.
"This is truly just a fluke accident," Hansen said. "Typically people are held responsible if there's some kind of malice or carelessness. … In a true accident case, oftentimes we're not going after someone."
The fire began around 1:30 p.m. Sunday at an electrical transformer across from The Virginian, and quickly spread from the southern base of East Gros Ventre Butte up to the top, along the peaks and around the edge. Fire behavior slowed Sunday evening as the wind died down, slurry and water knocked down flames and temperatures cooled.

The fire didn't burn additional acreage Monday, as crews focused on holding the line and clamping down on hot spots, Teton County Public Information Officer Kristen Waters said. Incident command reported the fire was 50%-60% contained Monday evening.
"Ground crews and air resources made good progress today," Incident Commander Dave Wilkins said in a statement. "We were encouraged to see that fire containment lines held throughout the day with strong winds, low humidity and warm temperatures."
Waters said firefighters were relieved that windy, hot conditions didn't stir up another fire Monday afternoon. Still, authorities are keeping 100 people on the fire "to make sure."
Shortly after the fire started Sunday, Nick Staffer braced himself for the worst as he watched flames rage next to his Deer Ridge condo.
"The smoke just got so thick you couldn't see the house anymore," Staffer said, recounting the view from the Staples parking lot. "We just figured, that's it."
Hours later, around 9:30 p.m. Sunday, the evacuation order lifted for the condos. Staffer returned to find a carpet of black ash coming within a few feet of his back door. Flower pots and trees sat scorched along the back patios. His home and clothes reeked of smoke. Ash coated cars in the parking lot, but the condominium building showed no signs of damage.
"It takes a couple of days for your nerves to recover," Staffer said. "I just appreciate so much that I still have a home. I can't believe I still do. I'm still kind of pinching myself to say, 'I'm so lucky.'
"I see these fires in California, with all these people losing their homes. Just to have a taste of what they go through is terrifying," he said.
No structures were lost in the Saddle Butte Fire, which burned down to the sidewalk along Broadway Avenue, temporarily closing the town's main thoroughfare.
Thirteen agencies have been fighting the blaze. An aggressive attack continued Monday as helicopters dropped bucketloads of water. On the ground, local crews worked alongside firefighters from neighboring Sublette County and Teton County, Idaho, and hotshot crews from Idaho and Oregon.
While the Deer Ridge evacuation order was lifted Sunday, about 30 other homes in the Saddle Butte subdivision remained under an evacuation order through Monday night. The evacuees were crashing on couches, in hotels or at their second homes.
Fire authorities granted Janine Teske permission Monday to drive up Spring Creek Road and hike through the sagebrush to grab more clothes and medicine. She was surprised to find the power on and the area around her house unchanged despite the surrounding devastation near town.
But Teske and her husband spent their second night at the 49er Inn.
"I'm just anxious," Teske said. "I'm displaced."
Let us know what you think!