Football season opens in the Beehive State against defending 3A champs
• Summit Academy Bears (1-1) will host Star Valley for the first time.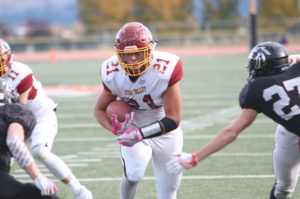 The non-conference portion of every football schedule is a study in coaching philosophy. For some, the chance to build confidence against a lesser opponent is something a staff may feel is critical. Other programs may wish to ease their team into the regular season in Zero Week with a scrimmage against several different opponents.
For the Star Valley Braves, who are trying to win the Wyoming 3A title for the fourth time in the last five years, they are flat-out looking to be tested.
"Coach Kabonic has done a good job helping us find these Utah schools," said head coach McKay Young. Honestly there are a lot of teams who don't want any part of [Summit Academy] but we think it's the best thing for our club right now"
The effort to find good teams has appeared to work over the last handful of seasons. Games against Juab, Utah, Spring Creek Nevada and Hillcrest Utah have helped the Braves open their season while hitting the ground running. Finding weaknesses and being exposed early is a primary goal for the SVHS staff.
This week's match up will be against the Summit Academy Bears, a private school based out of Bluffdale, Utah who won the state's 3A state title last season and is one of the favored teams again this season. Like the aforementioned Wasps and Spartans, the Bears will be looking to test their aerial prowess against the Braves defensive backs with an attack that averaged over 247 yards per game in 2018.

"I think you'll see in the first handful of plays on Friday night that they are incredibly well-coached," Young said of the Bears. "They have an awesome scheme. They all [buy] into it. They all block, not just their front five. They do a great job in the screen game. Their level of execution is very fundamentally sound."
The Braves defense was stingy last year, especially down the stretch, allowing just 8.1 points per game for the current nine-game winning streak.
•Adjusting on the Line
On paper, the Braves have three returning All-State offensive linemen, but two of them will not be playing against the Bears.
"We thought we were coming in with a veteran offensive line but we're not going to be that way Friday night," Young said. "We'll have three new faces on Friday and shaking off all the rust. They've had a three week head-start on us, we realize that. But I think it's going to be a great test and a team like that shows you what you need to improve and get better at in the coming weeks."
• Bash Brothers of the Backfield
This week the Braves will likely lean on their running game which will see four of their top six runners return in some capacity. R.J. Cazier and David Castillo combined for 306 carries and 1,822 yards as well as 26 touchdowns.
Brant Nelson and Dean Shaw combined for 84 carries and 268 yards and five touchdowns despite limited opportunities.
Overall the team returns 2,259 rushing yards and 33 touchdowns from last year's squad.
"We're pretty deep at running back," Young continued. "The last three or four years we've been saying how we need to cherish that group and then every year we keep getting blessed with big fast kids that are committed to the program. The deep stable of running backs stands out to me. In their own right they could be the featured back in probably every program in the state but to have all of them together is a blessing."

• Utah Match-ups Vs SVHS
The game against Summit Academy will be the 15th time the SVHS football program has lined up against a squad from the state to the south. The last meeting was in 2016 when the Braves rolled the Juab Wasps 41-21. That game snapped a four-game losing streak to Utah teams between 1978 and 2007 which included three losses to Logan and a loss to Park City on the field of Weber State University. It was not a pretty stretch historically as the Braves were outscored 135-6 with three shutouts.
Other Star Valley wins over Utah teams in history have been against Spanish Fork (25-6 in 1976), North Summit ('64, '65 & '68) and a victory over Grantsville in 1960.
The first two games against Utah teams took place in 1936 and 1939 on the road against Salt Lake City East who won both match ups 54-0 and 27-7 respectively. The SVHS Football program was established in 1928 under C. Newell Petersen.
Tagged:
Brant Nelson
Chase Merrell
David Castillo
Dean Shaw
RJ Cazier
Star Valley Braves football
Summit Academy Bears